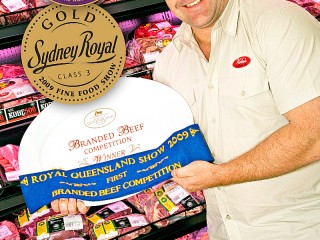 Some of Australia's best-known beef brands will flex their muscles this morning in the nation's largest and most prestigious branded beef taste test competition.
The 2011 Royal Queensland Food & Wine Show's branded beef competition has attracted record entries this year, 21 percent up on 2010 and including five first-time exhibitors.
That is being driven, in part, by greater adoption of MSA grading across the industry, especially among larger processors. This is largely being used to underpin company brand programs.
As at March 31, there were 64 accredited brand programs in all Australian states operating under MSA principles, ranging from grassfed yearling all the way to longfed Wagyu.
A championship or class-winning medal in today's RNA branded beef contest will provide tremendous reinforcement for commercial beef brand programs, and previous winners have exploited the opportunity to its fullest extent.
Like wine industry medals, many former winners now emblazon their beef product packaging with award symbols garnered at previous RNA events, reinforcing the product integrity and performance message. Good examples include Stockyard Beef, Australian Agricultural Co's 1824, and Cabassi & Rea Wagyu.
This year's competition will see four classes contested: MSA grassfed, MSA grainfed, Wagyu and open.
Beef Central publisher Jon Condon will again officiate as one of the competition's master judges, and will file a progress report during this morning's assessment process to keep Beef Central readers up to date. Full results and photos will be posted later in the day.