New research showing as many as one third of Australian farmers are reporting a decline in their mental health has spaked calls for government support and industry-wide collaboration to create farmer-to-farmer support networks across the country.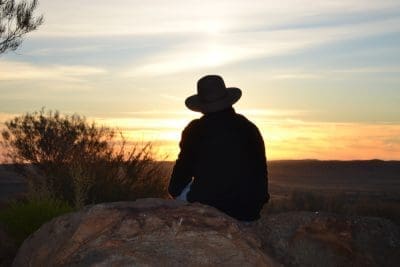 The National Farmer Wellbeing Report commissioned by Australian farmer-owned dairy cooperative Norco in partnership with the National Farmers' Federation shows high percentages of surveyed farmers reporting concerns about mental health.
The report indicates that nearly half of Australian farmers (45pc) canvassed have felt depressed, with almost two thirds (64pc) experiencing anxiety. Close to half of Australian farmers (45pc) reported having had thoughts of self-harm or suicide, while close to a third (30pc) had attempted self-harm or suicide.
More than a quarter of farmers (27pc) poreted feelings of loneliness or isolation, combined with limited access to mental health services have had the biggest impact on their mental health over the past five years.
Impact of natural disasters
According to the Report, the top three factors impacting farmer mental health were weather or natural disasters (47pc), financial stress (36c) and inflation and cost pressures (35pc).
Quantifying the impact across the country, it also found that 88pc of Australian farmers have had their farming operation significantly impacted by natural disasters over the past five years, with an average cost of $1.4 million per farm.
When asked what was most emotionally taxing about the experience, more than half (54pc) cited the financial burden, followed by the impact on animals and loss of stock (39pc), and the physical rebuild and recovery process (37pc).
One in five (20pc) reported feeling completely defeated and wanting to give up following an event, and of the 40pc of farmers who have contemplated leaving the industry, close to a quarter cite the impact of natural disasters as the main reason why.
Norco Chief Executive Officer Michael Hampson said it was important to understand just how pronounced the issue of mental health had become, especially in light of recent natural disasters.
"We saw first-hand the devastating impacts the unprecedented flooding event twelve months ago combined with the ongoing wet weather has on our farmers, many of whom are still rebuilding physically, financially, and emotionally.
"Overlay this with years of heavy drought, bushfires and now rising input costs across all farming sectors and it's unfortunately the reality that many farmers are doing it tough.
"The research has solidified an issue that we were concerned existed, however the breadth and depth of this issue is really quite profound. What we now need to do is consider how we, as an industry and a country for that matter, can help address these challenges and work collectively to better support our highly valued and hardworking farmers well into the future," he says.
Supporting and valuing Aussie farmers
Potentially contributing to the issue, the Report found that more than three quarters (76pc) of participating farmers believed the role they play is undervalued by the Australian public.
They also believe that rural and remote communities are forgotten about and left behind when it comes to public policies and services, with one in ten (11pc) calling for more support and funding from the Government.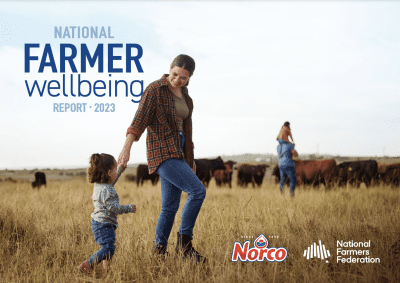 "Our farmers really are the backbone of this nation and work tirelessly to deliver essential goods to feed the Australian public, so it's clear that more work needs to be done to acknowledge this and plug the appreciation gap," Mr Hampson said.
"To help ensure our farmers feel valued, there's really no better place to start than by making sure that we, as Australians, choose Aussie farmer products over foreign companies and imported products.
"This is a simple, first step that Australian consumers can get behind. But beyond this, we also need to consider ways in which we can actively help address the issue of declining mental health within our farming communities.
"When it comes to the issue of mental health, we know that farmer-to-farmer support is key, as farmers in need are most likely to open up to a fellow farmer, or someone who understands firsthand the struggles they're experiencing.
To help build these support networks, he said Norco was committing to creating mental health champions in and around the organisation.
"This would include having our field officers, select co-op farmer members, senior executive team and Board of Directors all being offered enrolment in a program such as the Lifeline Crisis Supporter Training, so that key members of our organisation have the right tools and can develop the necessary skills to identify and provide support to those in our farming communities who may be struggling.
"But we also know that the issue is far bigger than just our farming communities alone. It really requires an industry-wide approach to ensure that farmers across the country have access to the support and services they require – because the future of our industry really does rely on it," he adds.
Barriers to mental health support – calls for Government support
Findings from the Report indicate that many farmers are suffering in silence with more than half (51pc) not wanting to burden family or friends with their problems or are simply not comfortable discussing them.
For those who have experienced mental health challenges, close to one in five (17pc) did not want to seek or receive help, while one in ten (11pc) felt too embarrassed to do so. One in seven farmers (15pc) also reported difficulty accessing suitable services in their community.
David Jochinke, National Farmers' Federation Vice President commented that the data highlighted a sense of shame and stigma that's still felt by many farmers when it comes to discussing their mental health, and urges Governments and industry representatives to step in.
"Farmers are built tough and can certainly endure a lot, but it's incredibly important that we work to normalise the issue of mental health and give our farmers both permission and a safe space to share their struggles.
"But to do this effectively, we need to have the right resources and support mechanisms in place to adequately address their challenges.
"This is a complex issue that requires a robust and whole of industry approach, and we applaud Norco's commitment to creating mental health advocates in farming communities, and we support their calls for greater industry participation on this front.
"But beyond that, were also calling on all levels of government to urgently assess the resourcing they provide to farming communities as its clear their unique needs are not being met by existing services.
"We need dedicated resourcing to tackle farmers' mental health challenges, and that needs to come from each level of government with leadership from the Commonwealth," he adds.
Proven benefits of farmer-to-farmer support
Supporting efforts to create a 'farmer army' of mental health advocates across the country is Norco dairy farmer and crisis counsellor, Ross Blanch, who, for the past four years has been operating a farmer-to-farmer help line established and run by Lifeline Queensland.
Initially motivated by the emotional toll the drought was having on farmers, the Lifeline service saw a 40 per cent increase in community referrals following last year's floods. And for Ross, while it initially started as a way of helping and giving back, he couldn't have imagined the impact it would have.
"Farming is tough, both financially and emotionally, but farmers tend to brush off their issues and say they'll be alright – but it's extremely important they have someone to talk to who understands and has experienced the same struggles they are," he says.
"I am now speaking to farmers as far south as South Australia, to as far north as Rockhampton in Queensland, and I have between 150 and 200 farmers that I regularly check in with.
"In the work that I do, I help farmers change their thinking patterns and after an hour and a half of conversation and support, they're different people – it's a process and service which truly saves lives," he adds.
To download the full National Farmer Wellbeing Report click here.
If you or anyone you know needs help:
Source: Norco/NFF