Sale summary
81 mares av $8651 top $30,500
67 geldings av $6235 top $15,000
4 stallions av $13,625 top $20,000
Overall 152 lots av $7717 sale clearance 71pc
Selling agents: Grant Daniel Long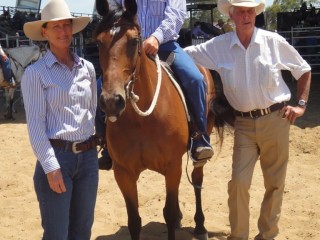 Vendors who were prepared to meet the market were rewarded in the blistering summer heat at the 38th annual Dalby Australian Stock Horse sale on Sunday.
As early summer temperatures nudged almost 40 degrees, the buyers gallery was packed to capacity with 350 registered bidders in attendance.
The sale was also live streamed, with another 120 registered viewers following the sale via their computers. 14 lots attracted bids online and four lots sold to internet buyers.
In all, 152 lots sold representing 71pc clearance, in an 11-hour-selling marathon by auctioneers Grant Daniel and Long.
According tp Harvey Weyman-Jones, stud stock manager for Grant Daniel and Long, the overall sale result was solid with horses selling to all parts of Australia.
"Those realistic vendors achieved a good result in today's economic environment," Mr Weyman-Jones said.
However, it was Emerald vendors Peter and Vicki Howard who could not contain their delight, when their home-bred mare Ashwood Rumour topped the sale at $30,500.
Ashwood Rumour, a 10-year-old, who is liberally sprinkled with the Heritage Stock Horse bloodlines, is an eye catching mare with a wealth of breeding going back to the Warrenbri Romeo and Abbey (Chan, Radium) foundation bloodlines, and she has been placed numerous maiden and novice campdrafts.
She was bought by veteran Chinchilla campdrafter Wayne Knudson, who will continue to campaign her.
Next at $21,000 was the eight-year-old mare Barcoorah Little Aussie offered by Terry McNeven and family, Clermont, and selling to the Vidler family, Roma.
Again Barcoorah Little Aussie, a grand daughter of Elliotts Creek Cadet represented the Heritage Stock Horse bloodlines throughout her pedigree.
Mr McNeven also offered the top-priced stallion Barcoorah Gun Powder at $20,000, selling to Strathroy Pastoral Co, Breadalbane, Tasmania.
Also making $20,000 was Barnetts Platinum, the four-year-old daughter of Kirkbys Stud Theo, offered by Tim Barnett and family, Wallabadah, NSW and sold to the Howie family, Daley Waters, Northern Territory.
Damien and Kylie Gould, Yak Yak Cattle Co, Amby, sold the five-year-old mare Glenalvon Illanoy, a daughter of Bolinger from an Adios Reflect dam for $17,500 to Hollywood Grazing, Coonamble, NSW.
Another eye-catching mare was the five-year-old Soda Obingle, offered by Simon Knight, Sunshine, Gunnedah, NSW, selling for $19,500 to Colless and Co, Come-By-Chance, NSW.
Other mares making good money included a daughter of Acres Destiny, Bobadil Silk, who sold for $18,000 on behalf of Richard and Suzy Kelaher, Tamworth and was bought by Rodney and Lisa Kings, Blackall.
Rowan Marks and family, Clermont sold the nine-year-old mare Aqua Fallon, a Docs Spinifex daughter, for $16,000 to Dowling Livestock, Cloncurry.
Campbell, Kerry-Ann and Amelia Tonkin, Tumlong, Barraba, NSW offered the top priced gelding CTK Hectare at $15,000 selling to Ben Lehman, Inverell, NSW.
The big attractive gelding aged five is by Burrendah Acres 02, a son of Acres Destiny, and carries the Abby bloodlines on his dam's side.
Other high priced geldings included Waymore Oaks Inspector, a son of Oaks Ebony, offered by Alan Worboys, Allora, and sold to Seidel Contract Mustering, Berry Springs, Northern Territory.
Jackie Jewell, Frogs Hollow, Theodore sold the eight-year-old gelding CTK Jitterbug, a son of Lindsays Impact for $13,000 to Vicki Howard, Emerald.
Mrs Jewell bought CTK Jitterbug at the 2010 Dalby ASH sale, and he has been successfully campaigned by Ross Wolski over the past two years.
A gelding with a $10,000 price tag was Albert Downs Regal Boy offered by Albert Downs, Boonah, and selling to John McNamara, Chinchilla.
Second top priced stallion at $17,500 was Sheady Acres, a son of Acres Destiny offered by Ray and Sue Mayne, Tambo, selling to Allan Valler, Chinchilla.
Report: Grant Daniel and Long