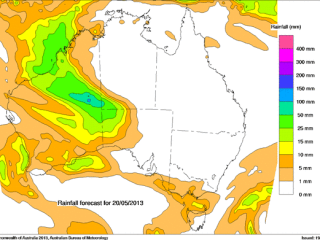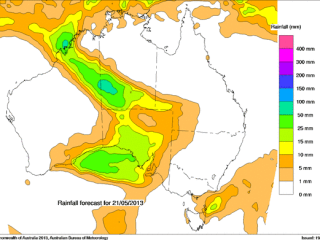 Widespread rain is due to impact South Australia, New South Wales, northern Victoria and southern Queensland as a low pressure system and trough move across the continent this week.
The trough has brought the highest May rainfall totals in 16 years to the WA Pilbara in the past 24 hours. beginning an almost nation-wide rain event.
Rain will spread into the WA Interior and then reach western parts of South Australia today.
Rob Sharpe from Weatherzone said South Australia can expect widespread rain due to the broad trough and a developing low pressure system in the Bight.
The heaviest rain should impact the Eyre Peninsula, with 20-40mm likely to fall. Most of the state will gain more than 10mm with large portions likely to gain around 20mm.
The system will move into New South Wales, northern Victoria and southern Queensland tomorrow, bringing further falls above 10mm for most areas.
The dry parts of the Victoria's Mallee and Wimmera and western NSW should pick up some much needed rainfall, Mr Sharpe said. "Most of the Mallee, Lower Western and southern Riverina should receive 15-30mm."
Southern and eastern Victoria is expected to receive less rain, with some places even missing out.
Some of the driest parts of northern Queensland may also miss out on significant rainfall amounts with generally less than 5mm likely for the Gulf Country, Northern Goldfields and Upper Flinders.
Coastal New South Wales should only pick up widespread 5-10mm from the trough moving across, however an east coast low is now likely to form on Thursday, bringing the chance of heavy falls particularly for central parts of the coast.
Once the low and trough have completely moved offshore by next weekend, skies will clear across most of the country as a large and stable high pressure system takes hold.
Click on images below to view maps in larger format: