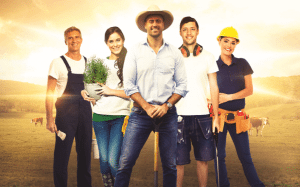 Meat & Livestock Australia has teamed up with one of Australia's most capped Test rugby players to launch a competition designed to give back to local communities while educating Australians on the benefits of nutrient-rich beef.
As part of the "Beef Brigade", Nathan Sharpe leads a crew of handy men and women to help local communities work on vital projects for the betterment of their town.
The underlying theme is that to tackle big challenges, people need the right fuel. Beef, packed full of 13 essential nutrients including iron, zinc and protein helps to fuel everyday heroes kick their goals by aiding brain development, building muscle and maintaining a healthy immune system.
Lisa Sharp, Central Marketing & Industry Insights General Manager, Meat and Livestock Australia, says, "The Beef Brigade is a continuation of our You're Better on Beef campaign which launched earlier this year. We are proudly giving back to communities and showcasing exactly why your community can be better on beef.
"Not only will Nathan's Beef Brigade team deliver help and assistance to communities in need, we're also taking the opportunity to reach people with an important nutritional message. Beef is one of the most nutrient-rich foods you can put in your body and eating it aids both physical and mental wellbeing. Australian Dietary Guidelines say you should aim to eat two to three servings of lean beef per week to meet iron and zinc requirements."
Nathan Sharpe, two-time recipient of the John Eales Medal and captain of the Beef Brigade said: "We are giving people the chance to show their community spirit. It could be that your community needs new equipment for the local sports team, or a local school or health centre is in need of some urgent repairs or renovations. Beef will be the fuel that powers the Beef Brigade through busy days helping out in local communities. So get involved and nominate your local project for the chance to win a visit from the Beef Brigade."
Competition entrants must simply answer two questions: Tell us the story of why you and your community are better on beef and tell us what community project you nominate the beef brigade to bring to life in your town.
The nine best entries will be filmed and shared with the nation so Australians can vote for their favourite community project to come to life. Finalists will be in the running for the Grand Prize, a community project worth up to $10,000 as well as three runner-up prizes of $5000 each.
The competition is now open and entries close on 13 July 2015. Entry is via the website www.betteronbeef.com.au/beefbrigade