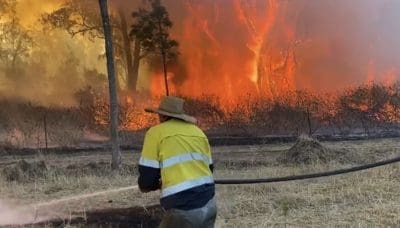 NATIONAL parks' management of fire has become a hot topic again this spring, with blazes starting across some parts of east coast.
With devastating bushfires in the past two years wiping out hundreds of hectares of land, producers have often criticised governments for leaving high fuel loads in parks and ultimately leaving them with the burden of keeping fires out of private land.
Queensland's Parks and Wildlife service is the latest to come under fire from landholders after more than a fortnight of blazes in its Bulburin National Park. The Central Qld fire was allegedly started by a producer on a grader, putting in fire breaks.
Another neighbouring landholder, Adam Coffey from Boreelum Station near Miriam Vale, has spent the past fortnight mopping up the fires and backburning – with some favourable conditions providing a short break in the middle.
Mr Coffey said a high fuel load in the park had accelerated the blaze, which made him concerned about his own pastures.
"We've lost about 500 hectares and at the moment we are trying to look after our core grazing country," he said.
"This is nothing new to us, we've been here for more five years now, and in all but one of those years we've been threatened by fire in the park."
Mr Coffey said it was an inconvenient time to be fighting fires, with this year's calving starting at the same time.
"The hours I've spent fighting this fire in the past fortnight are hours not spent running my business," he said.
"We have 400 calving cows here at the moment."
In response, a spokesman for the Department of Environment and Science said the fire was inaccessible and a lot of the park was naturally resistant to fire.
"Around half of the National Park is remnant subtropical rainforest – vegetation which traditionally doesn't carry fire due to high moisture levels," the spokesman said.
"QFES are providing aerial mapping to assist with monitoring the fire."
The spokesman said most of the fires in the park were started on neighbouring land.
"Since 2017, Queensland Parks and Wildlife Service have responded to seven bushfires entering Bulburin National Park," he said.
"Following the 2019-20 fire, the department upgraded 5.9 kilometres of fire-line to further protect the park."
Long-term strategy needed
Despite the fires starting on neighbouring land, Mr Coffey said the fuel load in the park was escalating them and putting other landholders at risk.
"The point of ignition is not the issue and to me is just an excuse for poor management," he said.
"Whether it's accidentally started and comes into the park or a lightning strike, the fuel load is the issue."
I'm hearing of an investigation by National Parks into the fire we've been fighting for the last few days.
Bulburin NP is an area of international conservation significance yet no proactive management is undertaken.
Surrounding landholders bear the costs. Bloody disgraceful pic.twitter.com/p3JoHSuxRS

— Adam Coffey (@AdamCoffeyNT) September 26, 2021
Mr Coffey, who is also a member of the Agforce Cattle Board, said many other landholders in Central Qld were facing similar issues with the Parks and Wildlife service. He said he would like to see better communication from the department and a long-term strategy.
"Every time we are in these bad periods of fire danger, we deal with it and we throw everything at it," he said.
"But then it rains, we all move on and forget about it. I don't know how much longer we can be doing that for."