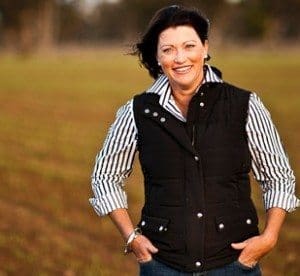 Liz Manchee, from Narrabri in New South Wales, has received a Nuffield Australia Farming Scholarship supported by Meat and Livestock Australia.
She will focus on the performance and profitability of producing 'natural' lotfed beef, considering genetics and traceability claims.
Liz and her husband John own a beef breeding and feedlot operation, producing stud and commercial Shorthorn and Durham Tropical cattle with a strong focus on paddock-to-plate traits. They run 1400-head of breeding females and sell 150 bulls per year, across 7,500-hectares and their business also consists of a 600-head feedlot, fodder production for drought management and mixed summer and winter cropping.
Liz (along with John) was the runner-up NSW Farmer of the Year in 2011 and has the goal to make her family's beef enterprise more vertically integrated in a supply chain that preferably supplies branded 'natural' lotfed beef.
Their business currently hold 54 industry leading feedlot and carcase awards obtained during the past five years, including National Champion Carcase awarded at Beef Australia 2015.
"The grainfed sector does not have a certification system equivalent to that of the grassfed sector, where producers can prove genetic and traceability claims," she said.
"I want to assess whether cattle genetics can offset any potential loss of feedlot performance when cattle are fed natural products and how viable this system is for producers."
Through her scholarship, Liz also plans to investigate a point-of-origin beef labelling system integrated with the National Livestock Identification System (NLIS). Her aim is to improve the image of grainfed beef with consumers.
Liz will travel to Canada, the United Kingdom, the United States and Tasmania in her studies of feedlot systems and business models.
MLA said it was pleased support Liz Manchee as a 2016 Nuffield Scholar, recognising the value in investing in the growth of agriculture in NSW alongside Nuffield Australia, which is at the forefront of developing future industry leaders.
Nuffield Australia chief executive officer Jim Geltch said Nuffield now boasted more than 350 scholars in Australia who, through their scholarship global study tours, had significant insight into global agricultural production systems.
Scholars undertake a 16-week program of group and individual travel.
Global Focus Program tours will visit several countries in March/April or June/July 2016, including New Zealand, Brazil, the United States of America, Mexico, the United Kingdom, South Africa, Kenya, Eastern Europe, Singapore, India, Qatar, Turkey, France, the Philippines, China, Canada or Ireland (itineraries will vary between groups).
Source: Meat & Livestock Australia