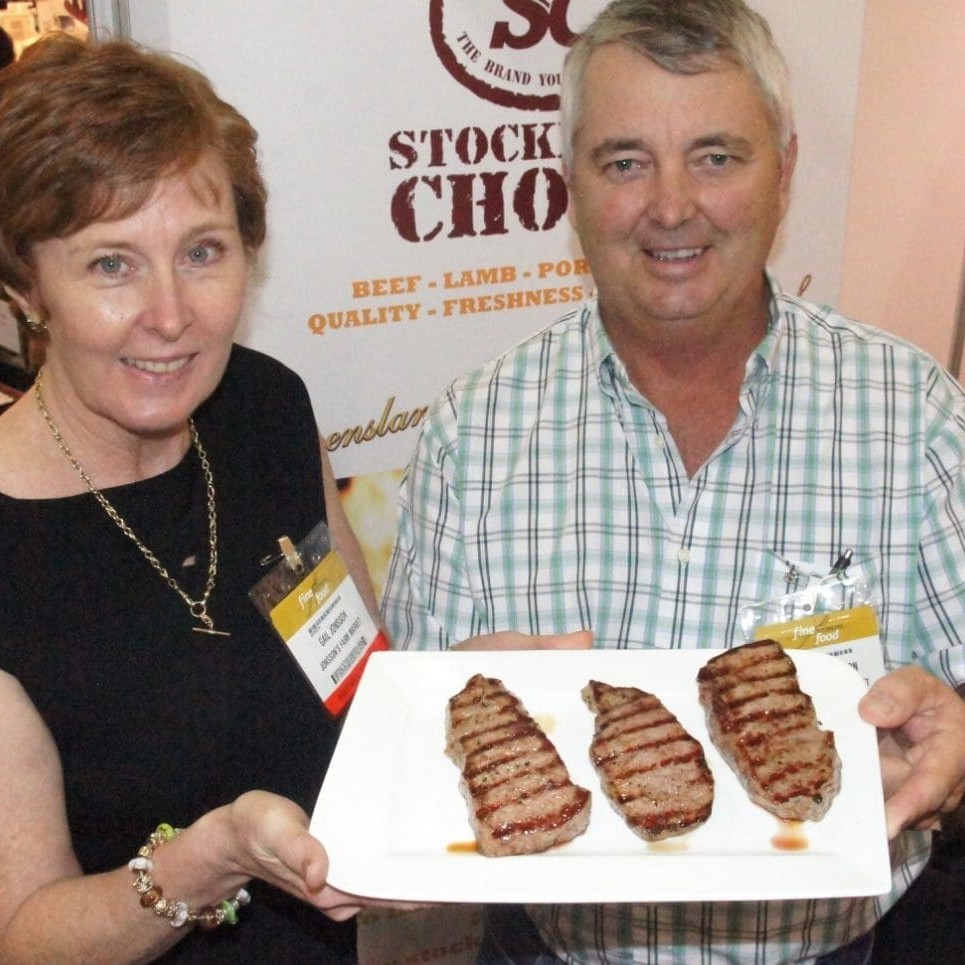 A progressive far north Queensland farming and grazing family has adopted Meat Standards Australia grading as a central platform for their new vertically-integrated beef supply chain.
Warren and Gail Jonsson and their sons run a large-scale potato and avocado farming venture on the Atherton Tableland west of Cairns, together with a commercial cattle breeding and growing operation a little further southwest in drier country at Mt Garnet.
Fed up with being exposed to major supermarket pricing policies – particularly for their vegetable operations – the Jonssons' decided to extend their business interests downstream, launching a 'paddock-to-plate' farm market outlet in nearby Cairns 11 months ago.
The seven-days-a-week retail business is located in a large 1000sq m complex on the city's inner-northside.
The Jonssons – fourth generation local primary producers- diversified from their potato-growing origins 24 years ago with the purchase of Wombinoo, a grazing block off the original historic Gunnawarra Station south of Mt Garnet.
The block currently supports about 1500 breeders, with a silage-based 1000-head capacity accredited feedlot built two years ago to provide nutritional support. Large quantities of corn silage are grown dryland on the Wombinoo's deep red volcanic soils for silage.
Most of the turnoff cattle are Brangus x Santa crosses, which in earlier times would have gone through the JBS Townsville export plant.
The Jonssons still grow several thousand tonnes of potatoes each year, but that single-commodity risk is now offset with large-scale avocado operations as well as the cattle turnoff.
"Our underlying concern, as potato growers as well as beef, was that as producers we were really price-takers rather than price makers," Mr Jonsson said.
"That led to our decision to try to take our products further down the supply chain, closer to the end-user. There was a lot of inconsistency in price – worse even in our horticultural product than in beef."
After researching the market, the Jonssons established the "Jonsson's Farm Market" in Stratford on Cairns's inner north.
While much of the other produce lines are bought from other growers on the Tablelands and elsewhere, the Jonssons' plan to diversify the range of produce they grow themselves as the business expands.
One of the central platforms the Jonssons chose to build their retail beef offer around was MSA.
The Wombinoo property and feedlot gained MSA accreditation, and a service kill arrangement was negotiated with the Blennerhasset family's Bingil Bay abattoir near Tully – Australia's northern-most MSA accredited abattoir.
The typically 50pc Indicus infused cattle produce surprisingly high levels of MSA compliance, after tenderstretching and aging although HGP has been dropped from the program to lift boning group performance. The steers and heifers are all 0-2 tooth at slaughter.
Depending on time of year, they typically spend 100-150 days in the feedlot to gain weight and body condition for the Jonssons' "Diamond-Four-Jay" brand program.
"We could probably get a similar result finishing on dairy-type pasture on the Atherton Tableland, but land there now is very expensive," Mr Jonsson said. The feedlot was a cheaper option to deliver a trade steer or heifer with much greater consistency.
Some earlier carcase weights have been higher at around 280kg, but the management is now being adjusted to reduce that to closer to 230kg, principally for portion-size reasons.
"The MSA grading system is costing a fair bit of time and effort to carry out, but we believe there is an opportunity in the Cairns retail market for a better quality MSA-graded product," Mr Jonsson said.
"We needed a marketing edge over our competitors in Cairns, where beef quality can be mixed, at best. But in saying that, Cairns is in tough economic times at present due to the tourism downturn, and there is a trade-off in terms of cost. It helps significantly in having your own supply of cattle, but the whole supply chain has to make a profit," he said.
"In some ways, the timing of the launch of our brand program could have been better, given the economic environment, but at the end of the day, no matter what market you are in, you will survive if you have a quality product."
"There are a lot of quality issues with some of the region's supply chains at the moment," Mr Jonsson said.
Beyond the Jonssons' own retail venture, they see opportunity to wholesale MSA-backed beef across a large expanse of far north Queensland, stretching to nearby Port Douglas and Cooktown and even into the Peninsula region, with roadhouses and other food service operators increasingly looking for a better quality, more consistent product. Early discussions have also been held with some of Cairns' four and five star hotels and resorts, but that will not be heavily pursued until the program becomes further established.
Beyond that, there was 'big opportunity' in servicing the mines industry in Papua New Guinea, serviced on a regular basis by refrigerated sea freight out of Cairns. The Jonssons in fact established the first beef export licence out of Cairns 22 years ago.
As part of the farming infrastructure, the family has a coldroom near Evelyn with capacity to hold 400 tonnes of product.
While MLA's current MSA TV promotions did not extend as far north as the Cairns market, the Jonssons are resigned to a considerable challenge in educating consumers about the program.
"The typical far northern beef consumer does not know what you mean when you mention MSA, so there's a lot of work to be done. At the end of the day, the only thing they identify with here is that it eats well, and it is consistent. That's a reputation worth a lot to us. However we think the program could be improved with some form of differentiation, say one star to five star, to identify the better beef."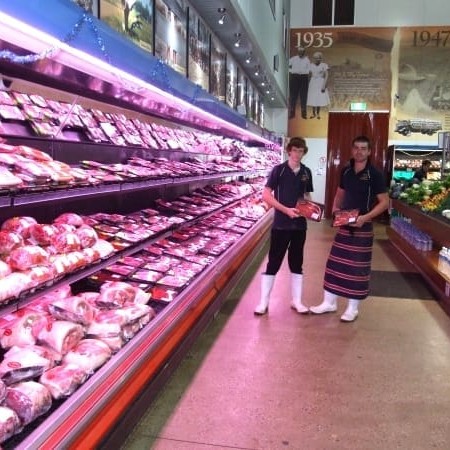 As the attached photos show, the Jonssons' Farm Market butchery section includes an extensive self-serve pre-pack section as well as a large traditional chilled cabinet display managed by a butcher.
The desire is to source as much local produce as possible – both meat protein and vegetable lines – and the Jonssons believe 'food miles' is probably a desirable trait for many consumers, which is unlikely to go away. Fortunately the Atherton Tablelands and surrounding districts is a truly abundant agricultural region, and produces a vast range of food items in both drier and wetter geographic environments.
"Down the track, with fuel prices going up, we think it is likely that the 'locally-produced' movement is likely to become more sustainable," Mr Jonsson said. A long list of individual suppliers, many from the Atherton Tableland, are identified by name, covering fruit and veg, dairy, jams and preserves and other produce.
Beef Central caught up with the Warren and Gail Jonsson while they were visiting Brisbane this week, checking-out different retail beef models in the southeast Queensland market, and attending the Fine Food Queensland trade exhibition. More stories on innovative beef products, value-adding and other red meat developments from the trade exhibition in coming days.