FARMGATE returns generated via the Meat Standards Australia eating quality-based grading system generated additional value worth more than $204 million last financial year, Meat & Livestock Australia has estimated.
The figure was a significant increase from a calculation of $157m delivered in 2020–21, and more than the previous record high of $198m in 2018–19.
A record 55 percent of national adult slaughter cattle were graded for MSA last year, representing 3.25 million cattle processed through 39 licenced processors. Outright numbers have fallen for the past two years due to low slaughter numbers during herd recovery. Eligible cattle were supplied by almost 10,000 beef producers from all states of Australia
Queensland processing the greatest number of MSA graded cattle with 1.62 million head, or 54pc of the state's total kill for the year. NSW accounted for about 750,000 head of MSA cattle, or 71pc of the state's total kill, while Victoria processed about 330,000 MSA cattle or 30pc of total kill.
Nearly 25 years since its inception, the MSA eating quality based grading system continues to deliver record estimated farm gate returns. This is the result of the year-on-year growth of the program which now underpins 193 beef and 22 sheepmeat brands, greater use and value extracted from MSA carcases and improved on-farm performance towards better MSA outcomes, MLA said.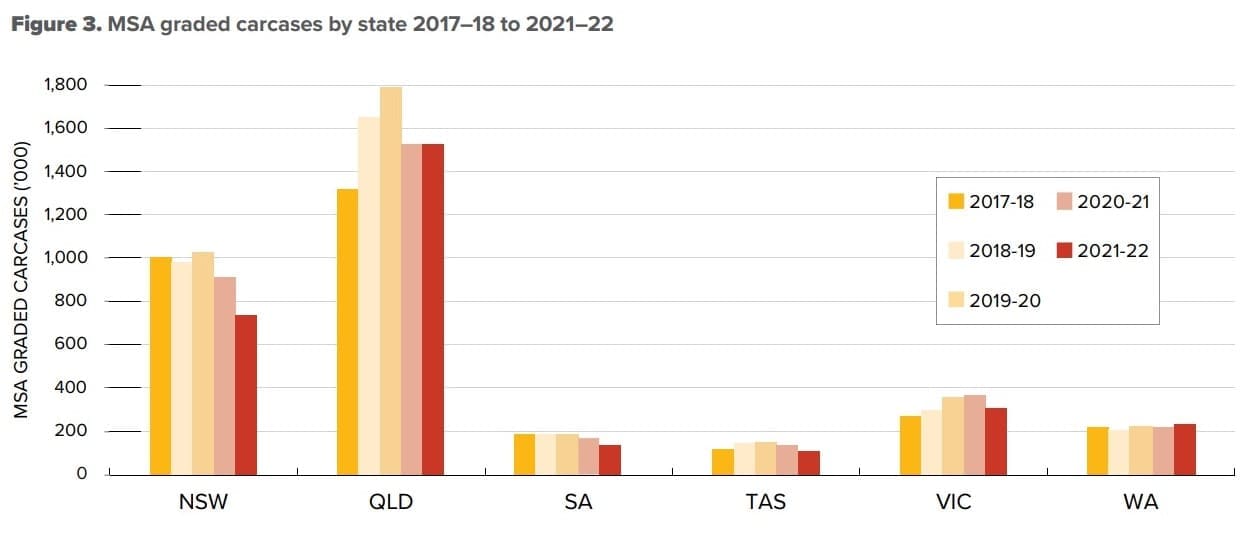 The proportion of grainfed cattle grew to 62pc of MSA-graded cattle in 2021–22, an increase of 2.7 percentage points from 2020–21. Non-Grainfed cattle represented 38pc.
Processors representing 56pc of MSA graded carcases are utilising the Eating Quality Graded (EQG) cipher in their business to describe beef products by an eating quality outcome.
An additional 1960 beef producers became MSA registered in 2021–22, taking the total number of MSA registered beef producers to 38,678. MSA registered beef producers now represent 26pc of Livestock Production Assurance accredited cattle properties.
MSA beef producers potentially received an estimated $97 per head in additional returns for young, non-Grainfed cattle and nearly $48 per head for Grainfed cattle, the report suggested.
Monday: How did MSA compliance perform in 2022?