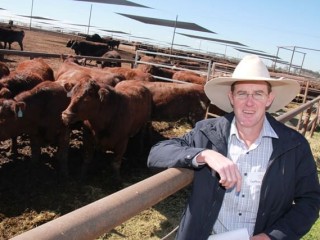 A pen of purebred Shorthorn steers bred by Godfrey and Spencer Morgan, The Grove, Condamine, has posted an average daily gain of 2.75kg over 100 days to win the weight gain component of the 2013 RNA Brisbane Show Paddock to Palate competition.
The weight gain competition is the first section of the annual Sturrock Trophy, regarded as the most comprehensive beef supply chain competition in Australia.
Now in its 15th year, the paddock to palate competition incorporates points for feedlot weight gain, carcase performance, MSA eating quality and a beef taste test, judged by celebrity chefs.
A record 69 pens of seven cattle, or 483 cattle in total, were inducted into a 100 day feeding program for this year's competition at Mort & Co's 34,000 head Grassdale Feedlot near Dalby in late March.
All entries received two shots of MH + IBR vaccinations prior to feeding to assist with the prevention of Bovine Respiratory Disease, as well as HGP implants at induction. Each entry comprised seven steers, with the final weight gain result taken from the best performing six steers in each pen.
The 100 day weight gain results were revealed at a field day at Grassdale on Tuesday.
All of the major placegetters were cattle producers who have previously enjoyed success in the objectively-measured competition, underscoring their ability to keep producing high-performing genetics in a commercial environment.
The highest average daily gain (ADG) recorded across the 69 pens across the 100 days was 2.75kg, achieved by a pen of Shorthorn steers entered by Godfrey and Spencer Morgan, The Grove, Condamine.
The Morgans have had a stunning record of success in the performance-based competition, having won the overall championship no less than eight times since it commenced in 1998.
Another pen entered by the Morgans also took third place in the weight gain section with an ADG of 2.71kg. This was with a pen of cattle they refer to as "Durham Reds" – a high percentage Shorthorn and Senepol composite they have bred specifically for northern producers.
It was the first time they have entered Durham Reds in the competition and Godfrey said he was very pleased with their strong performance.
The second highest ADG of 2.72kg was recorded by a pen of Charolais cross steers entered by the Sullivan family from Riverglen Pastoral Company near Condamine.
Riverglen Pastoral Company are former winners of the overall Sturrock Trophy, as well as individual components of the competition in different years including the taste test section and the carcase competition section.
Last year's Sturrock Trophy winner the McNicholl family from Arklow at Dulacca is also well placed to make another run for the overall title after finishing the weight gain section in fourth place with a pen of Angus cross steers that posted an average daily gain of 2.7kg.
Scott and Ann-Maree Attwool's Woolcott Shorthorns from Meandarra, the winner of last year's weight gain section, shared fourth place with a pen of Shorthorns averaging 2.7kg/day.
Mort & Co private client manager Ben Maher said that after a very strong first 50 days, boosted by ideal weather and feeding conditions, weight gains tended to slow a little in the second and wetter half of the feeding period.
This year's competition steers averaged 390kg at intake, and spent a fortnight together in a grass paddock before entering feedlot. The average weight upon completion was 661kg, representing an average daily gain across the group of 2.32kg.
All steers were fed a high-energy, high protein (72pc) ration, which for the first time this year included 'dehulled' cotton seed, a process that has been pioneered by Mort & Co and is unique to lotfeeding in Australia.
Mr Maher noted that morbidity rates relating to respiratory disease were lower compared to last year, which he attributed to a combination of the Bovilis MH + IBR vaccine treatments and the improved weather conditions this year.
"Overall we were happy with the performance," he said.
"The cattle presented well and they weighed well and had good gains."
The Mort & Co stock team spent most of Monday washing the 483 show cattle and drafting them no less than 69 ways to ensure they could be presented and viewed at the field day in their respective vendor lots.
Grassdale Feedlot manager Jordan Peach said he was happy with the way the cattle performed.
"It is always a challenge when you're trying to bring cattle from so many different origins to feed together," he said.
"But the vendors prepared their cattle very well and they went well across the board."
Top 20 entries in 2013 RNA weight gain competition
| | | | | |
| --- | --- | --- | --- | --- |
| Placings | Top 6 ADG | Av weight | Exhibitor | Breed type |
| 1 | 2.75 | 709 | G Morgan & Co | Shorthorn |
| 2 | 2.72 | 684 | Riverglen Pastoral Co | Charolais X |
| 3 | 2.71 | 729 | G Morgan & Co | Durham Red |
| 4 | 2.70 | 691 | McNicholl Family Trust | Angus X |
| 5 | 2.70 | 711 | Woolcott Shorthorns | Shorthorn |
| 6 | 2.67 | 715 | G Morgan & Co | Durham Red |
| 7 | 2.61 | 654 | R & L Moore Pastoral | Angus |
| 8 | 2.60 | 682 | Galloway Cattle Co | Hereford X |
| 9 | 2.58 | 695 | Royalla Shorthorns | Shorthorn |
| 10 | 2.57 | 737 | Weebollabolla Shorthorns | Shorthorn |
| 11 | 2.57 | 728 | Weebollabolla Shorthorns | Shorthorn |
| 12 | 2.55 | 645 | R & L Moore Pastoral | Angus |
| 13 | 2.55 | 710 | Wentworth Cattle Co | Red Poll |
| 14 | 2.53 | 756 | RJ & KA Apelt | Santa Gertrudis |
| 15 | 2.53 | 709 | Weebollabolla Shorthorns | Shorthorn |
| 16 | 2.52 | 727 | Acton Land & Cattle | Santa Gertrudis |
| 17 | 2.52 | 666 | JN & BM Campbell | Shorthorn x Charolais |
| 18 | 2.52 | 698 | Parkinson Bros | Droughtmaster x Angus |
| 19 | 2.48 | 730 | Acton Land & Cattle | Charolais x Santa |
| 20 | 2.48 | 644 | McNicholl Family Trust | Angus x |
Click on images below to view in larger format