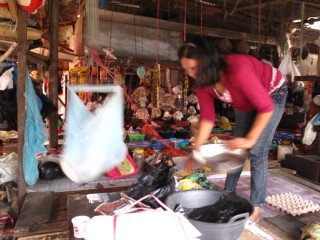 Contrary to views expressed this week that Indonesia sustains 'about 100' abattoirs, documents brought forward this morning show there is a vast network of killing locations across the nation numbering almost 700.
Information released through the Indonesian Directorate General of Livestock Services reveals that in 2009 there were 693 licensed slaughter houses and abattoirs in 33 Indonesian provinces.
The heavily-populated East Java area, alone, supports 162 locations, with a further 89 in West Java and 93 in Central Java. Even on less well known islands like Maluku, there were 109 processing sites in 2009.
Some of them are obviously quite large, while others may process only a handful of cattle each month. In the Jakarta area, for example, there were just three abattoirs listed, but they processed 48,000 cattle for the year. At the other end of the scale in Gorontalo, seven abattoirs process just 1500 head annually, or an average of four head each week, while on North Maluku, the average annual kill was just 45 head.
The DGLS report suggests there were about 935,700 domestic and imported cattle slaughtered across Indonesia in 2009. Australia's shipments to Indonesia in 2008-09 reached 704,000 head.
The sheer number of sites would obviously present a monumental challenge in any attempt by authorities – either from Australia or Indonesia – to monitor their day-to-day approach to animal treatment in processing facilities. Some would say it would be an impossible task to police adequately.
No mention is made of unlicensed premises, but anecdotal evidence from within the trade suggests that they exist.
The most reasonable explanation for the extremely large number of processing sites is Indonesia's lack of cold-chain facilities. Animals are literally brought live to within short distances of the wet markets where their beef will be sold, before being slaughtered, as a means of overcoming the absence of refrigeration.
An Indonesian official speaking on radio yesterday, said while Indonesia was still developing animal welfare laws, there were currently virtually no controls or sanctions that could be applied in cases if animal cruelty.
Bakso balls dominate market
A statistic raised yesterday which could have some bearing on the future direction of processing in Indonesia is the fact that 70 percent of all beef consumed in the nation is in the form of bakso balls.
Bakso balls are virtually Indonesia's national dish – a ground-meat infused starchy dumpling that is typically served in soup with noodles and vegetables. US President Obama enjoyed bakso when he visited his birthplace, Indonesia, last year.
One estimate suggested bakso could account for 400,000 tonnes of beef each year, sourced either from frozen manufacturing beef imports or live cattle.
Most bakso is produced in manufacturing facilities, rather than home-made, providing an entry-point into an extremely large component of the Indonesian meat trade where closer connections could be established between animal welfare-approved larger abattoirs and bakso processing companies, sources in Indonesia said yesterday.