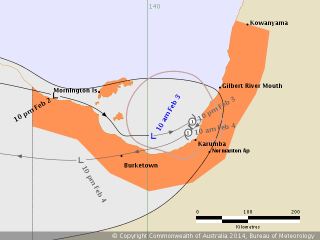 Heavy rain and damaging winds are lashing swathes of the Australian tropics from Innisfail to Darwin to Wyndham.
Rob Sharpe of Weatherzone has reported that the monsoon trough is very intense across the Australian tropics, with tropical lows on either side of the Northern Territory and an intense southeasterly flow affecting the Queensland coast.
A tropical low is located in the Gulf of Carpentaria, with the chance of becoming a cyclone. Burketown has picked up 126mm and its wettest February day in at least 12 years.
On Queensland's east coast, the monsoon trough is slowly moving north and brought heavy rainfall to the Northern Tropical Coast and Tablelands. A severe weather warning was recently cancelled, but before then Innisfail was swamped by 222mm in 24 hours. Nearby areas saw almost 400mm before 9am.
Cairns gained 62mm by 9am and is looking to add another substantial total today as the trough moves through, but it is unlikely to see rainfall rates similar to what Innisfail experienced.
The final tropical low is located in the Joseph Bonaparte Gulf near the WA/NT border. Heavy rain and squally storms are producing damaging wind gusts around this low. The effects are even being felt in Darwin where wind gusts reached 81km/h this morning.
"This week will see the monsoon continuing to bring areas of rain and squally storms along with the risk of tropical cyclones. It could be the most intense burst of monsoonal activity across the tropics for the year," Mr Sharpe said.
Source: Weatherzone