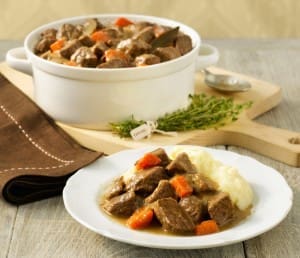 There are some substantive changes in strategy in Meat and Livestock Australia's latest winter beef marketing campaign due to kick off this Sunday.
Gone are the familiar, but relatively expensive TV advertising slots, replaced this year by greater emphasis on social media, strategic use of outdoor billboards, and other creative 'calls to action' designed to stimulate consumers to pull out the slow cooker.
MLA domestic marketing manager Lachie Bowtell said this year's winter beef campaign would involve a three-phase approach, under the theme, "Nothing Beats Beef This Winter."
In contrast with earlier years, there are no TV spots included in this year's budget. Instead there will be a much more aggressive outdoor campaign using billboards, plus a greater focus on the 'path to purchase', Mr Bowtell said.
"We've reviewed our media strategy this year, looking at how we can extract more exposure out in the marketplace, rather than just relying on TV," he said.
In past years, MLA's winter campaign has focussed heavily on the 'last five feet' in the 'path to purchase' – essentially, that means in-store point-of-sale material at the meat counter or chilled cabinet. This year, however, attempts are being made to drive more exposure in the marketplace.
When questioned about the source of the changes, Mr Bowtell said they were not driven by MLA's change in advertising agency, but were initiated internally.
"One of the key insights is that consumers lack confidence and new ideas when buying and cooking beef, especially in winter meals preparation," he said.
"How do we actually address that? We need to instil more confidence in consumers in the product, and give them some real meal solutions, and preparation cues, around this wintertime campaign."
A core part of this year's winter beef marketing campaign is the emphasis on electronic and social media. MLA will in coming days launch "Ask the Beef Oracle", a dedicated website and online chat room designed to stimulate desire, build confidence and share knowledge about winter beef meals.
Consumers will be able to go to the website to address any issues they have with how to prepare and cook winter beef meals, whether it be suitability for purpose in matching a cut to a cooking style (not using a piece of fillet for a casserole, for example), or exploring menu ideas. The site will also host a Q&A segment driven by consumer inquiries.
The first phase of the campaign will be about engaging with consumers, and telling them what the Beef Oracle site is all about, and how to access it. In the early stages, there will also be a 'hotline' where consumers can call and speak to an advisor about the how's and why's of winter beef meal preparation.
Marketing funds freed -up by not spending big on a TV campaign this year will be partly used for a dedicated outdoor marketing campaign, in large format (billboards) and small format activity.
Billboards linked to The Oracle will appear not only in metropolitan areas but in large regional centres for the first time, including Tamworth, Wagga, Newcastle, Dubbo, Bendigo, Broadbeach and Rockhampton.
The 'small format' marketing work will include illuminated advertising panels in shopping centres, motion-sensing panels that will address a customer who approaches the sign, "Why not rest your roast beef on a bed of cauliflower mash?", beef recipe-dispensing printers in high-traffic areas of shopping centres and other work.
One of the catchcries to be used in this space is, "This casserole cleans plates quicker than a dishwasher."
Another cornerstone of the winter campaign is the use of social media, built off the Beef Oracle virtual website.
"One of the big issues all marketers – not just MLA – have, going forward, is how we embrace this rapidly growing digital media/social media space," Mr Bowtell said.
"The challenge is how we can actually communicate with consumers, in a more effective and interactive manner, where they can get personal answers to their questions," he said.
Familiar elements of the campaign which will return this year include a winter edition of the Entice magazine, given away in supermarket and butchery locations, which sells out for each issue despite a print run in the hundreds of thousands.
The Oracle will also be promoted in MX magazine, targeted at millions of public transport commuters in capital cities.
The website, www.askthebeeforacle.com will be activated on the weekend.