It's nine years since Meat & Livestock Australia last held its annual general meeting in Western Australia, and while many things have changed since then, one that has remained very much as it was a decade ago is livestock prices.
During his address to MLA members at yesterday's annual general meeting in Fremantle, managing director Scott Hansen touched on the sensitive issue of livestock prices, which he conceded had changed little in real terms, despite the millions of dollars invested on the industry's behalf by MLA since then.
"So what are you getting for your levy investment?" he asked the AGM producer audience.
In 2003, the average price paid for saleyards cattle was 349c/kg, dressed weight, while in today's terms, they average 390c.
"It's clear that cattle prices are really not that much higher than they were a decade ago," Mr Hansen said.
"But it's equally important that we look at the price that the customer is paying for the product," he said.
Within the domestic market, still the single largest marketplace for Australian beef, there is only a 1pc difference between the volume of beef consumed in 2003, versus this year. The figure for 2012 was 706,000 tonnes, carcase weight.
"But over the same timeframe, Australian consumer expenditure on beef increased by 16pc, or $850 million," he said.
This growth in value raised the question of what the producers' share is of that retail consumer dollar. During the next week, MLA will be releasing annual tracking of that measurement, partly in response to earlier calls from lobby groups like the Australian Beef Association. The figure had grown from around 30pc in 2003, to 36.5pc today (see separate story later on Beef Central).
A similar trend had occurred in export markets. Mr Hansen said in 2003, consumers around the world paid US$2.3billion for Australian beef. Nine years later, global consumers paid 111pc more – $4.8 billion.
"So why is it that your global customers who are paying more than double for your beef than they were ten years ago, yet you are still receiving the same price?" he asked.
"The obvious answer and the most significant reason is that since 2003, there has been a 75pc increase in the value of the Australian dollar, versus the US dollar. Imagine this industry with the current level of demand – consumers around the globe paying an extra 111pc for your beef – with an A$ back at the 2003 average of US59c."
"Conversely, imagine what shape we would be in if the demand from our global customers was the same as what it was back in 2003."
Mr Hansen then outlined what MLA is doing to address these challenges, across the investments in programs and activities in areas like maintaining and improving market access, growing demand, improving productivity across the supply chain, promoting industry integrity and sustainability, and increasing industry and people capability.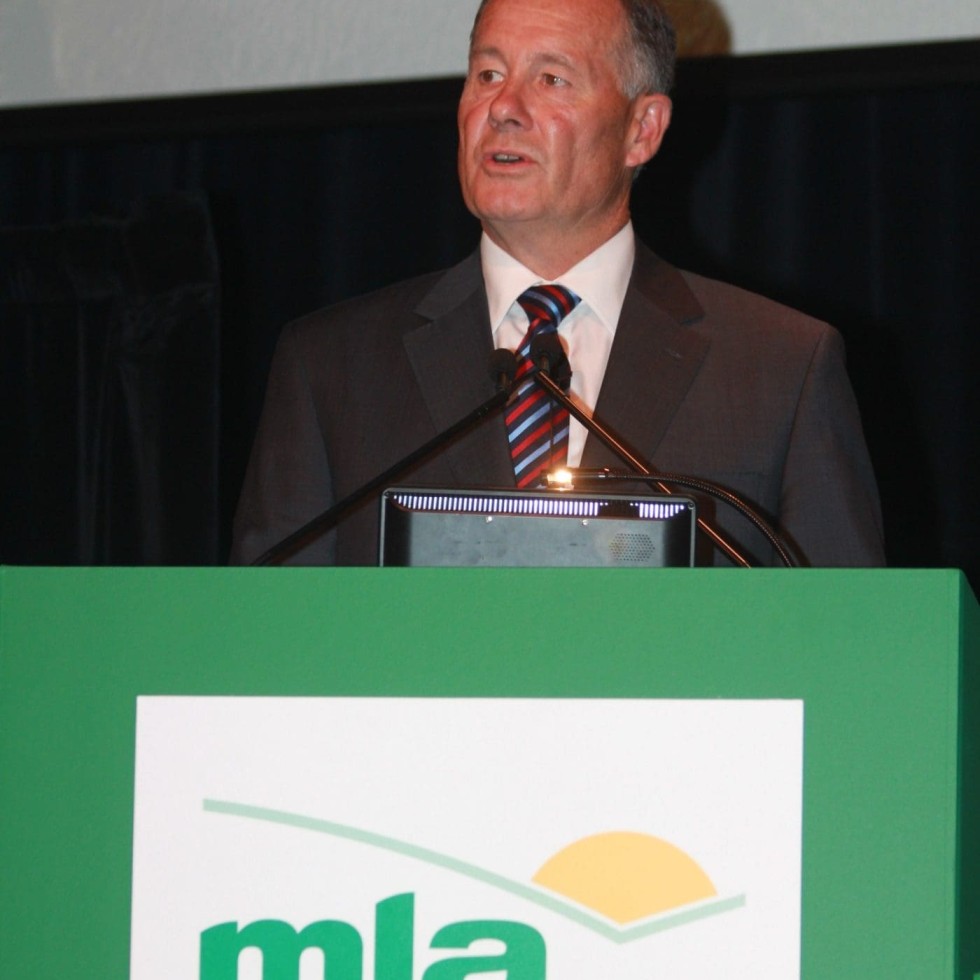 During his chairman's address to the AGM, Rob Anderson said the past 12 months had been very challenging for the industry, and for MLA.
"However the challenges we've faced have also provided a great opportunity to take stock of how we are doing as an industry," he said.
"As the industry's service company, MLA has made the most of this opportunity by listening to producers, to peak industry councils and to government, as we sought to clarify our own role in helping producers tackle current and future challenges."
"And the message we heard was loud and clear. MLA needed to concentrate on the core business it was originally set up to do, and that is, marketing and R&D," Mr Anderson said.
During the past 18 months, the MLA board had worked with managing director Scott Hansen and his executive team to help sharpen the company's focus.
"We drew on the messages our stakeholders were giving us and used these to revamp our strategic imperatives and zero-in on a clear mission – to deliver marketing and R&D programs that create opportunities across the cattle supply chains by optimising the return on collective investment in marketing and R&D," Mr Anderson said.
"And while the company refocussed on this core business, the MLA board had a shift in focus too. Together we made the conscious decision to lift ourselves away from the day-to-day running of the company – leaving that to those who do it best: the MD and the general managers."
"We also reaffirmed that the role of the MLA Board, in addition to guiding the strategic direction of the company, is to focus on risk management, corporate governance, and investment criteria to ensure your levies are utilised effectively and in the right strategic areas."
One particular area the Board had worked at further strengthening over the past year was corporate governance.
"While it may not make headlines, we have looked at best practice governance models from around Australia to deliver more for our stakeholders whilst ensuring proper company diligence," Mr Anderson said.
"Good governance ensures MLA is responsive to the reasonable expectations of all stakeholders. It means complying with a range of legal frameworks and having robust systems and accountabilities in place. Without good governance, a company can fail to meet its objectives, and in doing so, those of its stakeholders, and the law."
"We're continuing to focus on the potential risks that may affect MLA's ability to deliver on its strategic objectives and have put controls and strategies in place to manage those risks," he said.
"As part of this process we've interrogated MLA's systems and commenced a new audit regime in our overseas offices thus ensuring investment in appropriate programs."
Mr Anderson said his main role as chairman was to ensure that the board operated effectively.
"Above all, I see my main job as being to listen. I particularly enjoy getting out and talking with my fellow producers. These conversations give me a clear understanding of what's important to grassroots livestock producers and, by extension, to the board and management of MLA."
"I'm always reminded that while individual circumstances may differ, these same pressures are felt by producers right around the country – they're no different to the issues I face as a producer each day as well," he said.
"Despite these shared challenges, I also get the sense from my conversations with producers and others around the country, that there is a quiet optimism about the future of our industry."
"There is widespread recognition that livestock producers play an important role in future food security. Global cattle herds are shrinking – the US herd is back to 1950s numbers. The middle class in emerging markets is growing exponentially and is not showing any signs of slowing."
"It is the stories I hear from producers that reinforce to me how important it is that the MLA board keeps this company focused on its core business, and continues to deliver benefits to producers using their collective investment to create opportunities they can't always create on their own," Mr Anderson said.