Meat & Livestock Australia's November annual general meeting will be held online for the second consecutive year this year, as COVID interstate people movement restrictions continue to create challenges for live meetings.
The face-to-face AGM was due to take place in Toowoomba in southern Queensland on November 25, but has now been replaced with a virtual AGM gathering to be held the same day, supported by a series of weekly Information Update webinars over the five weeks prior.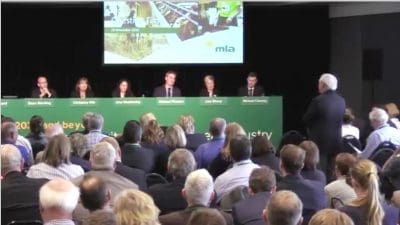 The last face-to-face AGM for the industry service delivery company was held in Tamworth in 2019.
In October, members will receive their 'AGM pack' which contains their voting entitlement, the notice of MLA's 2021 AGM and a proxy form for use by those who cannot attend the meeting in person. Levy payer members need to register by the close of business today (Monday) to receive their full voting entitlement for this year's AGM.
Across beef, sheepmeat and goat channels, MLA now has about 49,300 producer members.
At this point, motions to be voted on by members at this year's AGM are for two new directors, to serve three-year terms. Current directors completing their first three-year term in November are CSIRO nutrition scientist Dr Manny Noakes and marketing and consumer insights expert Jo Pye.
This year, the board selection committee is seeking candidates with experience and skills in:
Food science, technology and nutrition with a proven record in research, development and adoption
Strategic marketing and market development with proven impact at a domestic and international level
The overarching theme for the upcoming webinars is Industry Impacts, with different weekly segments focusing on red meat progress in key areas including marketing, R&D, sustainability and integrity systems.
Producers will have the opportunity to submit questions to the presenting panel each week, either on the day or in advance.
The full schedule for the one-hour weekly webinars prior to this year's AGM is as follows:
Impact through supply chain innovation (18 October)
Impact through sustainability (25 October)
Impact through strength of integrity systems (1 November)
Red meat marketing impact towards 2030 (8 November), and
Impact of red meat positioning to build community trust (15 November)
An online registration link for the webinars will be added to this item later this afternoon, and more details will be provided in articles coming weeks.