Meat & Livestock Australia says a small number of activities related to Australian Beef's marketing partnership with the 2020 Australian Olympic and Paralympic teams have already commenced, but work is now underway to align the marketing program with the new, yet-to-be-determined Tokyo Games schedule.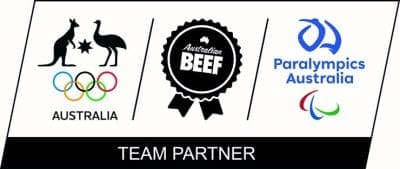 Australian Beef is an Official Team Partner of Australia's 2020 Olympic and Paralympic Teams.
Last week the International Olympic Committee (IOC) and International Paralympic Committee (IPC) announced the postponement of the Tokyo 2020 Olympic and Paralympic Games due to the global COVID-19 pandemic.
The committees confirmed that the games will be rescheduled to a date beyond 2020 but no later than the 2021 Northern Hemisphere summer.
The Tokyo Games will also retain the title Tokyo 2020 Olympic and Paralympic Games – regardless of the year in which they're held.
MLA said it is working closely with the Australian Olympic Committee (AOC) and Paralympics Australia (PA) regarding the Australian Beef partnerships to align them with the new games period.
Australian Beef's partnership activities were scheduled to occur from February – September 2020.
These activities were primarily consumer and community facing, and delivered through retail, independent retail and school channels.
Domestic Marketing Manager Graeme Yardy said that a small number of activities are already underway, or due to commence, under the partnership with Australian Beef.
"The partnerships created some exciting opportunities for reigniting beef's connection to healthy lifestyles using our Olympian and Paralympian Australian Beef Ambassadors, and sharing their stories of Greatness.
"Working closely with the AOC and PA, our discussions are now focused on how we best manage these activities in what is an unprecedented and rapidly changing situation."
MLA recognises that the current priority globally is the health and safety of everyone, and containment of COVID-19, and will work with the AOC and PA on the best outcome for Australian Beef and the Australian Olympic and Paralympic Teams.
MLA intends to retain its Olympian and Paralympian Australian Beef Ambassadors, and will continue to utilise these Ambassadors across 2020 and 2021 activities.
As we work through plans to relaunch Australian Beef's partnership activities in early 2021, we are also now acutely focused on immediate marketing strategies and tactical plans for Australian Beef.
These include the opportunity to strengthen immediate marketing activities to support the current surge in product demand, increased social media engagement and how to amplify Australian Beef's key messages of 'healthy for me', 'easy-to-use' and 'quality'.
Graeme said that people are looking to social media and digital platforms more than ever before.
"Consumers have increased cooking time and frequency, and interest in topics such as eating healthy, and in many cases basic product information such as cut and cook types are areas we can further demonstrate Australian Beef's value and versatility.
"Current buying patterns are also an area we can deliver value, with tips on storing, freezing and thawing to ensure bulk red meat purchases are appropriately managed."