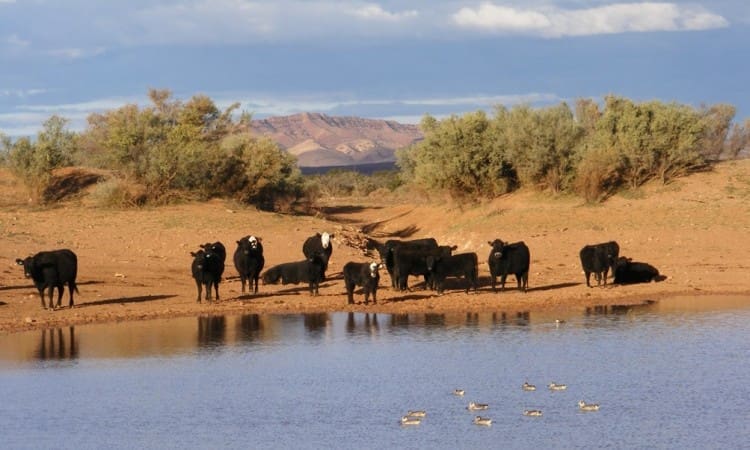 Meat & Livestock Australia has vowed to pursue a complaint with a higher authority about an ABC Catalyst program that depicted Australian beef production as an unsustainable user of land and water, after an internal ABC review concluded the program had not breached editorial standards.
Meat & Livestock Australia has expressed 'extreme disappointment' in the ABC's response, believing it failed to directly address the core complaint that the program selectively used information to paint a misleading and negative picture of Australian beef production's water use and impact on the environment.
MLA managing director Richard Norton said the complaint will now be furthered through the Australian Communication and Media Authority, a move that has been publicly backed by the peak industry body representing Australian cattle producers, the Cattle Council of Australia (more below).
Complaint
In August an ABC Catalyst program titled "Feeding Australia – Foods of Tomorrow" introduced a segment about insects becoming a future protein food source for humans by presenting a critical overview of the impacts of Australian beef on environmental and health grounds.
The presenter stated that it took 20 litres of water to produce one gram of beef, that cows "need a lot of land, a lot of feed, and they're big producers of greenhouse gases", and that meal worms and other insects provide the same level of nutrition while being healthier than beef.
Despite considerable scientific evidence existing to challenge each of these claims no further context about the sustainability of beef production was provided by the program.
MLA managing director Richard Norton subsequently wrote to the program's producers expressing concern that the presentation of information was misleading and inaccurate and not consistent with the ABC's charter to provide high standards of accuracy, impartiality and objective journalism, and to present factual content in a way that does not materially mislead the audience or unduly favour one perspective over another.
Mr Norton said the program failed to recognise the drastically different methodologies used to calculate water use, or to reference the latest available scientific information on water use in the Australian beef industry.
In contrast to the figure replied upon by the ABC that it takes 15,000 litres to produce one kilogram of beef, 'more meaningful' Life Cycle Assessment studies showed the real figure was actually 30 times lower at around 515 litres/kg.
He said an ABC report in 2009 featured an Australian researcher debunking many of the exaggerated claims that exist around water use in the Australian beef industry. In that program Brad Riddout stated that it was "very misleading" to suggest to consumers that by avoiding eating a kilogram of beef they would somehow return thousands of litres of water to a river system.
It was also false to suggest the Australian livestock industry was unsustainable because of the land size it uses and its emissions, Mr Norton told the ABC. The majority of land supporting Australian livestock was extensive rangelands and semi-arid areas unsuitable for other agricultural systems. "Because of this, there is a legitimate argument that cattle and sheep farming is an efficient use of this land for producing highly nutritious protein and vitamins."
The claim that insects provided similar nutrition but were healthier than beef ignored the documented important role lean red meat played in a healthy, balanced diet, and recommendations in the Australia Dietary Guidelines. (See Mr Norton's initial letter to ABC Catalyst here)
Mr Norton said ABC Catalyst, as a science program with a national audience, had a responsibility to present the most accurate information to all Australians.
"Through the program, the ABC has presented an opinion that is inaccurate, does not reflect the latest science and is highly damaging to the Australian beef industry."
ABC response
However, in a response sent to MLA on Sep 18, the ABC's Audience and Consumer Affairs unit said it had reviewed the program and was satisfied the Catalyst segment was in keeping with the ABC's editorial standards for accuracy.
In its written response to MLA, the ABC said the statement that it takes 20 litres of water to produce one gram of beef drew on a 2017 United Nations "World Water Development Report", which included the statement that "15,000 litres of water are needed for 1 kg of beef" – (The report can be viewed here – in making the 15,000 litre reference, the report provides no further information as to the original source or scientific process used to support that figure)
The ABC's response said it understood the 15,000 figure was "widely used globally" and noted the information was "cited in a report from a reputable source, the United Nations".
The response said the ABC was satisfied the program made reasonable efforts to ensure material facts were accurate and presented in context in relying on the figure as cited by the UN.
It also rejected the view that the program had claimed the Australian livestock industry is unsustainable because of the land size it uses and emissions:
"The program stated that "Cows also need a lot of land, a lot of feed, and they're big producers of greenhouse gases". We are satisfied that this statement was not materially misleading in the context of a program concerned with the challenges of feeding millions more people in future decades, including the likely need for additional ways of producing protein sustainably."
It also disagreed with the view that the program presented the future of beef eating as non-existent and unsustainable in the long term or that the only viable future of protein is either insects or plant-based alternatives to meat:
"Catalyst advise that the segment on meal worms was light-hearted in nature and "designed to introduce Australians to an unconventional and potentially uncomfortable new food source." Dr Leong pointed out some of the benefits of insects as a protein source, both in terms of nutrition and environmental impact but at no point did the program claim that red meat should not play a role as a food source in the future. Rather the program explored some of the other possible future food sources that may be developed."
 The letter noted that if MLA was dissatisfied with this response, it may be able to pursue its complaint with the Australian Communications and Media Authority.
MLA 'Extremely disappointed'
Mr Norton said MLA was extremely disappointed with the ABC's decision and the stated basis for its decision, and would be pursuing the complaint through ACMA.
In comments provided to Beef Central Mr Norton said Australian red meat producers – many of whom had been some of the most loyal ABC listeners and viewers – had held the ABC in high regard for many years.
"However, the obvious agenda of metropolitan ABC to discredit agriculture in Australia is a disgraceful attack on farmers and the communities and workers they support, many of whom are already suffering through a major drought," he said.
He said that rather than directly addressing the MLA's complaint about the selective and misleading nature of the program's portrayal of Australian beef production's water use and impact on the environment, the ABC's response relied instead on "sweeping statements within the guise of context and a report that uses global averages from the United Nations".
The UN water figure replied upon by the program was a global average and not appropriate when considering a highly efficient system like Australia, he said.
Mr Norton said he drew the ABC's attention to the large body of work that had been undertaken within Australia looking at water use for food production by CSIRO and other leading research organisations.
Within this field, he said, experts agreed that to meaningfully look at the environmental impacts of food production for water, either Life Cycle Assessment (LCA's) or water foot printing measures should be used.
"I have also pointed out that the Australian red meat industry – in its current state – is more than capable of feeding the additional 15 million Australians by 2050 cited in the Catalyst program.
"While Australia is a relatively small red meat producer at the global level we are one of the largest exporters globally, producing far more meat than the domestic market consumes (as referenced in the State of the Industry Report 2018 available on the MLA website).
In 2017 Australia exported 69pc of total beef/veal production, 69pc of sheepmeat production, and 91pc of goatmeat production (excluding live exports).
"If this production were to be retained domestically rather than exported it could feed in excess of 50 million beef and sheepmeat consumers each year, based on current Australian per capita consumption figures.
"MLA regularly engages with ABC journalists, but we've renewed an invitation to the broadcaster for its journalists to contact MLA whenever it requires information about the industry's credentials and its focus on continual improvement, including industry initiatives such as the Australian Beef Sustainability Framework and our continued research and development investments in the productivity and sustainability of our industry.
"MLA also continues to share our industry's great story with consumers and the broader community.  This includes the recently launched online platform Australian Good Meat – which provides consumers with an open and transparent source of information about the production of red meat in Australia; our Paddock to Plate Story in Virtual Reality – currently touring South Eastern Australia; and our other community engagement initiatives including community events; education and schools program; and producer advocate development."
Cattle Council backs taking complaint to ACMA
Cattle Council of Australia CEO Margo Andrae said beef producers strongly supported MLA taking its Catalyst complaint to the Australian Communications and Media Authority.
"For a story specifically about Australian food production, it is wrong to lump Australian cattle producers in with the rest of the world by citing data which reflects overseas beef production systems," Ms Andrae said.
"We're proud that our beef is produced with exceptional water efficiency. We're talking about producing clean, green, high-quality beef on the world's driest inhabited continent with environmental credentials which are the envy of the world.
"We welcome any discussion about the sustainability of beef production, because Australian cattle producers have a unique and compelling story to tell in terms of land and water management. And we're proud of the proactive role our industry is playing in terms of aligning productivity, profitability and environmental sustainability for the future.
"It's a positive story that media outlets, including the ABC, generally do a great job in sharing with their audiences. But when any program or journalist is wide of the mark, they must be held to account."