AFTER a record-setting year in 2013, Australian cattle slaughter is likely to decline dramatically by 9.1 percent this year, with a consequent 7.3pc decline in beef exports as the impact of unprecedented drought conditions bites deeply into the nation's beef industry.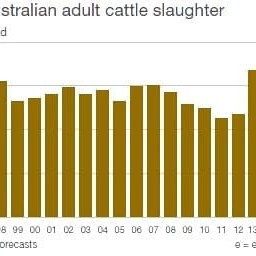 These are some of the headline figures in Meat & Livestock Australia's 2014 industry projections released this morning.
As the relentless drought rolls on across a large expanse of eastern Australia, MLA has painted a fairly bleak picture, supply-side wise for the year ahead.
It comes as no surprise, and market watchers have been bracing themselves for the forecast. It's only the size of the declines that were really open to speculation, and the comparisons perhaps appear worse because of the contrasts with some of the production and exports records achieved last year, driven by drought turnoff.
Among other key figures put forward as part of this year's industry projections:
The national beef herd is expected to decline a further 2.7pc to 27.5 million head by June 30. That follows a similar decline last year, representing a herd size reduction of 1.5 million head from where it sat at its recent peak of 29 million head in June 2012, following two big seasons. Increased mortality rates and reduced branding percentages will reduce the available supply of cattle over the medium term, MLA warns.
Adult cattle slaughter is forecast to decrease 9.1pc, to 7.6m head, and overall beef and veal production is anticipated to decline 8.2pc, to 2.17 million tonnes
Live cattle exports are expected to hit 900,000 head this year, the highest since 2009 (see this morning's separate report).
Domestic utilisation is expected to ease 10.6pc, in line with reduced supply
Beef and veal exports are likely to be back 7.3pc, to just above one million tonnes
Among key export markets, trade to Japan is forecast to reach 270,000t, down a little on last year; the US is forecast to take 210,000t, the lowest since 2002; Shipments to Korea are likely to 17pc to 120,000t, while China will consolidate as the third largest market, at around 155,000t. See separate 2014 market outlook this morning.
MLA's projections for 2014 make a number of key assumptions, which, given the current seasonal circumstances, are perhaps more speculative than ever:
The forecast is based on seasonal conditions in 2014 being 'average' (at best) to 'below average' across the majority of Australia's cattle producing regions. Given the current weather outlook, some areas may struggle to reach the lower end of that category. The expanse of drought conditions through 2013 after the failed wet season in 2012-13, will continue to have a major influence on the industry throughout the current year.
An A$ averaging lower against the US$ than last year, trading between US84-90c (down about 10pc on 2013).
Overall improvement again in global economic conditions, assisted by continuing recoveries in the advanced economies of the US, Japan and EU, along with the sustained performance of China and South East Asia.
MLA suggests that growing export beef demand, a lower A$ and robust global prices could point to an improvement in cattle prices in 2014 – albeit from the lows of 2013 caused by a drought-induced surge in supplies – but that expectation is based squarely on some semblance of recovery in seasonal conditions.
"Given the strong export outlook and forecast eventual tighter supply prospects for 2014, the basic market fundamentals all point to improved cattle prices in 2014," the report says.
"However, after such a devastating drought and three-decade high slaughter rate in 2013, the question will be how many producers will have the cattle and seasonal conditions, to make the most of the improved market," it said.
"A more positive outlook for Australian cattle prices for 2014 relies on one crucial factor – substantial rainfall across the key cattle producing regions of eastern Australia. Should the drought-ravaged regions of Queensland and NSW eventually register late wet season falls in 2014, cattle supplies are likely to tighten almost immediately, leaving producers, processors, lotfeeders and live exporters competing fiercely for a significantly smaller pool of cattle throughout the year.
"But should northern areas fail to receive rainfall for a second consecutive wet season, and the desperately dry conditions across Queensland and NSW remain, cattle will continue to flow into the market, placing downward pressure on prices and having a limiting effect on short term supply," Projections said.
Reduced branding rates experinced in 2013, and continuing into 2014, are expected to be felt most acutely in 2015, given the long time-lag required to finish cattle to suitable weights. Total adult cattle slaughter in 2015 is forecast to be 7.45 million head.
Adding to the expected strain on cattle supplies for 2014 and 2015 will be a forecast improvement in the competitive position of buyers sourcing cattle for the live trade.
While there is always competition between the slaughter and live trade for suitable cattle, this is expected to be heightened over the next two years due to the reduced overall supply.
More summaries from MLA's 2014 Projections later this morning.