Live cattle exports buoyant in March
08 May 2014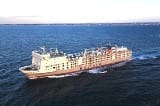 Australian live cattle exports during March more than tripled compared to the same month last year, reaching 111,420 head. March numbers boosted the 2014 first quarter total to 249,110 head, up 88pc year-on-year, according to the Australian Bureau of Statistics.
Indonesia remained the largest live cattle market, taking 77,813 head, up substantially on March 2013, with the opening quarter reaching 137,309 head – more than double year-on-year.
Cattle exports to Vietnam for March were greater than a year ago, at 13,720 head, while the 2014 first quarter totalled 44,217 head. Shipments to Malaysia were up 20pc on year-earlier figures, at 6518 head. Exports to China (dairy) increased five-fold on March 2013, at 6282 head, carrying the March quarter to 18,338 head, up 20pc.
Grainfed beef exports suggest high feedlot throughput
07 May 2014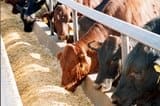 Grainfed beef exports for the year-to-April are up 13pc year-on-year, at 69,785t, suggesting numbers on feed and throughput in the ALFA/MLA March quarter survey, due for release next week, will be high.
Chilled grainfed shipments have trended higher year-on-year, up 5pc, with the volume for the first four months at 41,000t. Exports to Japan are up 3pc, at 26,0000t, maintaining its position as the largest chilled grainfed market, followed by Korea (5361t) and the EU (4764t), steady and up 77pc year-on-year respectively.
Frozen grainfed beef shipments have also been trending higher over the course of the year, with the January-April volume up 26pc on the corresponding period last year. Japan received 10,478t, down 10% year-on-year, while this was offset by a significant increase in exports to China (7681t) and Korea (5689t), up 117pc and 36pc year-on-year respectively. The Middle East was also a strong performing market for the year-to-April, receiving 3456t of grainfed beef, up 26pc, equally divided between chilled and frozen.
Looking forward, the number of suitable cattle available for feed is likely to taper somewhat as the year progresses, underpinned by the slightly smaller pool of cattle in comparison to last year, strong demand for live exports, and slightly stronger restocker interest.
Offal exports start year at cracking pace
07 May 2014
Beef offal exports for the year-to-April are up 17pc year-on-year, at 48,638t, underpinned by the unrelenting high slaughter and strong international demand over the same period.
For the year-to-date, indicative eastern states average weekly adult cattle slaughter is up 9pc year-on-year, which, being a less magnitude than the lift in offal exports, suggests very robust international demand for offal.
Korea was Australia's largest beef offal export destination for the year-to-April, receiving 8425t, up 21pc year-on-year, and containing mostly skirt (2485t), cheek meat (1830t) and intestines (1509t). Shipments to Japan have been steady, with the volume for the first four months up 2pc on the corresponding period last year, at 7500t. Tongue (2800t) and intestine (924t) volumes were up 13pc and 14pc respectively, while skirt was back 20pc at 1900t. Hong Kong was one of few markets where the year-to-April volume was lower – albeit only 2pc, at 7200t, underpinned by strong competition for tripe from other markets. Tripe usually accounts for 98pc of the volume to Hong Kong.
In response to relaxed import protocols, offal exports to Indonesia were up almost eight-fold, at 4900t, with heart (1227t), lips (850t) and tongues (450t) all up considerably over the period.
70pc chance of El Niño, says BOM
7 May 2014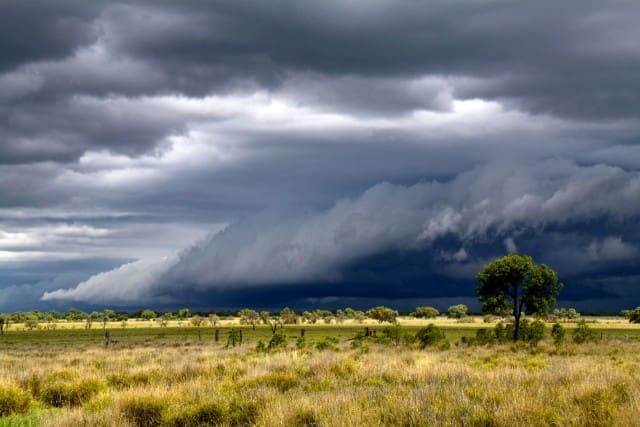 As many producers begin to reap the benefits of the welcomed autumn break, the Bureau of Meteorology has issued an alert suggesting the development of an El Niño event in 2014, possibly taking effect as early as July. While BOM maintains that the forecast of El Niño cannot be certain, they predict the likelihood of El Niño developing this year to be more than 70pc.
El Niño occurs when warm sub-seawater temperatures spread eastwards from the Tropical Pacific Ocean, which cause the trade winds (that would normally blow from South America to Indonesia) to weaken. As a result, clouds build up closer to the International Date Line over the Pacific Ocean, rather than reaching Australia. In other words, this weather pattern typically results in rainfall shifting eastward away from Australia.
El Niño is usually associated with below average rainfall for much of the southern and eastern parts of the country, as well as fewer cyclones, with two-thirds of El Niño events since 1900 causing widespread drought.
The last El Niño that Australia experienced occurred from May 2009 to March 2010, with the greatest negative impacts within the initial six months (May to October 2009). According to BOM, during this period, large areas of Queensland and the NT registered rainfall in the driest 10pc of historical records, while eastern Victoria and most of NSW recorded 'below average' rainfall over the six months.
Coming off the back of a dry, hot summer across much of Australia only months ago, BOM's current El Niño warning for 2014 will have producers and processors alike questioning what is in store for the remainder of the year. However, from the current forecast, it is likely that producers may again face drier-than-average winter and spring conditions across the southern and central regions of the country.
China's catering sector slows
07 May 2014
Despite the current strong consumer demand for red meat and 9pc growth in revenue for the catering industry, 2014 is expected to be a challenging year for the Chinese foodservice sector. The National Bureau Statistics of China reported the 9pc increase in 2013 was actually the lowest in 21 years and was slower than retail expansion for the third year in a row. The comparative sluggish growth, particularly the high-end segment, has been reportedly impacted by government's anti-corruption measures. In response, some catering enterprises in China have reviewed their focus to cater the banqueting and mass market.
At retail, beef prices remained historically high through April, averaging RMB66.16/kg (A$11.37/kg). Beef prices at 30 April increased 8pc year-on-year, while an oversupply saw pork prices fall to a four-year low. The impact of the avian flu on poultry prices has started being felt, as shutdowns of live poultry markets in several locations limited supply and pushed up prices of whole chicken to two-year high.
Australian beef exports to China in April increased 19% year-on-year, to 13,900t.
Cattle market alert: Numbers ease due to softer prices
07 May 2014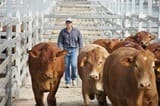 National cattle throughput, as reported by MLA's National Livestock Reporting Service, declined 8pc week-on-week in response to subdued market prices last week. Numbers through Queensland declined 30pc, totalling 12,300 head, with Roma store and Toowoomba saleyards yarding 30pc fewer cattle to total 9100 and 1600 head, respectively. NSW followed a similar trend, back 7pc, with 17,550 head offered. The largest decline was recorded at CTLX, back 16pc to total 3000 head, while numbers at Inverell and Scone were unchanged for 1630 and 1580 head penned, respectively. Victoria defined the trend, with 20pc more cattle yarded across the majority of markets, totalling 11,200 head. Pakenham jumped by 48pc, offering 3900 head, while Shepparton and Wodonga lifted by close to 10pc, to total 2800 and 2500 head, respectively. SA jumped 13pc, yarding 2750 head.
Quality slips as cold weather encroaches
Cattle quality has reportedly started to ease across much of the east coast as the cold weather starts to effects the finish on cattle, predominately in the south. There were however some supplementary fed cattle available at Wagga, Wodonga and Scone, attracting strong prices. The majority of markets have been yarding yearling cattle and cows through the north, with most suited to restock and feed. Good quality bullocks were in large numbers at Shepparton and Pakenham, although prices weren't as strong as last week. The usual buyers were operating at most markets however processor demand at Gunnedah, Tamworth, Shepparton and Wodonga was subdued, evidently affecting prices.
Prices slip as supply returns to normal levels
At the close of Wednesday's markets the Eastern Young Cattle Indicator (EYCI) slipped 12.25¢ on last week, averaging 342.75¢/kg. Trade weight steers declined 5¢ week-on-week averaging 197.8¢. Heavy steers lost 6¢ to finish on 190.8¢/kg. The medium cow indicator lost the most ground, back 9¢, averaging 129.2¢/kg. Feeder steers finished on 192.7¢, back 4c on this time last week.