WHILE the cattle market outlook for the next six months remains positive for producers with stock to sell, it's a scenario that won't last forever, Meat & Livestock Australia says in its April quarterly update to the 2017 cattle industry projections, released this morning.
Cattle price trends will be largely underpinned by the ongoing tight cattle supply situation, with constrained female cattle slaughter likely to reflect herd recovery – the earliest stages of which are likely to be seen in the second half of 2017, MLA says.
Once cattle numbers do start flowing through the system, it is highly likely that cattle prices – from heavy steers through to young cattle – will feel the weight of the additional supply, coupled with the generally softer global beef market conditions seen for most of 2016 and so far in 2017.
Nevertheless, 2017 cattle prices will probably end up averaging very similar to the record levels of 2016, MLA's projections update says, before trending downwards in 2018 and 2019.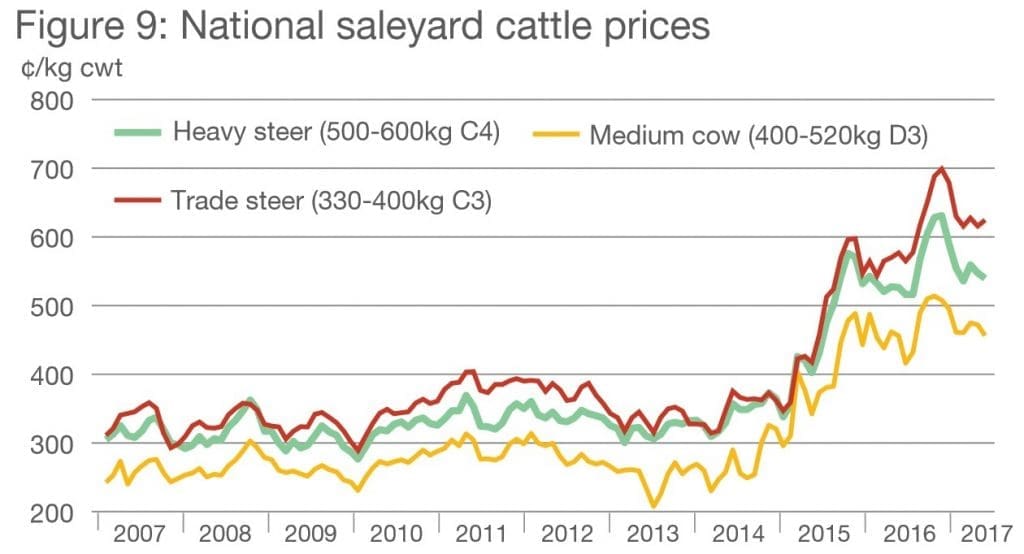 Rain injects impact on cattle prices
Australia's cattle market has been rejuvenated by recent rainfall across many parts of Australia, ensuring cattle prices will remain higher year-on-year for the first six months of 2017. However, heading toward 2018, a slowly growing herd will likely result in prices trending lower, MLA said.
The 2017 outlook for cattle slaughter in Australia remains at 7.1 million head, down 200,000 head, or 3pc year-on-year. However, much heavier carcases will assist in alleviating the pressure from constrained supply and result in only a 1pc year-on-year decline in beef and veal production.
Record low female slaughter
MLA's market information services manager Ben Thomas said female cattle slaughter over the November 2016 to January 2017 period was the lowest proportion of the adult cattle kill ever, at 42pc, highlighting strong producer intentions to retain females and replenish herds.
"Given the low female slaughter figures, it confirms that the wheels are in motion for the national herd rebuild, with many producers likely to take advantage of the currently low fodder and grain prices to carry stock through," Mr Thomas said.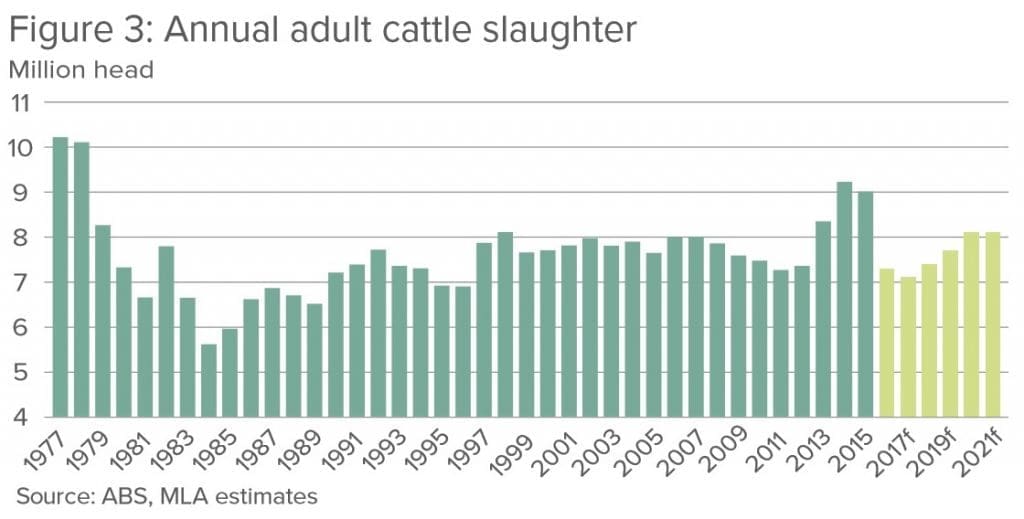 The average carcase weight for Australian cattle was the highest ever during the summer months – the result of a higher proportion of cattle on feed for longer, heavier grassfed cattle coming through the system, as well as the significant drop in female slaughter.
Female cattle slaughter is expected to remain relatively low for the duration of this year, with the average adult carcase weight now revised 1pc or 3kg higher, to 291kg for 2017.
As a result of flooding in Queensland and NSW, expectations are for April slaughter to be much lower than expected. However, those numbers will probably be recovered in May and June, when cattle become more accessible for mustering after country dries out.
Because of the autumn break in some larger cattle producing regions, expectations are for more stock to be withheld, while the dry conditions in southern Australia will result in slightly higher than expected turn-off than previously anticipated.
The short-term impact is beef and veal production is now estimated to be 2.1 million tonnes carcase weight for 2017, down just 1pc year-on-year, rather than being down 3pc as originally forecast in MLA's full-year January projections.
Mr Thomas said after trending downwards from November 2016 to early March this year, cattle prices received an injection of life from the widespread March rainfall, causing a significant rise across all categories.
"The start to the year has set up positive expectations for the remainder of 2017, especially given the prices recorded in early 2016 were the highest for that period, and have now been exceeded," he said.
Seasonal outlook mixed
Despite the vast majority of Queensland being drought declared, the volume of rain received for the first three months of 2017 across most of the state has actually been 'average', yet patchy, according to the Bureau of Meteorology.
Indeed, for the state's central and the southeast cattle regions, the bulk of this rain came from ex-tropical cyclone Debbie during March, but considering some of the northern pasture growing season remains, there should be reprieve for many Queensland producers, MLA said.
This may act to restrict cattle supplies in northern Australia slightly further than initially forecast for 2017, but confirms the herd rebuilding wheels are in motion. Elsewhere, most of NSW and Victoria also received 'average' rainfall during the first quarter, while for WA it was a remarkably wet period.
Looking ahead, while BOM is predicting less than 40pc chance of above average rainfall for the April to June period in most of southern Australia and the interior (see Beef Central's earlier report and map), there are also some large cattle producing regions in northern NSW and southern Queensland that have a better chance of receiving 'average' falls.
These are the areas where most of the rain fell during March, and if the outlook does come to fruition in those regions, could continue to stymie the already subdued flow of cattle. Meanwhile, Southern WA looks set for a drier-than-normal autumn and start to winter after a good start to the year, while southern NSW, Victoria and Tasmania are forecast to remain dry.
Export / consumption trends
With beef production revised slightly higher, the net drop in Australian beef exports is likely to be smaller than as forecasts made back in January, and is now estimated to ease 3pc year-on-year to 992,000t. That, however, would still be the fifth largest Australian beef export year on record.
After the first quarter of 2017, shipments to the major markets have been mixed and largely reflect Australian production, competition and varying sentiment in each. Japan has maintained its position as the largest market during the first quarter, with a 22pc year-on-year rise in shipments, to 65,400t, while the US has eased 27pc, to 50,900t on the back of replenished domestic production. Volumes to Korea have also reduced significantly (-21pc), to 32,700t, with US competition an increasing challenge. Exports to China have edged 4pc higher, to 24,400t.
On the domestic market, expectations are for overall utilisation to rise 1pc, to 631,900t in 2017, meaning Australian per capita consumption will remain fairly flat at 25.7kg per person. Australian consumers demonstrated resilience in 2016, when per capita consumption stabilised at a time of continually rising average retail prices.
Click here to access the full April quarterly update of MLA's 2017 Cattle Industry Projections