THE growing trend of financiers applying environmental and ethical conditions on those who they lend to or invest with is impacting the capacity of live export businesses to operate, Australian Livestock Exporters Council chief executive officer, Mark Harvey-Sutton told the Australian Farm Institute's 'Agriculture and trade in disrupted economies' conference in Toowoomba.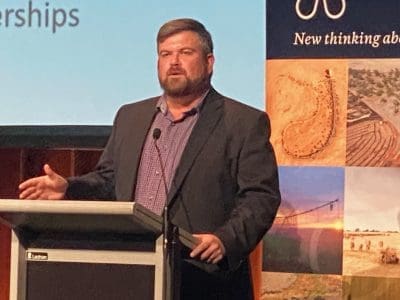 Mr Harvey-Sutton the advent of ESG (environment, sustainability and governance) investment principles was causing great disruption in the industry as ESG advice that he has seen has generally been misinformed about the industry.
"At the moment a lot of the groups that advise on what investments you make, what are ethical, what you should care about as shareholders, are not giving the full picture. I find that extremely frustrating," he said.
"I think it is a huge challenge. We are at the thin edge of the wedge on this. What industries shouldn't you invest in? What is unethical about providing food security to millions of people. Who is telling that story in these advisory firms?
"The industry has to take that onus on. But, I think the proponents of the investment principles have a responsibility to inform accurately as well."
Challenge to food security
Mr Harvey-Sutton said the application of ESG principles by a growing number of lending and insurance institutions was creating real problems for people involved in the live shipment trade.
"We have stock handlers and vets that can't get insurance to go on the vessels. I have members who can't even set up bank accounts because it goes against ESG principles," he said.
"Whenever I talk to these institutions they say they have a huge agribusiness portfolio and support agriculture.
"The point I make back to them is why do you think that portfolio is valued so highly – because you have a cornerstone within the livestock market that increases price, creates competition and provides food security."
Mr Harvey-Sutton said the Covid pandemic had presented real challenges to the industry, especially to the seafarers operating the export vessels who had had a raw deal.
"We have to recognise the plight of our seafarers. At the moment there are people who have lived on vessels basically since the pandemic started," he said.
"We've been fortunate that we have systems where we can repatriate our vets and stock hands, but we couldn't even facilitate crew changes for shipping which was a great disappointment."
"We still have stock hands and vets who are essentially living on vessels in order to enable consignments to continue because they simply can't get off at the destination port.
"This is a huge cost to the industry and a huge logistical challenge. We should never underestimate the personal sacrifices those staff."
Mr Harvey-Sutton said another challenge the industry faced in the Covid era had been port access and dealing with the constraints of Australia's privatised port system, where ports operated as separate entities.
"You have to talk to them individually. A lot of ports were starting to introduce 14-day ballast voyages where they insisted vessels had 14 days between ports. You can imagine the consequences for us where a shipment from Darwin to Indonesia can take four days, but potentially that would have to balloon out to 14 days. There is now only one port that is still enforcing that for livestock vessels" he said.
Another had been the challenge of managing markets remotely with staff unable to travel.
"All my members have cabin fever, they are sick of the fact they can't go overseas and meet their customers. It is all being done by Zoom. It is not unique to us, but the industry has adapted."