More details about the workings of a ministerial group that explored plant-based meat labelling earlier this year have emerged at the Senate Inquiry into meat category branding.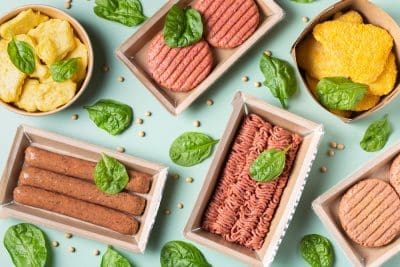 Plant-based protein representatives have claimed the Ministerial Working Group recommeded voluntary labelling of alternative meats over mandatory regulation, and have portrayed that outcome as representing the broader views of the agriculture sector.
However public hearings on Friday revealed the make-up of the committee was formed from groups nominating to take part and was ultimately weighted in favour of the plant-based sector, with minority representation from the largest segment of Australian agriculture by size and value, the animal protein sector.
The National Farmers Federation which chaired the group conceded that given the chance to do it again, the representation of the group would have been "a little better".
Supporters of a voluntary code on Friday continued to characterise meat sector opposition to voluntary codes as representing a "significant minority".
Plant-based protein groups have regularly held up claims that a Ministerial Working Group "recommended the development of voluntary industry guidelines" as a strong endorsement of their position against mandatory labelling rules.
However, both the NFF and the Department of Agriculture in its submission have stated clearly the group achieved "no consensus" on a preferred way forward.
In its submission to the inquiry the Department of Agriculture, Water and Environment explained that the Ministerial Working Group was established to conduct an initial investigation on the labelling and marketing of plant-based alternative foods to consider whether existing arrangements can be improved for consumers.
The group was established to consider a broad range of approaches from a voluntary industry standard to cover labelling and marketing of plant-based alternative products to a regulatory approach, which place restrictions on the labelling and marketing of plant-based alternative products.
The working group concluded its deliberations in March 2021 "but could not come to a consensus decision on a preferred way forward" the DAWE submission explained.
NFF CEO Tony Mahar, who served as the independent chair of the Ministerial Working Group, told the inquiry that no consensus was achieved and the group's position was "hotly contested".
A proportion of the group supported a voluntary approach and a proportion wanted a regulatory approach, he said.
Asked by Senator McDonald if there was no consensus, Mr Maher said that was accurate.
"My letter in the working group report says there were different views on the recommended or preferred approach to the minister.
"The essence of the report back to the minister was to present options, and the report did present options, but it also stated that we couldn't reach consensus and that there was a range of views."
Mr Mahar said the group was formed when the Minister for Agriculture, David Littleproud, called for nominations to the committee.
The working group that was ultimately formed comprised Mr Mahar as the independent chair, and another representative of the NFF to represent the various NFF industry member groups, spanning livestock and cropping sectors of Australian agriculture.
It also comprised representatives of the Australian Food and Grocery Council, V2 Food, AusVeg, Food Frontier, Grain Producers Australia, and the two major retailers Woolworths and Coles.
Direct animal protein sector representation comprised the Red Meat Advisory Council, the Australian Meat Industry Council, Australian Dairy Farmers and the Australian Dairy Products Federation.
Other meat sectors including chicken, pork and seafood were not individually represented, with Mr Mahar stating the NFF tried to represent those sectors as it "does in many other issues".
Asked if there were any industries that should have been part of the working group that weren't, Mr Mahar conceded that "in hindsight we might have been able to get that a little better in terms of representation".
"My recollection was that it was a nomination a process," he said.
"And I think we could probably structure it, if I was doing it again Madam Chair, I would structure it a little bit more clearly and perhaps be a bit more considered about who we put on that group."
'At the very least if something is being called meat when it is not meat, I think the pub test is that people don't support that'
The NFF was challenged over its decision to support a voluntary code on the working group, when the meat sector, the largest segment of Australian agriculture, vehemently opposed it.
Mr Mahar said that NFF's decision was to support a voluntary approach initially to try to address the issues before taking a regulatory approach if needed.
"Because our view was that if we could get some change early, knowing that regulatory process and the time frame that took, that we should try to pursue that in the first instance.
He said that while there was recognition that there were some concerns with the way plant-based meat alternatives were labelled and that things needed to change and be improved, the NFF's approach was to try to fix it with a minimum regulatory regime in the first instance.
"If that didn't work then of course we go back to the regulatory approach."
Mr Mahar said the NFF's position is that non-meat products must not be permitted to masquerade as meat.
"At the very least if something is being called meat when it is not meat, I think the pub test is that people don't support that."
Australian Food and Grocery Council: Red meat postition significant minority
The Australian Food and Grocery Council, in response to questions from inquiry chair Susan McDonald about the discrepancy between its statement in its submission that the working group came up with a preferred option in favour of a voluntary code and the DAWE's statement there was no clear consensus from the group, defended his group's characterisation of the process.
"No there wasn't consensus, but there was certainly, most of the people around the table there, most of the parties around the table, supported the concept that that was supported by the NFF in their submission," AGFC deputy CEO Dr Geoffrey Annison said.
"And we have just heard Tony Mahar repeat, which was to start with a voluntary guide and have that, to introduce that to make changes as quickly as possible and if that didn't allay the concerns of other stakeholders, then consider a more formal regulatory response."
Dr Annison said there were up to 20 people on the working group, and "only one group of stakeholders" were in "a significant minority" on the working group against a voluntary code.
"Who was "the stick in the mud?," Greens senator Peter Whish-Wilson asked.
Dr Annison replied that the red meat industry had the main objections to a voluntary code.
"Their objections were that only a guide, just a voluntary guide wouldn't work, whereas we had the view that you start off with a voluntary guide and if that doesn't work, you go to something more stronger in the regulatory spectrum and that seemed to me, at least it was my strong impression that was generally supported except by the red meat industry.
"Were the plant based protein groups represented and did they also support starting with a voluntary approach?" Senator Whish-Wilson queried.
Dr Annison: "Yes they did."
"So they were constructive in terms of trying to find a way forward," Senator Whish-Wilson replied.
Dr Annison said a range of voluntary codes of conduct were successfully used including for agricultural products.
"Codes are used in the agricultural sector, for example there is a code of practice on animal welfare used by the animal welfare sector, that has been very successful," he said.
"There is a code of practice by MLA on the safe retailing of meat, I think they would argue that has been successful.
"It is a practice that is well accepted as being if you like the light touch of regulation , the light touch on the spectrum of regulation that goes from guides through to black letter law regulation, they're accepted as a legitimate intervention by the ACCC, and the ACCC has sophisticated guidelines on how codes of practice and guides can work."