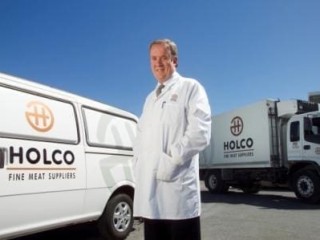 The boom in mining activity is one reason why large Adelaide based meat wholesaling and portion-control company Holco has recently opened a new processing and distribution operation in Queensland.
Holco Fine Meat Suppliers processes and distributes about 300 tonnes of chilled and frozen beef, chicken, pork and lamb each week from its existing operations in Adelaide and Darwin.
The new Queensland operation will employ 11 staff, processing about 50 tonnes of meat weekly in the early stages.
The 30-year-old Holco business turned over $118m in sales in 1010-11, up 9pc on a year earlier in a tough market environment, a report in the metropolitan media said recently. It is aiming for $140m in sales within two years.
At its Cavan headquarters near Adelaide, the company employs 280 staff, preparing and distributing portioned meat to more than 250 hotels in SA and the Northern Territory. It also has existing strong penetration into the mining sector, commercial caterers, healthcare organisations, restaurants and supermarkets.
"With the rapid mining expansion in Queensland, we believe there is potential to significantly increase sales of meat," Holco managing director Mike Rankin said.
"Having an operational base in Queensland will also open up new export opportunities for us," he said.
Two years ago Holco undertook a major upgrade of its Cavan facilities, with expanded cold storage capacity and an additional 1900sq m of production space, taking the overall plant size to 7000sq m. New laser portion cutting equipment was installed at the same time, and the company's food service division, Turners Butchers, was incorporated into the new complex.
Holco markets a wide range of range of raw material, including its own Churchill 70-day grainfed MSA brand, plus a range of proprietory brands including Cape Grim, 1824, AMH, Banksia and Oakey, plus specialist Wagyu brands Mayura Station and Darling Downs. It also produces its own Angels Bay brand burger patties.
Some onlookers say the departure of AA Co's Chefs Partner Wholesaling and portion-cutting business earlier this year (See Beef Central's story "Shock closure for AA Co wholesale business") might have created an opportunity for a new portioning/wholesaling player in the Queensland market.