For several years trials have been underway in Australia testing the potential of adding several naturally occurring compounds from certain types of seaweed to livestock feed to reduce methane emissions from cattle.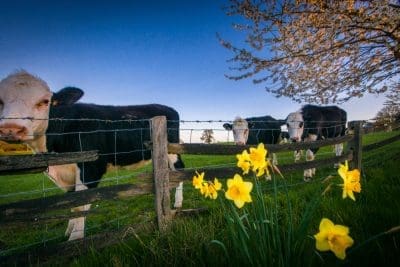 Now farmers in Wales are investigating whether their national flower can do the same thing.
Welsh farmer Kevin Stevens is taking part in a four-year trial testing the potential of adding extracts from daffodils to livestock feed livestock to reduce emissions.
He told Britain's Sky News he breeds cattle and grows daffodils, which he also grows commercially to produce an Alzheimer's drug.
Daffodils contain galantamine – a compound known to slow the progression of Alzheimer's symptoms. Mr Stevens grows the yellow flowers 1000 feet above sea level in the Black Mountains in Powys, which means they produce more galantamine than daffodils grown anywhere else due to the altitude. Once harvested, the daffodils are processed and supplied to pharmaceutical companies to be crystallised into prescription tablets and capsules. More details here
The BBC reports that scientists from Scotland's Rural College have now successfully extracted a chemical from daffodils called haemanthamine.
They claim tests show the chemical can reduce methane production by a third when added to cow's feed.
Now Mr Stevens is part of a team developing the potentially methane reducing feed.
"This could make a huge difference to the livestock industry," he told Sky News UK – see 1 minute 14 sec video here
He said tests using an artificial rumen we have demonstrated "we can eliminate all the methane produced at an appropriate dose".
"We can't afford to lose livestock production and this gives us a very real opportunity to actually change that whole story," he said.
"To reduce methane from livestock and improve food security."