BEEF Australia has attracted a collection of well-credentialed and respected industry leaders as mentors for next year's 2023-24 Graeme Acton Beef Connections Program.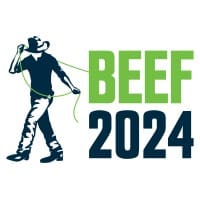 The program provides a unique mentoring experience for younger industry participants that supports the link between leadership theory and practice.
Click on this earlier story to hear more about the ten young mentees from across Australia involved in this year's program.
The Graeme Action Connections program aims to foster growth and development within the beef sector by pairing emerging talents with experienced mentors who have achieved success in their careers.
Mentees named for this year's event are:
Sam Noon, Director of SJN Rural (Qld), mentoring Phoebe Eckermann
Georgie Somerset, president of AgForce Queensland, deputy chair of The Royal Flying Doctor Service, ABC and chair of the Red Earth Foundation (Durong, Qld), mentoring Isobel Heffernan
Jo Palmer, Founder and managing director of Pointer Remote (Singapore), mentoring Jean Liebenberg
Anthony Lee, chief executive officer of Australian Country Choice (Brisbane, Qld), mentoring Xavier McCluskey
Rebecca Arnott, Farm animal product manager, Vetoquinol Australia, (Brisbane, Qld), mentoring Emily McNair
Richard Rains, Director and Immediate past Chair of The Zanda McDonald Award (Sydney, NSW), mentoring Lauren Angus
Tammy Kruckow, Leadership consultant and coach, Tammy Kruckow Coaching (Miriwinni, Qld), mentoring Liam Cameron
Prue Bondfield, Directorships with Regional Investment Corporation, Bush Heritage Australia, Black Box Co. and Livecorp (Palgrove, Qld), mentoring Amy Wicks
Georgie Aley, National sector Lead, CPG & Agribusiness and National Operational Transformation Lead for KPMG (Sydney, NSW), mentoring Georgia Dale
Aaron Kiely, Director and vice president of Queensland Farmers Federation (Emerald, Qld), mentoring Lachlan Smith
"The Beef Connections Program was created in 2015 by the then Next Gen Committee to empower the next generation of beef industry leaders, providing them with invaluable guidance and insights from seasoned experts," Beef Australia chief executive Simon Irwin said.
"Through mentorship, participants gain access to a wealth of knowledge, networking opportunities, personal growth and of course a deeper understanding of the beef industry," he said.
"We are grateful to all the mentors who have generously offered their time and expertise to support emerging talent."
"Their involvement demonstrates the unity and strength of the Australian beef community, and we are confident that these mentorship relationships will create a positive impact on our participants' professional growth."
One of this year's mentors, Australian Country Choice's Anthony Lee, said he had a passion for nurturing young talent in the beef industry.
"I am honoured to be a part of the program and contribute to the growth of our industry's future leaders," Mr Lee said.
"Mentoring young professionals allows us to share our experiences, challenges, and successes, giving them a solid foundation to build on. The beef sector is dynamic and continually evolving, so I look forward to working with my mentee, Xavier McCluskey, as we exchange ideas, innovations, leadership learnings and industry best practices."
Program Mentee Xavier McCluskey said he was excited to have Mr Lee as his mentor.
"I can't wait to learn from his industry experience and see how he approaches problem-solving", he said.
"We have a shared passion for educating students and the importance that food and fibre is taught in our classrooms."
The Graeme Acton Beef Connections Program officially commenced in May 2023, and will conclude in May 2024 at Beef Australia 2024.
About the Graeme Acton Beef Connections Program:
 The Graeme Acton Beef Connections Program is an initiative of Beef Australia, in memory of the late Graeme Acton.
As one of Queensland's leading beef industry figures, Graeme was renowned for supporting young people in entering the agriculture sector and generously donated his time and extensive knowledge to supporting the younger agricultural generation. Graeme also donated his time and expertise to Beef Australia as a board member and Chairman.