The drought may have passed or at least eased in many cattle producing regions, but that does not mean that stress and depression has disappeared as an issue for many livestock producers. In this article, WA-based psychologist Hein Roth* who has worked widely with primary producers over the past decade, offers some advice on recognising the symptoms, and finding solutions…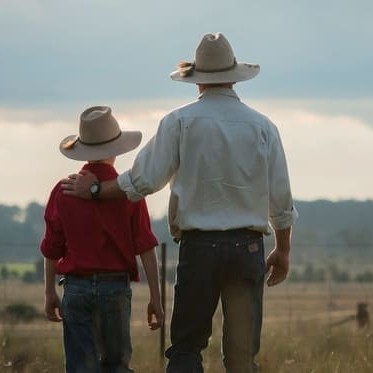 FARMING communities face stressors that the townies don't think of twice.
Here's just a few that come up frequently:
the weather not doing what it's supposed to, resulting in lengthy droughts, or flash floods when they are needed the least
the unpredictable circumstances of working with animals
having to be on call 24/7 and working long hours
having to wear a variety of hats simultaneously, including being the CEO, CFO, COO, HR manager and ER officer
ever-changing and unpredictable market prices, and
increasing costs within the business.
It doesn't take much to let issues like these get on top of you and seriously impact you, your family and your staff.
The problem with stress is that it is not the stress in itself that wears us down. Instead, it is our reaction to it.
Another issue is that as farmers, we have to be strong and are afraid to acknowledge that we sometimes need help. As a result, we push-on, not doing anything about it – very often, until it's too late.
If you or someone you know feels stressed-out or snowed-under, or feels a sense of loss of control, you can protect yourself and others from the onslaught of the stresses of farm life by becoming more aware of the symptoms and being able to take appropriate steps to counteract and manage it.
What is stress?
Stress is normal – it is a physiological response to pressures we experience in life as a result of circumstances that cause us to feel upset or threaten life as we know it. Facing these circumstances, or body takes on a 'fight or flight' mode – our defences kick into overdrive.
As a result we become more focused, energetic, and alert, which helps us to respond intuitively to a situation – for example, slamming on the brakes to avoid a crash.
Situations requiring a quick reflex are momentary and in most cases, pass rapidly – although we still might feel a little numb afterwards. However, many things that stress us are prolonged and indeed very real: the drought we've been facing is real, as are high commodity prices against an ever-changing dollar.
Prolonged stress has the potential to be harmful to our very existence. Faced with prolonged stressful circumstances, we can set our stress levels into motion with unhelpful thoughts, beliefs and attitudes. As a result, we become our own worst enemy in the sense that we help create even more stress for ourselves by overeating, consuming more alcohol than we know is good for our own health, excessive smoking, drinking excessive amounts of coffee and not exercising enough.
The imminent danger of experiencing too much stress over a prolonged period is that it can easily become a downward spiral that it impacts our mood, productivity, relationships, our the quality of life, and physical health.
What are the typical sources of stress on-farm?
One of the major causes of stress is feelings that things are moving beyond our control. In the rural workplace there are a myriad of things that can cause our stress levels to rise:
Climate and weather conditions negatively impacting the farm operations
Time pressures, "too much work, too little time" (especially during calving)
Financial pressures and uncertain incomes (e.g. paying the mortgage, buying stock, feed, or paying the vet's bill, supporting children, managing staff)
Market fluctuations (e.g. rising commodity costs, dollar fluctuation, poor producer prices)
Rising costs and lack of support due to geographic isolation (e.g. schools, health care, transport, communications, social services)
Relational conflict with the boss, staff, neighbours, and family
Long hours, shift work, being unclear about work roles and responsibilities
Complicated tasks, poor training, feeling isolated or undervalued
Bullying or harassment
Inability to attract and keep quality staff
Physical environment (e.g. noise, difficult animals, poor equipment, messy workspace, dirt, dangers)
Conflicts between work roles, job demands, and juggling the balance between work and home life
Technology – they can be a major help if all goes well. However, they can be a major contributor to daily stress, especially if they don't work properly (e.g. use of computers, printers, mobile phones, electronic farm equipment).
What are some of the warning signs of stress?
Our own reaction to stress may differ from that of the next person. However, there are a variety of early warning signs that suggest it is time for us to manage our stress levels and consider reaching out for help:
Losing your spark for life and constant tiredness
Losing interest in activities you usually enjoy
Losing interest in family, friends or your work
Changes in your sleeping patterns (e.g. sleeping difficulties despite physical exhaustion, sleeping too much, persistent periods of lying awake and an inability to shut out the worrying thoughts)
Persistent worrying about many and even the little things
Indigestion or abdominal upsets, including stomach bugs
Muscle tension and pains in the lower back, chest, shoulders, joints or other parts of your body
Skin itches or rashes for no apparent reason
Frequent colds or bouts of flu
Shortness of breath or shallow breathing, including a feeling of tightness in the chest
Memory and/or concentration problems, including finding it hard to make decisions
Feeling impatient or irritable
Feelings of sadness despite good things happening, including tearfulness for no apparent reason
Isolation by withdrawing from people and/or avoiding places and events
Risk-taking behaviours (e.g. excessive drinking of alcohol, smoking, drug use, gambling)
Losing your appetite or overeating, including drinking of excessive amounts of coffee or fizzy drinks.
If you or anyone of your family members, staff, or neighbouring farmers that you know of are suffering from the ill effects of prolonged stress, it is your responsibility to do something about it.
What can you do about stress?
As humans we will continue to experience stressful events while on this earth. However, there is much we can do to learn to cope differently with stress and our reaction to it. Here are some helpful ways to help you (or someone you know) to reduce and prevent too much stress and tension in your/their lives:
Learn to talk about your worries: Being stressed is not an indication of weakness – you are human. Spend time with others you trust. Talk to a friend, partner, parents, counsellor, family doctor, or clergy or anybody else you trust. Just talking to someone who truly listens to and understands your situation can do wonders.
Limit your expectations: Lacking energy, a major issue with stress is that we feel guilty if we cannot keep up with everything we feel we have to do around the farm. This just succeeds in making us feeling even worse. Be selective and use your energy to do the most important and possible tasks. Set realistic goals you can reach. Do not blame yourself if you don't succeed in reaching all your goals – there's always tomorrow.
Eat healthy: Under stress we tend to neglect our eating habits: we lose our appetite and skip meals, overindulge, or tend to eat more unhealthy foods. Follow a well-balanced diet and eat a variety of fresh foods. Some foods actually cause or increase nervous tension, for example, coffee, tea, soft drinks, chocolate, and alcohol. These are foods we tend to crave when overly stressed. Be aware of this and limit your intake of them.
Make the most of time: Stress is a time-robber – it causes you to waste time and lose productivity. Make the most of time – exercise at least three times per week by going for a walk, a jog, a swim, or anything physical you enjoy doing. Even if you have lost the enjoyment or lack the energy, simply do it! Exercise decreases the stress hormones such as cortisol and increases endorphins, which are your body's natural feel-good chemicals boosting your mood naturally. As well as endorphins, exercise also releases adrenaline, serotonin and dopamine – chemicals that work together to make you feel good. Also give yourself a breather now and then. Get away from the farm for a few hours a day. Spend time with family and friends or find ways of meeting new friends. Go and visit your neighbour next door; he might need your interest in him and his farming operations more than you think.
Organise your work habits: The more we stress the more we tend to lose focus, have difficulty to make decisions and find it hard to discern what is more and what is less important. Get out of bed 5 or 10 minutes earlier so you don't have to rush; break larger projects down into bite-sized achievable chunks. Use 'To Do' lists and rank your tasks in order of importance and urgency. Focus on the most important, most urgent tasks (i.e. those 20 percent of tasks that will account for 80 percent of your success) and don't get stressed to push out the less important and less urgent tasks to tomorrow if you were unable to get around to them today. Using your 'To Do' list, spend 5 to 10 minutes at the end of the day to prepare for the next day. This helps feeling that you are in control of your life.
Solve problems: Stress negatively impacts our problem-solving and conflict handling capacity. You do not have to provide a prompt answer each and every time. Give yourself time to think calmly about a situation and try to find a solution to conflict. You don't have to take responsibility for each and every task going on on-farm. Learn to be more assertive by saying NO when staff simply wants to dump what is clearly their responsibility on your shoulders, and don't feel guilty about it.
Feel better about yourself: Excessive stress causes us to feel that we are losing control, which in turn, causes our self-esteem to take a knock. Identify what you do well, and recognise and acknowledge your qualities and characteristics. Practice positive 'self-talk.' It helps.
Get sufficient sleep: Almost one of the first indications of stress is a change in our sleep patterns. For many, stress leads to sleep difficulties. To help you sleep, take a walk in the evening, meditate, or practice relaxation. Drink a glass of warm milk, a warm malt drink, or camomile herbal tea – it will cause you to have a more relaxed sleep. Make your bedroom a sleeping space only; remove the television.
Practice relaxation: Excessive worry causes our bodies to tense up. Try meditation, a massage, a long hot bath, relaxation exercises (there are some excellent ones available), listen to soft music, etc. Relaxation is very important; learn what works for you and practice it regularly.
Put fun and laughter back in your life: Stress is robber of fun in our lives: we lose our sense of humour and tend to "enjoy" the 'gloom and the doom.' Deliberately seek out fun things to do, watch a comedy with the family, get together with other farmer families in the community and arrange a fun day. Just having fun has been proven to be good for our health and it feels good too.
Some information and support
If you or someone you know are experiencing high and persistent levels of stress and would like further information or support, your family doctor or health professional is a good start. Make an appointment and talk to them about how you are feeling. They will let you know what options are available.
There are also a number of self-help support groups across the country:
New South Wales
Serenity NSW – Provides a network of self-help support groups for anxiety disorders and mild depression.
GROW NSW – Support groups based on a 12-step self-help program for people suffering anxiety, depression or other mental or emotional distress.
Australian Capital Territory
GROW ACT – Support groups based on a 12-step self-help program for people suffering anxiety, depression or other mental or emotional distress.
Carers ACT – Provides details of education and support program for carers. Also has a wide range of social activities, including recreational programs, walking groups and choir.
Northern Territory
Mental Health Carers NT – Support groups that offer courses and workshops relating to mental illness and the carer's role. Contact: Beverley Grimm. Phone: 8948 1051 or email: mentalhealthcarersnt@iinet.net.au
GROW Darwin – Support groups based on a 12-step self-help program for people suffering anxiety, depression or other mental or emotional distress.
Queensland
Mental Illness Fellowship of North Queensland Inc. – Assists a variety of self-help and support groups. Also provides telephone support networks for rural and remote areas to reduce isolation.
GROW QLD and GROW Cairns – Support groups based on a 12-step self-help program for people suffering anxiety, depression or other mental or emotional distress.
South Australia
GROW SA – Support groups based on a 12-step self-help program for people suffering anxiety, depression or other mental or emotional distress.
Mental Illness Fellowship of SA – Provides details of support groups throughout the metropolitan area for people living with mental illness, their carers, or any other interested persons. Also has information about regional support groups in Bordertown, the Riverland (Berri), Goolwa, Whyalla, and Mount Gambier.
Tasmania
ARAFMI – Support programs in Hobart for the carers, relatives and friends of the mentally ill and provides a list of NGO's which may be of assistance for people with mental health needs.
GROW TAS – Support groups based on a 12-step self-help program for people suffering anxiety, depression or other mental or emotional distress.
Victoria
Mental Health Foundation of Australia (Victoria) – Runs a Mood Disorders Support Group in Richmond.
GROW VIC – Support groups based on a 12-step self-help program for people suffering anxiety, depression or other mental or emotional distress.
Western Australia
Western Australian Association for Mental Health – Provides information and contact details for mental health services in WA.
GROW WA – Support groups based on a 12-step self-help program for people suffering anxiety, depression or other mental or emotional distress.
A couple of useful websites
http://www.helpguide.org/topics/stress.htm
http://www.heart.org/HEARTORG/GettingHealthy/StressManagement/FourWaystoDealWithStress/Four-Ways-to-Deal-with-Stress_UCM_307996_Article.jsp
http://psychcentral.com/blog/archives/2011/07/11/10-practical-ways-to-handle-stress/
About the author:
Hein Roth* is a registered psychologist with 26 years' experience in a variety of industrial settings. He has had 10+ years' experience in the agribusiness industry, where much of his work included farm business and on-farm human resource management, as well as environmental and risk management assessments and change management. He also has an extensive knowledge and experience on rural mental health disorders and their effective management. He is the author/co-author of various scientific articles, some of which have been published in international agricultural journals and which he has presented at international conferences.
For further information, contact Hein at: info@rothassociates.com.au phone 0410 043 877.