DATA contained in ABARES' most recent agricultural commodities report suggests that overall meat consumption in Australia – that is all chicken, pork, beef and lamb – is back to where it was in the mid-1990s.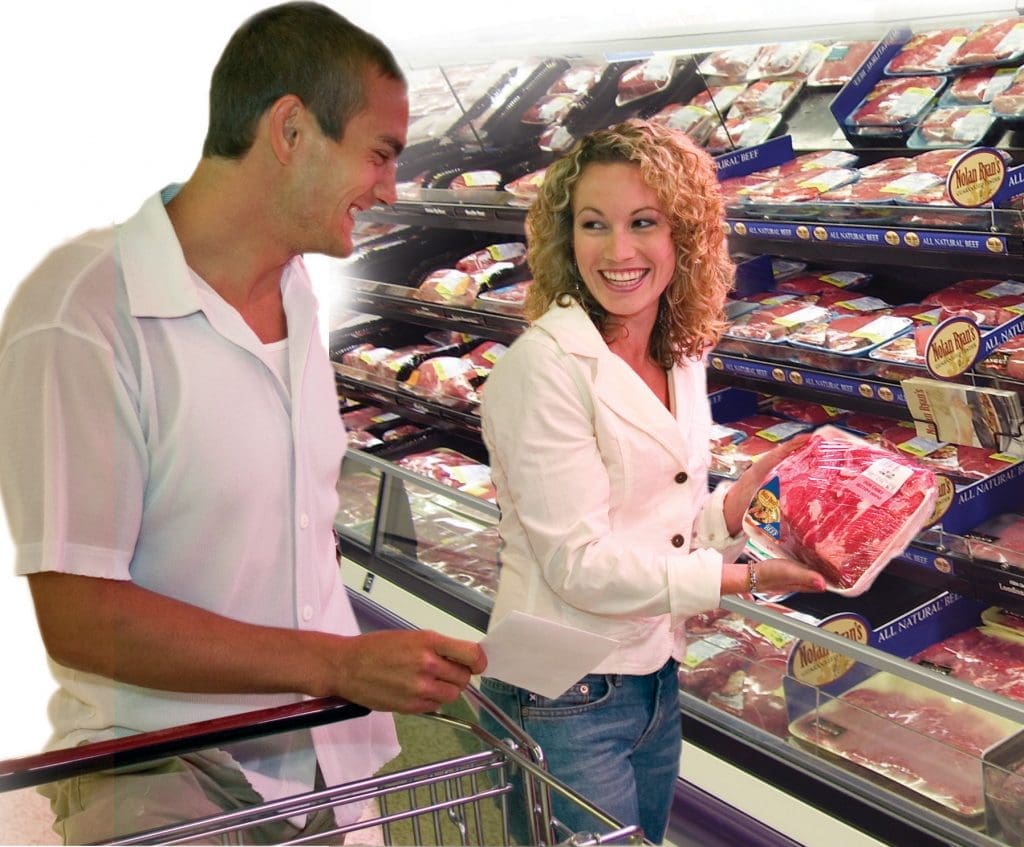 But whether the recent decline is part of a normal cycle, or reflective of a deeper trend, is up for debate.
Annual meat consumption estimates published in ABARES' March quarter 2021 Agricultural Commodities report suggest that total meat consumption in Australia fell sharply in a single year from 105.2kg per person in 2018-20 to 99.5 kilograms per person in 2019-20.
According to the ABARES data, total meat consumption in Australia is now below where it stood in 1996-97, when it was estimated at 99.7 kg per person.
ABARES forecasts that overall consumption levels will continue to decline to 98.5kg per person in 2021-22:
| | | | | |
| --- | --- | --- | --- | --- |
| | 2018-19 | 2019-20 | 2020-21 | 2021-22 |
| Beef | 22.8 | 19.6 | 19.8 | 18.8 |
| Chicken |  47.4 |  46.3 | 46.4 | 46.9 |
| Pig      |  28.7 | 28 |  27.7 | 27.4 |
| Sheepmeat | 6.3 |  5.6 |  5.5 |   5.4 |
| TOTAL | 105.2    |  99.5 |  99.4   |  98.5 |
Australian meat consumption, kilograms per person. Source: ABARES agriculture commodities report March 2021
This reported downward trend in Australia contrasts with steadily growing global meat consumption around the world over the past 20 years, according to OECD and FAO data:
Global meat consumption is on the rise and expected to break a new record.

BTI's @danrejto & @alexjmssmith on why we'll need both #altmeats AND livestock system improvements curb resulting climate impacts. (Via @techreview) https://t.co/DeSSEu9RYF pic.twitter.com/63ZZZVzNnz

— Breakthrough (@TheBTI) May 18, 2021
So what to read into this?
Is the reported reduction in domestic meat consumption in Australia part of a normal cycle driven by price, or a signal of a deeper long-term trend away from meat consumption?
The conclusion drawn by economic research organisation IBISWorld in a press release drawing attention to the data last week was firmly of the view that the decline is "just the veganning" (their words) of the move toward plant-based meats and the threat flexitarian diets pose to meat production.
"Australian meat consumption per capita remains near its lowest point since 1996-97, at 99.5kg per capita, as Australians increasingly adopt ethically and environmentally-conscious dietary habits," IBISWorld's take on the data states.
"The rising popularity of 'flexitarian' diets, which reduce but not eliminate meat consumption, represents a threat to the meat processing industry, which is expected to contract by 10pc in 2020-21, to $22.2 billion."
It added that the COVID-19 pandemic has accelerated the uptake of low-meat diets, as lockdowns have provided consumers "with time to focus on healthy cooking and cheap meal ideas", and it pointed to rising public concerns about health, and "greater awareness of unsustainable farming and forestry practices" as "further spurring the transition to plant proteins".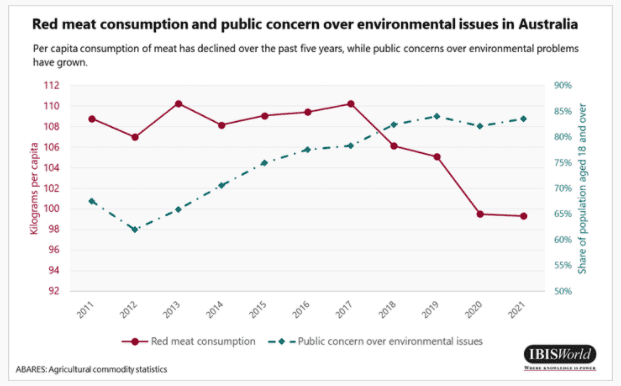 Source: IBISWorld. (While the headline of the above chart refers to "red meat" consumption, the red line depicts total meat consumption (beef, sheepmeat, pigmeat and chicken meat), not just red meat, IBISWorld has clarified).
The article added that the domestic price of meat has risen annually by 3.1pc per year which "has driven more consumers to seek vegetarian alternatives" (not specified is how plant-based protein alternatives currently compare price rise to conventional meat), while the Covid pandemic had given consumers "more time to focus on healthy cooking and cheap meal ideas".
Headlined "flexitarian diets threaten meat production", the article states that sales of plant-based meat alternatives "rose by 46pc over 2019-20" but no further detail is provided showing showing actual sales volumes.
Such data is not particularly easy to find. While there are lots of articles about significant funds being raised by alternative protein product manufacturers and reports predicting what is seen as massive potential for alternative protein penetration of the global meat market, there is scant detail showing how products in the market have performed in terms of actual sales volumes to date.
In May last year, Nielsen HomeScan data showed that for the previous 52 weeks plant-based protein consumption accounted for 0.3pc of fresh meat volume sales.
While attributing declines in recent meat consumption to growing demand for plant-based alternatives, the IBISWorld article omits any reference to what many (or least we!) would argue is the elephant in the room – that is the impact of the severe and widespread drought in the years leading up to 2020 on production, supply and in turn price on consumption of meat in Australia.
That impact was recognised by another IBISWorld article posted only a few days before the "Just the Veganning" article on its website on May 10, 2021.
Headlined Recent Trends – Meat Consumption, that IBISWorld report referenced how herd rebuilding post drought is likely to limit supply of beef and in turn increase prices, which will reduce per capita consumption, while increased rainfall post drought will boost pork, poultry and lamb production, placing downward pressure on prices for those commodities, and boosting their consumption.
Beef Central asked IBISWorld if it could explain why the recognised impact of drought as referenced in its meat consumption trends article was not mentioned in the "Just the Veganning" press release on meat consumption trends issued on May 13.
"We didn't mention it because it is not the focus of the release," an IBISWorld spokesperson said in response. "We agree that the impact of drought on beef prices is also a factor in the current low level of meat consumption."
We also asked ABARES for its thoughts on what the likely drivers were behind the sharp drop it estimated in overall meat consumption in Australia from 2018-19 to 2019-20.
In response ABARES referenced general trends of falling beef and veal consumption being offset by rising poultry and pigmeat consumption primarily driven by the increasing affordability of poultry over red meat, a trend it noted that has also seen in the United States.
It also pointed out that total meat consumption has fluctuated between 100-110 kg per person per year since 1974-75 (the earliest date from which ABARES publishes data).
ABARES' meat consumption data charted below highlights the extent to which overall meat consumption trends in Australia have moved up and down in a similar range for almost 50 years – the reduction to 1996-97 levels not presenting as a linear regression but rather part of a historic cycle.
It also highlights a correlation between periods where overall meat consumption has fallen with periods of either well below average rainfall or major droughts in large livestock production and/or feed growing areas (ie early 80s, early 90s, the millennial drought, mid-to-late 2000s, the 2017-2019 drought).
ABARES also pointed out that domestic consumption of meat is "subject to considerable year-to-year variation".
"In addition to this variability, these numbers are still forecasts and estimates, and may be subject to revision in due course."
Per capita data on meat consumption is estimated based on food availability rather than data collected from individuals through national nutrition surveys.
ABARES takes production, adds imports, subtracts exports, and what is left in the country is assumed to be 'consumed'.