AUSTRALIA'S single largest international beef customer was hit hard by the COVID pandemic – as all food service businesses around the world were – but it has bounced back with startling results during the recovery period, last week's BeefEX feedlot conference was told.
It has made the supply challenge ever greater for McDonald's worldwide supply chain director for beef, Andrew Brazier, who spoke at the feedlot industry gathering last week.
Mr Brazier is part of McDonald's strategic sourcing food team responsible for managing pricing structures with suppliers, planning where the company needs to move to build supply channels – whether it be raw material or finished product – and where it needs to build new facilities to be able to cope with market demand.
In recent times since COVID, that work also involves executing on contingency plans in managing crises.
An expat Australian now working in McDonald's global headquarters in Chicago, Mr Brazier talks about his interesting career path in a Beef Central Weekly Grill podcast with host Kerry Lonergan posted on Friday (click here to access).
The sheer size of the challenge faced in feeding the McDonald's system with raw material was evident in some statistics presented by Mr Brazier.
The company feeds around one percent of the global population every day, through 39,000 restaurants (mostly local franchisee owned) operating in 109 countries. The number used to be 110, but McDonald's withdrew from the Russian market earlier this year after the Ukraine invasion.
While the Big Mac remains the 'undisputed number one' in terms of sales (1.5 billion unit sales in 2021, worth US$5.7 billion) that's not the same everywhere. In China, for example – McDonald's second largest market after the US – the McAngus is more popular.
The top five beef burgers account for 83pc of McDonald's worldwide sales, the BeefEX audience was told.
Using the old adage that reputations were hard won, but easily lost, Mr Brazier said it was more important than ever to have consistency in how (red meat supply chain) businesses are managed and the relationships within and between them.
COVID learnings
One of the company's key learnings during COVID was driven through necessity, due to staff shortages and limited opportunities to engage with customers.
"By focussing on a smaller number of products, like the Big Mac, for example, and doubling down on the 'three D's (digital, drive-through and delivery), we were suddenly delivering the product to the customer hotter, faster and fresher. They in turn responded, by increasing their frequency of visits," he said.
"But in response we have done a lot of spending on our delivery systems and our digital infrastructure. It's continued to give us the ability to take advantage of those people who, whether they were willing or not, were spending more time at home, and wanted a cashless society."
Flexibility
When 50pc of US beef production stopped for several weeks in 2020 due to COVID impacts in processing plants, McDonald's went to great lengths to secure raw material supply, Mr Brazier said.
"We paid a lot of money to get that meat flowing, but our principle of assured supply at all times meant that we were going to pay that money," he said.
"With our systems-first approach, we regularly have raw material suppliers collaborating with each other – even though they are competitors – to solve problems, improve processes and share best practises. This is a rarely seen dynamic in the retail environment."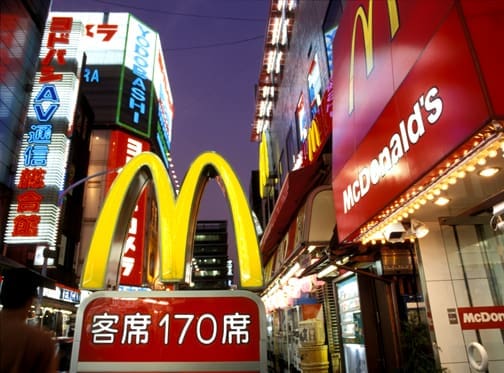 So how did McDonald's perform during the COVID period?
"Under the incredibly challenging circumstances, the people within McDonald's and its suppliers did some amazing things during the COVID period," Mr Brazier said.
"Despite everything that was thrown at us, we only lost about 10pc of our sales, year-on-year. In some countries, particularly in Europe, governments shut down non-essential businesses like serving food. It meant we had hundreds of millions of dollars tied-up in raw material and finished products with limited shelf-life sitting in the pipeline, that we suddenly had no outlet for. We had no idea when business would re-open, and no idea what demand would be like when it did re-open."
"It's relatively easy to shut-down a pipeline like this, but a lot harder to ramp-up again – and this is where coordination between our amazing suppliers (in Australia and elsewhere), and the flexibility of the restaurant owner-operators, and the coordination within the business mdoel worked together to get moving again."
More often than not, when markets re-opened after COVID, it was McDonald's which was the first in food service to 'turn the lights back on,' Mr Brazier said.
"In some countries, we saw lineups for miles off freeways and off-ramps," he said.
"People were keen to have that first burger again, just to get that sense of what 'normal' feels like. Macca's was seen as a safe-harbour in an uncertain world."
Managing the supply chain through that process had allowed the company to 'super-charge' its performance. Global revenue last year reached US$23.2 billion, up 8.4pc on 2019 (the last full year before COVID impact) and +29pc from 2020. Gross income at US$12.5b was up 10pc on 2019 figures.
"Critically for beef, during all of this, we have been increasing our market share," Mr Brazier said.
"Collectively in regions like Europe, the post-COVID rebound in sales happened so quickly that it has left us scrambling for more capacity."
In McDonald's third largest market Japan (previously second after the US, until recently surpassed by China), the beef category had been growing at 9pc a year since 2017.
Headwinds
As the effects of COVID continue to subside, a new set of headwinds had arisen in the quick-service restaurant industry. One of the biggest was inflation, Mr Brazier told BeefEX.
"In normal years, we might see beef prices rise, while dairy or wheat prices might go down. But this year, while we have been able to increase sales, our cost to operate including food ingredients, energy, transport and labour have typically risen 20-30pc."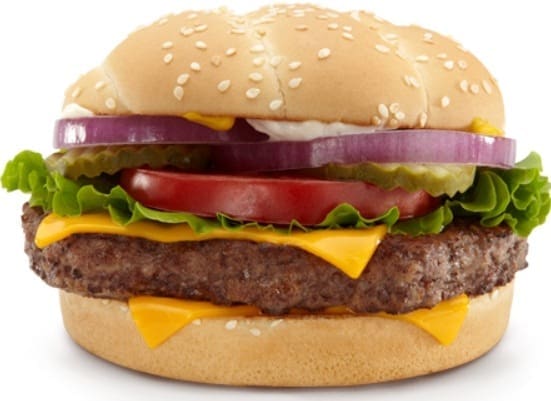 Erratic weather had also played havoc with supply chains – regardless of what people believed about climate change, he said. McDonald's was forced to airfreight lettuce into Australia from California to maintain supply, due to local weather impact this year.
"That's just one example of hundreds of contingency plans we had to make due to weather," he said.
Logistics in the global supply chain also remained challenging.
"When US west coast ports close down, or empty containers start to bank-up in China, we've had to look at what levers we can push to try to mitigate that impact on our raw material supply around the world."
McDonald's was also having to deal with a lot of 'white noise' in consumer expectations, around the perceived impact of 'cows on the climate.'
"This is something bigger than McDonald's – it's something we need to address as an industry, and as a society. It's one of the most critical issues we need to keep addressing, to keep beef relevant – not only today, but to tomorrow's consumer."
As McDonald's works through these supply chain challenges, it is also assessing the available capacity of facilities that currently produce product for the company's restaurants.
"Where we are short of capacity, we're working with suppliers to add more, as we move from a just-in-time approach to a just-in-case approach to managing our supply chain. We've always had a strong contingency plan for our direct raw material suppliers, but more and more, we're focussing on the next tier down, and the next tier after that, to be able to mitigate some of this risk," he said.
Shift in consumer behaviour
Since COVID, something had happened in the way consumers were working, and living their lives.
"They want more flexibility, they want balance, and they want simplicity in the middle of their hectic lives," Mr Brazier said. "There are shifts in digital, how they interact, and how they transact, and the shift is only picking up speed."
"We need to be able to provide solutions for these expectations."
In a market like the US, in the 1970s 70pc of McDonald's customers were white. Today the figure is below 50pc, and the trend is continuing. In light of this changing landscape, McDonald's wanted to focus on what it could control, stick to its plan and stay on the side of the consumer, Mr Brazier said.
So what are the consumers saying?
"Essentially consumers want to feel good about the food they eat," he told the conference.
"We can drill that down to four primary areas that we think can help continue to deliver consumer trust – and it's where its critical for all of the supply chain to work together to address this."
Those key areas included:
Climate
Destruction of forests
Responsible antibiotic use, and
Animal welfare
"When it comes to climate, McDonald's is looking to support an outcomes-based approach to support our climate commitments of net zero carbon by 2050," Mr Brazier said.
"To do this we're promoting the management practices that optimise productivity like genetics and nutrition; eliminate emissions due to beef-related deforestation; support GHG emissions reduction through the development and scaling of methane mitigation additives and other evolving technologies; and increase carbon sequestration by promoting conservation grazing practices.
Regarding animal health and welfare, McDonald's supported the application of best practices including low-stress stock handling, and use of pain mitigation and other practices which provided cattle with a good quality of life, and an environment in which they could thrive.
Returning to the partnership theme, Mr Brazier said McDonald's needed beef producers and lotfeeders to be resilient during challenging times, stay in business, and continue to produce high quality beef in a sustainable way.
Questiontime
During questiontime, Mr Brazier was asked about the performance of plant-based burgers at McDonald's.
"We have the McPlant burger on menus, but in things like this (plant-based), we tend not to be the leaders, preferring to sit back and monitor performance, and what consumers are really thinking.
McDonald's did its first plant based trial in Canada three years ago. "It went OK, but it certainly did not blow our socks off, or motivate us to roll it out extremely quickly," he said.
"But again, it's about offering choice to consumers. We want to stay relevant to the consumer, but we're a business that is built on beef, and we also sell a lot of chicken now. We will continue to move in the direction that consumers want to go."
"The McPlant pattie is available for use on those countries that want to give it a try."
The company is currently doing a trial in Victoria, but while it is early days for sales, results are consistent with what is being seen in other parts of the world – some support in urban areas, but less-so in regions.
Another delegate asked about the extrinsic* value (*not part of the essential nature) in 'sustainable' claims in McDonald's beef products.
"Are they just a necessity to maintain market share, or what percentage increase in customers is predicted due to adding these credentials?" the delegate  asked.
"It's about staying relevant," Mr Brazier said. "The market is the market in some ways – we will pay what the market dictates, but we're firm believers that we as an industry need to stay relevant."
"A lot of consumers establish their lifelong dietary habits between the ages of 15 and 25. There's a lot of noise about beef is bad for you or the environment, and regardless of whether it is misinformation or not, that thought process hits on these young people."
"We really need to think about how we stay relevant to the consumer."
Coming up: McDonald's Andrew Brazier and other BeefEX speakers scrutinise the global beef supply and demand, and price impact from the US drought.