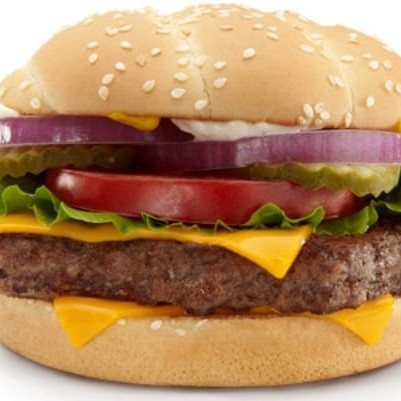 GLOBAL burger chain McDonald's has committed to begin purchasing "verified sustainable beef" during 2016, following a two-year establishment phase during which it will "listen, learn, and collaborate with stakeholders from farm to the front counter to develop sustainable beef solutions."
The company aligns the move with similar 'sustainable' supply chain adjustments it has made in areas like coffee, fish and packaging materials. The chosen definition of 'sustainable' clearly covers both environmental considerations, as well as animal welfare.
"Sixty years ago, McDonald's started out as a hamburger destination. Today, we offer a range of menu choices, but burgers remain some of our most iconic menu items. That's just one reason we want to do our part to improve environmental practices in the way beef is produced, support positive workplaces in the beef industry, and drive continuous improvement in animal health and welfare," a new page on the company's corporate website says.
"We envision doing all of this while providing affordability and quality, along with economic viability for those who raise cattle and produce beef."
"Over the years, we've worked hand-in-hand with our suppliers to get better at responsible purchasing," McDonald's statement says. "We're now committing to a goal of purchasing verified sustainable beef."
The implementation deadline of 2016 could not happen faster because McDonald's sells about 450,000 tonnes of beef annually in the US market, alone, and making significant change like this to its beef supply chain will be a major undertaking.
There's also the matter of semantics, because to this point there has been no universal definition of 'sustainable' beef, McDonald's explains on its website, initially reported by GreenBiz.com
Further, the beef supply chain is fragmented with cattle producers, suppliers, abattoirs and burger patty manufacturers working independently.
McDonald's says it has worked with the World Wildlife Fund, beef processors Cargill and JBS and others since 2011 to create a Global Roundtable for Sustainable Beef. That consortium has now drafted guiding principles and best practices for sustainable beef, "a breakthrough for the beef industry, and for McDonald's," according to the company (see Beef Central's earlier Global Roundtable item here).
McDonald's says its timetable is to support development of global principles and criteria in 2014; develop targets for purchasing verified sustainable beef; and to begin purchasing sustainable beef in 2016.
Supporting sustainable farming is not only the right thing to do, it makes marketing sense as well, analysts said after the announcement. McDonald's faces increasing competition from burger chains such as Elevation Burger, B. Good, BurgerFi, The Counter, Farmer Boys, South St Burger Co and others that sell beef carrying 'natural', 'grassfed' and other brand claims.
Improving environmental impacts
"Some aspects of beef production can be positive for our planet, such as when well-managed pasture lands support bio-diverse habitats. However, we recognise the negative impacts of certain practices, like overgrazing, and the effects on climate change," McDonald's new corporate website page says.
In 2013, McDonald's calculated its carbon footprint using a widely-recognised life cycle analysis approach. Such an approach is advocated by Meat & Livestock Australia.
"The analysis extended from farm to fork across our worldwide supply chain and restaurants. We found that 70pc of our greenhouse gas emission impacts are in our supply chain, and of those, around 40pc are related to beef. Even though our purchases represent less than 2pc of the total (US) beef and dairy industry, we are working with other end-users and the broader beef industry to address this important topic," McDonald's said.
"Knowing where our food comes from is a priority for our customers and for McDonald's. Our food safety requirements help us ensure the quality and safety of our ingredients from farm to the front counter."
"In many countries, infrastructure is not in place to track beef from the birth of the calf all the way through the farm, processing plant, and to the restaurant or grocery store.
"In some places – Australia, Canada and Europe, for example – government or industry beef traceability systems are set up to track beef. While we hope to see this additional traceability along the beef supply chain in other parts of the world, we currently maintain traceability in the abattoirs and the facilities they source from. We audit the processors that supply our beef and know they adhere to McDonald's rigorous standards for food safety and animal welfare."
"While the road to sustainable beef is complex, we believe it is possible to achieve success. There are many best practices for beef sustainability, and we see momentum building to achieve our goal of purchasing sustainable beef," the company said.
The web page made the point that McDonald's beef suppliers, abattoirs and patty processors by and large do not own farms. "Each part of the beef industry is owned by a different entity and operates independently, with practices unique to its role in the supply chain."
McDonald's three-part plan for sustainable beef
Aspirations:
Support development of global principles and criteria in 2014
Develop targets for purchasing verified sustainable beef
Begin purchasing verified sustainable beef during 2016
Vision:
McDonald's beef comes from farmers and processors who create economic value and nutritious protein through verifiable and diverse production systems that:
Optimise cattle's impact within ecosystems and nutrient cycles
Positively impact the lives of their employees and the communities in which they operate
Care for the welfare of the cattle throughout their lives
Approach:
Create principles and criteria for sustainable beef production
Identify and test sustainable beef production practices
Lead with transparency and engagement
Work closely with our suppliers and other partners for change in the industry.