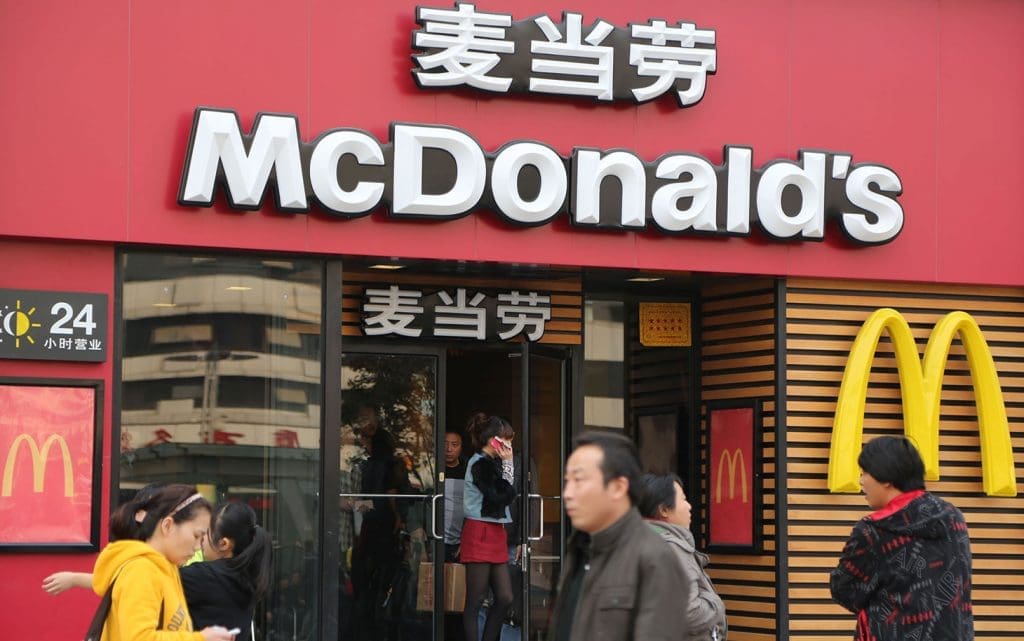 GLOBAL burger giant McDonald's will sell a controlling interest in its mainland China and Hong Kong business for US$1.7 billion.
The buyer is Chinese state-owned conglomerate CITIC, and US private equity firm the Carlyle Group.
The deal, for 80 percent of McDonald's China operations, gives CITIC and Carlyle franchise rights for 20 years. CITIC and its investment arm, CITIC Capital, will have a controlling stake of 52pc, while Carlyle will take 28pc, a McDonald's press release said. McDonald's will retain the remaining fifth of the company.
The new owners plan to add 1500 new stores in China over the next five years.
Australian grinding beef is processed into patties in China for McDonald's use.
"China and Hong Kong represent an enormous growth opportunity for McDonald's," Steve Easterbrook, McDonald's chief executive said in today's statement.
"This new partnership will combine one of the world's most powerful brands and our unparalleled quality standards with partners who have an unmatched understanding of the local markets."
Mr Easterbrook, who took over in 2015 and set about turning the company around, has seen it regain its financial footing recently, although growth has slowed.
McDonald's suffered a significant setback in its China operations in 2014 when a supplier was exposed after using raw material past its use by date, and unsanitary food manufacturing practises.  See earlier story "OSI issues apology over China food safety scandal". The episode had a significant impact on McDonald's sales turnover in China over the next two years.
McDonald's operates and franchises more than 2400 restaurants in mainland China and 240 in Hong Kong.
As McDonald's streamlines its sprawling global operations, the fast-food giant is also looking at further deals in markets such as South Korea, Japan and Southeast Asia.
The new Chinese consortium said it planned to focus on opening new restaurants in third and fourth-tier Chinese cities. For CITIC, the investment was seen as a way to tap into rising disposable incomes in China.
CITIC chairman Chang Zhenming said the deal was a "strategic opportunity for the company to invest in the expanding Chinese consumer sector."
Moving into smaller cities would provide growth opportunities for McDonald's in China, a food service analyst said.
"KFC has already gone into tier-three and four Chinese cities, where McDonald's hasn't expanded nearly to that extent yet," the analyst said.
McDonald's Steve Easterbrook is pursuing a turnaround plan to revive the company as it faces the fourth consecutive year of traffic declines in the US, its largest market. McDonald's has committed to re-franchising 4000 restaurants by the end of 2018, and has set a long-term target to have 95 percent of its global outlets owned by franchisees.