GLOBAL burger restaurant giant McDonald's has issued its preliminary first quarter trading results, showing sharp declines in sales across its international business during March.
March sales in all markets were down 22 percent, with US stores recording a decline of 13.4pc and other markets down a combined 34.7pc for the month, compared with the previous year.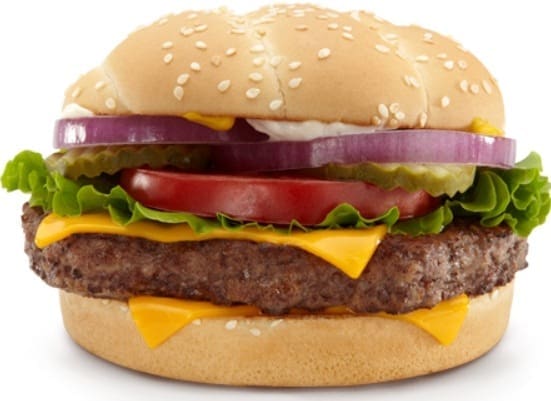 Globally, sales results only began to markedly decline during the second half of March due to COVID-19, which caused significant restaurant closures and people movement restrictions in many countries. That suggests April sales may be more heavily impacted.
While 99pc of the company's US stores remained open (as at April 8), just 45pc of stores owned by McDonald's in other markets are currently operating, and in markets where other operators function under license to McDonald's (including China), 75pc.
Comparable sales results for the January-March quarter were less affected, with January and February trade delivering 'strong sales', McDonald's said, before the onset of restrictions on people movements.
China was the first to be impacted, with about 25pc of its McDonald's restaurants fully closed in early February.
Other markets in which the company operates, such as Australia, Canada, Germany and Russia have limited operations (some including Drive-thru, Delivery and/or Take-away) with some restaurants within these markets closed, operating only for limited hours, with limited menus and/or restricted capacity.
McDonald's outlets in other markets such as France, Italy, Spain and the United Kingdom, are completely closed.
In a separate set of markets that operate under license to McDonald's, China has resumed operations in 98pc of restaurants, although the market continues to experience a reduced level of demand as consumers have not fully-returned to their pre-COVID routines, the company said in a statement. All restaurants are operating in Japan, while Brazil has 60pc of restaurants operating, the majority of which have limited operations.
"The COVID-19 pandemic has adversely affected our financial results, and could continue to impact our financial results, condition and outlook," the company warned.
"Health epidemics or pandemics can adversely affect consumer spending and confidence levels and supply availability and costs, as well as the local operations in impacted markets, all of which can affect our financial results. Importantly, the global pandemic resulting from the outbreak of COVID-19 has disrupted global health, economic and market conditions, consumer behaviour and McDonald's global restaurant operations beginning in early 2020."
"Local and national governmental mandates or recommendations and public perceptions of the risks associated with COVID-19 have caused, and may continue to cause, consumer behaviour to change and worsening economic conditions, which could continue to adversely affect our business."
Australia is one of the largest suppliers of grinding beef and manufactured burger patties into McDonald's operations worldwide.
McDonald's president and chief executive Chris Kempczinski, pictured, said the current situation had had a 'significant impact' on the business.
"We entered 2020 in a strong position, but of course the world has since changed. While our January and February global comparable sales were strong, changes in consumer behaviour and the various restrictions in place by governments around the world have led to a significant decline in sales," he said.
In light of the impacts of COVID-19, McDonald's has plans to reduce the number of new store openings around the world this year.
"Looking ahead, we will need to be responsive to the reality of a post COVID-19 world," Mr Kempczinski said.
"While we're not sure what a post COVID-19 world looks like yet, one thing I do know for certain is that we will keep innovating to elevate the experience of our customers and our crew. And against that backdrop, our purpose remains unwavering: to feed and foster communities."
"The world is going through a historic event, with profound consequences for McDonald's, for the restaurant industry and for humanity at large. We're learning more about this situation by the day, and over the coming weeks and months, we'll better understand the enduring consequences it presents," Mr Kempczinski said.
McDonald's said it is working closely with suppliers on contingency planning to ensure continuous supply. The company expects to reduce capital expenditures by about $1 billion for 2020.
Burger King NZ in receivership
Meanwhile, the parent company of Burger King in New Zealand has been placed into receivership.
The business operates 83 stores around New Zealand, employing more than 2600 staff.
Burger King NZ restaurants have been closed as part of the nation's level-four lockdown in response to the Covid-19 pandemic, a NZ Herald article said.
The receivers will now seek support from suppliers and landlords to possibly restart the business once the lockdown is lifted.
The receivers said senior management remained committed to the business and was working on a plan to reopen after the lockdown.
In a letter addressed to staff, Burger King chief executive Michelle Alexander said that inability to earn revenue had created significant financial challenges for the company.
"As you know we have applied and received the Government wage subsidy, and this is assisting to pay all staff during the lockdown, however with no sales since lockdown commenced, the Company does not currently have the cash flow to fund trade creditors and rent payments," Alexander said.
She said there was a high degree of uncertainty to when the lockdown would end and how quickly the economy would recover. In this context, she said that the Burger King shareholders had decided not to put any additional equity into the business.
Ms Alexander said the aim of putting the business into receivership was to restart the business and then find a new owner.
"We believe that this is the best way forward for the business and are committed to finding a new owner who is confident in the long-term prospects of the Burger King business in New Zealand," she said.
Alexander assured staff that these developments would not affect their terms of employment and that they would stay on at least 80 per cent of their usual earnings.