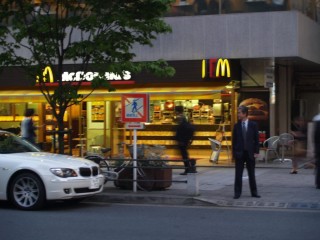 The world's largest restaurant chain, McDonald's, has delivered a 15 percent second-quarter profit rise, as more consumers in North America, Asia and Europe return to dining out – even if only for a budget-level burger option.
Coffee sales through the McCafe network was another strong second quarter (Q2) profit driver for McDonald's. Q2 McCafe sales in the US rose a spectacular 29pc from a year earlier, luring more customers during non-peak dining hours, the company said.
McDonald's net income rose to A$1.48 billion from A$1.29b for the same quarter last year, suggesting customers saw a Big Mac as an attractive choice over more expensive food service options during tough economic times. Total second-quarter revenue climbed 16pc to A$7.25b.
Australian grinding beef and locally-produced patties are used in McDonald's restaurants in more than 20 countries in Asia and North America.
Chief executive officer Jim Skinner said same-store sales (those opened more than 12 months ago) grew 5.6pc globally during the quarter. Analysts had predicted a gain of 4.1pc. Comparable, or same-store sales, are an indicator of growth because the numbers include only older restaurants.
In June, comparable store sales rose 7.7pc worldwide, the largest monthly increase since November 2008, and were up 6.9pc in the company's US division.
McDonald's repeated a forecast that 2011 food inflation would be as much as 4.5pc for the US and Europe.
The company said a focus on high-quality, affordable food and beverages had driven higher sales and guest counts in the US despite the difficult economic environment. Sales were also strong in Europe and China.
The third quarter (Q3) had started equally strongly with July global comparable sales expected to be up 4 to 5pc, Mr Skinner said in a press release.
McDonald's New York stock exchange price has risen 15pc this year, and brokers continue to pitch it as a 'buy' option based on strong recent performance and sound prospects.