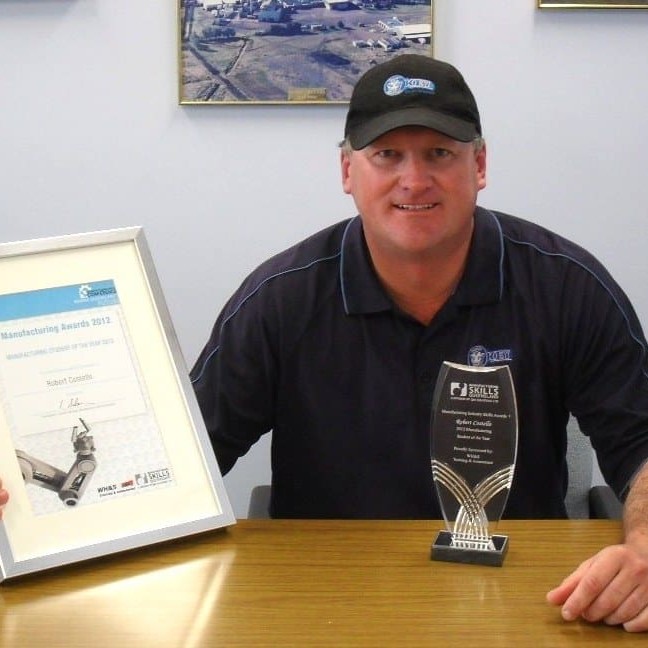 A member of the boning room staff at Nippon Meat Packers' Oakey abattoir has won a prestigious manufacturing industry-wide training award.
Oakey's boning room supervisor Bob Costello was announced as the Manufacturing Student of the Year in the 2012 Manufacturing Skills Queensland awards held on Friday.
MSQ presented of a number of significant manufacturing industry awards in training excellence at its 'Making Queensland's Future' conference.
Mr Costello was nominated by his employer, Oakey Abattoir, and training provider, Response Learning, for his outstanding work during completion of his Diploma of Meat Processing course, through the National Meat Industry Advisory Council, over the past 18 months.
He graduated at the MINTRAC conference in March this year.
The Diploma of Meat Processing is a high-level qualification focused on the needs of the meat processing sector. The content has a strong leadership focus and project-based delivery approach. It is designed to maximise application through improved performance and continuous improvement initiatives. The course is delivered through workshops, coaching and projects in the workplace.
In receiving his award, Mr Costello said "Managing staff is a challenging role and I realised that what I was doing previously was the day-to-day operational management at best."
"In a competitive industry like meat processing, that is not enough. We needed to shift from a reactive approach to problems to a proactive, forward-thinking culture which is not afraid to try new innovations," he said.
"As part of that, I needed to develop skills and knowledge to know how to achieve this and therefore improve the productivity, quality and waste of my department. Personally, I was ready for that challenge and had the confidence and support of the senior management team to do this."
Mr Costello was singled-out by his award nominators for making a major contribution for improving plant efficiency at Oakey.
"Bob and I spent some coaching time together during his OHS unit where he had a project to enhance the safety of the processing area," Response Learning's RTO manager Wendy Hall said.
"He delivered a sound and worthy assessment, but something that was not truly innovative. He and I spoke about doing things differently, and thinking broader. He took this and reflected on it, and in his next assessment on Managing and Improving Plant Operations, we saw the most amazing project emerge that literally produced thousands of dollars worth of daily savings," Ms Hall said.
While the details of that process are understandably treated as commercial-in-confidence by the Oakey business, it was based on doing more preliminary work on the carcase, hot, to improve yield and reduce waste, while also increasing the throughput through the boning room.
"Bob has changed his thinking and his actions as he now takes on projects across the plant at the request of the GM," Ms Kelly said.
"He is confident to engage in dialogue and robustly discuss a scope of a project, and clearly articulates any benefits and cost savings why a change is needed in a particular processing area."
Mr Costello has worked in the processing industry for 28 years, starting as a floor boy and working his way through to becoming a boner, slicer, QA officer and currently, boning room supervisor.
"I've seen the transition of the manufacturing sector from one of 'tough love' culture to one of innovation and great advances in technology," he said.
"This change requires a new cultural approach by managers, and I've had the opportunity to acquire knowledge in technical areas such as Certificate III in Meat Processing, Workplace Trainer and HACCP. These have been invaluable in my processing roles," he said.