THE manufacturer of pain relief product Tri-Solfen has moved to assure producers there are no issues with using the product on cattle that will enter export supply chains, despite the product having no formal Export Slaughter Interval established.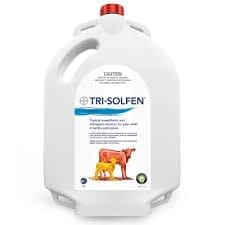 Tri-Solfen is a pain relieving and wound healing formulation now approved for use in the Australian cattle industry for castration and dehorning.
It incorporates analgesia and antiseptics to relieve pain, reduce blood loss and provide a protective coating over the wound.
Tri-Solfen was initially developed to provide pain relief for sheep during mulesing, and is now reported to be used by 80 percent of Australian Merino producers.
It was approved for use in the cattle industry for castration in 2016 and for dehorning and disbudding in July this year.
The product was commercialised by Medical Ethics and is distributed by Bayer.
At a recent BeefUp cattle research forum Chinchilla veterinarian Kylie Schooley made the observation that Tri-solfen does not have an Export Slaughter Interval (ESI) listed on its label.
She noted the product has a domestic meat withholding period of 90 days between application and slaughter, and made no suggestion it was not safe or appropriate to use.
But in the absence of an established ESI listed on the label she suggested producers check with their market chain and seek direct confirmation of their customer's specific requirements for the product before using it.
In Australia it is mandatory for the withholding period of every registered veterinary chemical product to be listed on its label. The withholding period is the time that must pass between chemical application, including through the feeding of treated feed, and the slaughter, collection, harvesting or use of the animal commodity for human consumption, to ensure allowable maximum residue limits (MRLs) in meat are not exceeded.
Some export markets impose a longer requirement on the minimum period between application and slaughter for some veterinary chemical products. Where established these 'Export Slaughter Intervals' (ESIs) are also listed on product labels. (The APVMA's list of WHPs and ESIs for products used in cattle can be viewed here)
Allan Giffard from Medical Ethics said that in the situation where an ESI has not been defined, as in the case of Tri-Solfen, the withhold period becomes the default ESI.
As earlier mentioned, the domestic withholding period for Tri-Solfen is 90 days, which is in effect its ESI.
Dr Claire Hunt from Bayer also pointed to the meat withholding period of 90 days as the default ESI.
"For cattle and sheep treated with Tri-Solfen the meat withholding period must be adhered to with the product name, date of use and meat withhold being declared at the point of sale," she said.
A spokesperson for the APVMA also told Beef Central that the withholding period offers adequate trade protection in the absence of an ESI.
Consolidated Pastoral Company (CPC) has been one of the biggest early adopters of Tri-Solfen in the Australian cattle industry.
"We only use it on calves and have been advised there are no issues with the MRL," CEO Troy Setter told Beef Central.
"There is a 90-day withholding period, so if used at four months of age and killed at 18 months of age there is plenty of time.
"We continue to get very positive feedback from the CPC team about the effectiveness of this product and the improved welfare outcomes."
Click below to watch a short video of CPC CEO Troy Setter explaining why the company uses Tri-Solfen:
Tri-Solfen costs between $1 and $2 per application, with cost varying depending on the size of the animal and the quantities purchased.
Its label says the product is best suited to calves aged six to eight weeks and is designed to provide pain relief for 24 to 36 hours.
Mr Giffard said the take-up rate for Tri-Solfen in the Australian cattle industry has been progressing well since the product was registered for use for castration in 2016.
"The uptake in the wool industry has been magnificent and cattle producers seem to be following on from that," he told Beef Central.
"I think Australian cattle producers and sheep producers really care about their animals and
want to do the right thing by them."
Under the Australian Animal Welfare Standards and Guidelines for Cattle a person in charge must ensure the use of appropriate pain relief when castrating and dehorning cattle aged six months or older.
As a standard this requirement must be met for livestock welfare purposes. Noncompliance constitutes an offence under law (link to Australian Animal Welfare Standards and Guidelines for Cattle here)