DETECTIVES from Queensland's State Crime Command Major and Organised Crime Squad in Rockhampton have charged a man following a protracted fraud investigation in relation to the sale of cattle in Queensland.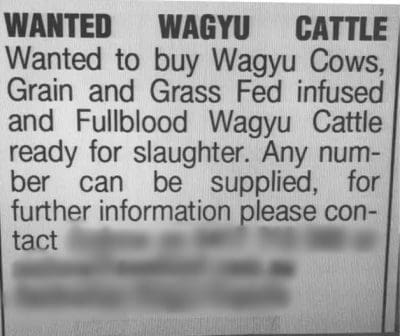 Last year an advertisement (pictured) was placed by a company in a rural newspaper to purchase Wagyu cattle for processing export meat.
Three cattle producers contacted the company in April, May and June 2017, entering into contracts to supply Wagyu and Wagyu cross cattle.
Police will allege that the companies did not receive full payment for the sales agreed upon, after supplying the cattle.
A 65-year-old Evans Head (northern NSW) man has been charged with two counts of fraud, worth more than $1.5 million. He has been summonsed to next appear at the Brisbane Magistrates Court on May 7.
Police are encouraging any other cattle producers who may have responded to the advertisement to contact police.
Source: Qld Police Service