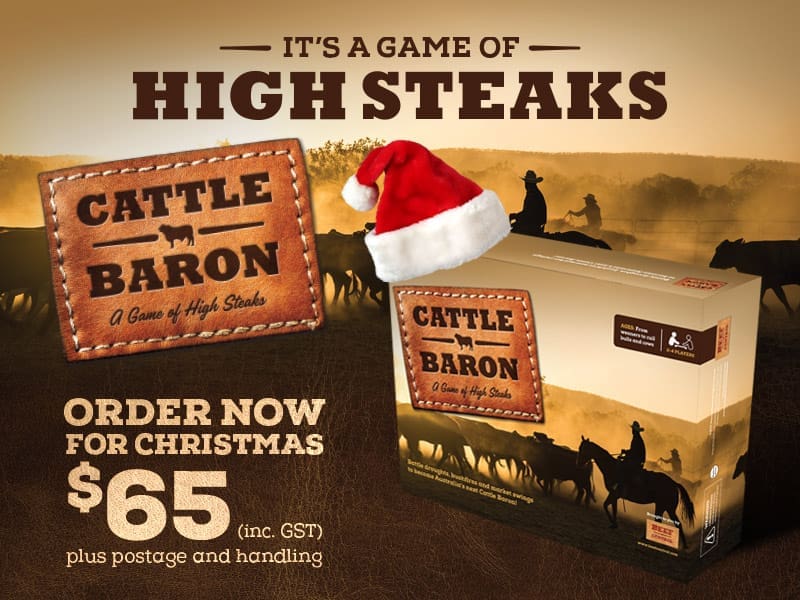 WITH Christmas fast approaching, orders are hotting-up for Beef Central's incredibly popular 'Cattle Baron' board game.
While there are plenty of copies still in stock, we strongly urge readers to order early this year for Christmas gift-giving, because of congestion in Australia Post delivery this year after COVID.
While Australia Post says it will guarantee parcel delivery in larger communities before Christmas for items despatched by 11 December, we are advising buyers in more remote areas to lodge their Cattle Baron orders with us by the end of November, to maximise chances of delivery by Christmas.
Now in its fourth print run, Cattle Baron has proven to be an enormous hit with all people who have an interest in the Australian cattle industry, since it was launched at the Beef Expo in Rockhampton.
Understandably, sales reach a peak heading into Christmas each year.
CLICK HERE to download Order Form
'Cattle Baron' puts players in charge of their own iconic Australian cattle station, developing their property's pastures, watering points and fences, and investing in top bulls to improve and expand their herd.
But beware – just like the real cattle industry, potential setbacks like droughts, bushfires or cattle market swings could be waiting around every corner!
Along the way, learn how Australian cattle producers work in an environment of unpredictable seasons and volatile markets to sustainably improve their land and their cattle to produce premium quality, clean-and-green Australian beef for customers around the world.
Here's a link to a short Youtube video clip about the Cattle Baron board game:
Reader response to the Cattle Baron game since its launch in 2018 has been tremendous. Here's a sample of some earlier customer comments:
"Our kids have really enjoyed the Cattle Barron game we bought at Beef in Rocky. I'd like to purchase a couple more for Christmas presents, so please let us know when the next ones are available" – Margaret King.
"After a long rough year, this game will be the perfect thing to get all the family together to play and have fun with over Christmas" – Roz Gardner.
Samantha Mort, from Franklyn Vale near Grandchester in Queensland's southeast, has now bought three copies of the game since Beef 2018.
"Every time friends come over and we play the game, they like it so much they take our copy home – so we have to keep re-ordering a replacement," Samantha said.
"Best board game ever!" was the verdict of Brisbane reader Brendan Tatt, after he and his sons gave the game a spin after their boardgame purchase.
Cattle Baron is a game the whole family – from weaners to cull bulls and cows – will enjoy.
The game is not available through retail stores, but is purchased exclusively through Beef Central.
CLICK HERE to download Order Form