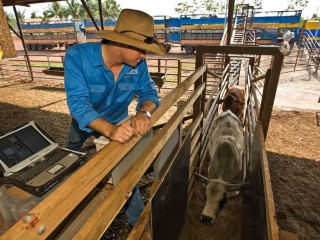 ANY permanent closure of Australia's live export trade with Indonesia would create a 4 percent fall in cattle prices nationally, analyst Peter Weeks told the Eidsvold Meat Profit Day audience on Tuesday.
The figure, based on a conservative Centre for International Economics assessment, might not be devastating on a national level, but it was very significant, Mr Weeks told the field day audience.
"It would cause a decline in cattle farm gross value of production across Australia calculated at $128 million, and a further $50 in value adding impact," he said.
In Queensland, the effect would be increased Bos Indicus store cattle numbers coming through from the Northern Territory and far North Queensland into traditional finishing areas. That would be seen particularly in the Channel Country, where there is (currently, at least) plenty of surplus capacity, due to the season.
"It would take a further 6 to 18 months for those light cattle to grow-out to killable weights, principally for export as Japanese/Korean steers or into manufacturing. Certainly the manufacturing market is going to be strong enough to cope with any additional supply, should it be presented," he said.
The big impact, however, in any more permanent closure would be on those northern producers in the live export catchment area.
"It costs anything from $150 to $250 a head to transport those NT animals south into more southerly areas like Roma or into NSW. That's about 25-30pc of the animal's value, just on transport cost alone. It would have a devastating effect on far northern producers' bottom lines," Mr Weeks said.
According to ABARES data on an average live export-oriented property selling 1300 cattle annually into the trade, a permanent closure would turn an average annual profit of $54,000 into a loss of $200,000, after transport costs.
"Obviously, there would also be a huge fall in land values, in the event of any more permanent closure," Mr Weeks said.
See related story: Where to for cattle prices?