ABOUT 45 livestock transport company drivers and support staff took part in a new pilot animal welfare workshop in Goondiwindi in southern Queensland recently – the first such course designed and delivered specifically with the stock transport industry in mind.
Participants included drivers and support staff from large stock transport companies like Frasers, Smithfield Feedlot (which operates its own fleet of six prime movers), Cunningham Cattle Co, Moffatt Transport, and a number of owner-operator transport drivers.
The workshops were delivered by livestock handling consultant Tom Shephard, an experienced former station manager who now delivers training Australia-wide in how to work with livestock safely and efficiently.
The first three one-day workshops were held from Saturday to Monday last week.
Program coordinator, Sam Noon, from the Goondiwindi Regional Council's Regional Skills Investment Strategy, said while animal welfare training was reasonably common across the beef industry, there had been nothing previously tailored specifically for the needs of transport operators.
"This project has been in progress for a number of years and we are finally excited to deliver a 'pilot program', designed by industry, for industry," she said.
The workshops aimed to promote safer work practises and better animal welfare outcomes in relation to the task of handling livestock throughout the supply chain, Ms Noon said.
The course provides an understanding of cattle behaviour and handling techniques for staff involved in cattle movements, combining theory and practical elements.
Some of the participants had been driving for 30 years, while others were new to the industry, having completed on a few loads, she said.
"The content was very well received by both ends of the spectrum," Ms Noon said. "Tom has a great ability to connect and communicate with everybody, regardless of their level of experience."
"It's been developed by industry, for industry, and it's been great the way the different stakeholders have collaborated to achieve the objective."
In addition to reputational damage, emphasis was placed on the commercial impact that sub-optimal handling practises could have, such as liveweight loss, bruising and meat quality impacts, which echo-on through the supply chain.
"Frasers' Transport came to me with a concept for a driver training for animal welfare, and we thought it was a no-brainer. It is surprising that it has not happened before now," Ms Noon said.
The Queensland Trucking Association has taken particular interest in the pilot courses, and it is likely that other courses will now be rolled out state-wide, and interstate.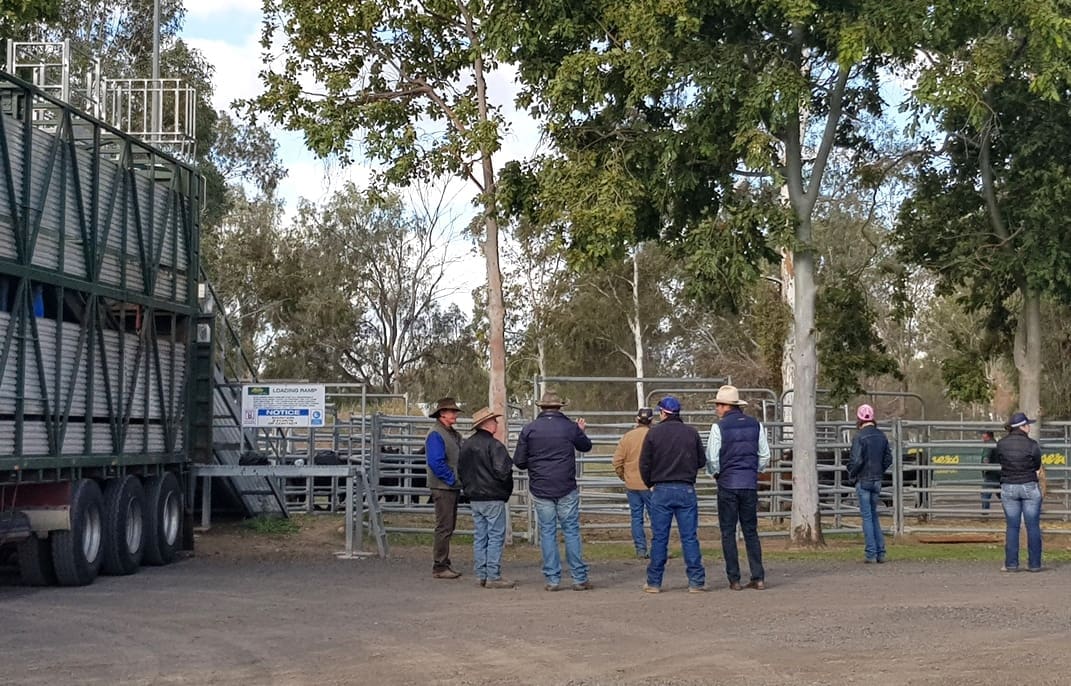 'We've always done it this way'
Livestock manager at the North Australian Pastoral Co's Wainui feedlot on the Darling Downs, Rick Young, and Fraser's Transport's compliance manager Athol Carter contributed to the content delivered in the workshops.
Mr Carter said the course had provided valuable information, both for newer driver recruits and seasoned veterans.
"The content was a culmination of industry best-practise, and was tailored specifically to transport drivers' needs, emphasising the importance of cattle handling in freight operations," he said.
"I think one of the most dangerous phrases in our language is: 'We've always done it this way' – and it's so true when it comes to animal welfare," he said.
"For the experienced operators, the workshop was like any learning exercise – if you can take just one thing of value away from a course like this, that you can put back into your daily work routine, it has been worthwhile."
Commercial incentive
NAPCo's livestock manager at Wainui feedlot, Rick Young, said the industry had been lobbying for a course like this for three or four years, to offer some cattle handling training specific to the needs of drivers.
"It's terrific that this has been brought together," he said. "Often, there is a tendency for experienced operators to think they don't need training, because they have 'carted more cattle than you can count'."
While he had handled countless thousands of cattle at large feedlots and northern trucking yards, it was not until he had spent time with trainers like Tom Shepherd, that he realised there was still learning to be done.
Mr Young said a number of the workshop had come to Wainui on Monday, after the weekend training.
"You would not believe the difference in those drivers, after having gone through that training program," he said. "Sometimes it's just little things, like positioning in relation to the cattle."
Mr Young said the main purpose of animal welfare training was not simply to 'tick a box', but there were real commercial animal health and animal performance benefits in well-handled cattle during the trucking phase.
"Often, we do not see the impact of a transport trip in the feedlot until days, weeks or even months later. Eventually, when those animals close-out, is when you know how the transport trip went."
He said a lot of things could happen in transit which might not be picked up at arrival.
"A lot of people don't understand the actual impact that a poorly managed transport journey can have, weeks later. There's issues like non-eaters, the development of feet abscesses, and respiratory disease complications due to stress. All can contribute to performance in cattle, and a lot of it comes from standing in saleyards, or during the freight stage."
He said the difference between well-loaded and transported cattle and loads where handling was rougher, could be significant to the feedlot operator.
"We've seen difference of 10kg per head liveweight at feedlot arrival, in similar cattle coming the same distance, at the same time. At 350c/kg liveweight, that's $35 a head. When you start to think about impacts like that, I'm going to start to think hard about which driver, or even which company I want to use," Mr Young said.