RELIABLE sources have suggested that a leaked copy of the Senate inquiry's draft report into grassfed cattle levies is advocating passing total control of levies to a producer-controlled organisation – either Cattle Council of Australia or some newly-constructed entity.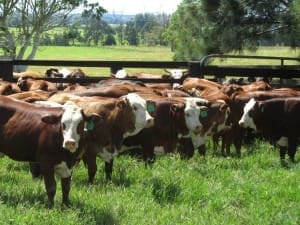 While Beef Central has not seen a copy of the document, high-ranking industry personnel spoken to over the weekend are aware of its existence, and its contents.
Beef Central has been told that a key component of the draft senate report and recommendations is that CCA, or its restructured equivalent entity, would gain full access and control of the grassfed levy funds, contracting-out service delivery in R&D and other areas to Meat & Livestock Australia and others.
It should be noted that any Senate report is currently in draft-form only, and there is no reason why it may not change substantially before its official release on September 23. See last week's report on an interview with senate inquiry chairman Glenn Searle, here.
Cattle Council of Australia told Beef Central this morning that it had not sighted any document, and until it saw tangible evidence of the report, would not offer comment.
"But CCA feels it put forward a strong, logical and well-researched  argument to the senate inquiry about how the levy stream should be managed, so we have no reason to doubt, at this point, that the inquiry will not deliver a sound, logical decision," a spokesman told Beef Central.
If the reports are true, the recommendation goes far beyond CCA's own preferred option and most closely mirrors models offered by the Australian Beef Association and others, during inquiry hearings.
In its evidence and submissions to the hearing, CCA was seeking a small portion of the levy to fund oversight and management of the industry, but was certainly not advocating access to the entire levy stream.
In fundamental terms, however, CCA and ABA were ultimately advocating for the same outcome: more producer control over how the grassfed beef levy is spent. They simply had differing opinions about how to achieve that goal, and the extent of control.
Any shift towards levy access and control by a producer entity (CCA or some other form) would inevitably require a much greater level of administrative resourcing than currently exists in CCA, to undertake those functions currently undertaken by MLA.
The rumoured proposal, if it is accurate, would also raise a host of other questions, such as what happens to management of the sheep, goat and grainfed levies, and whether any new producer body would also be charged with industry representation.
It could potentially imply that MLA would need to become a commodity-specific entity, with sheep and goatmeat having to seek service delivery elsewhere, one senior industry stakeholder suggested.
If levy fund control and management does pass to a producer-controlled entity, it could go down a number of paths:
A model like that followed by Australian Pork Ltd, which not only controls the funds, but acts as the pork industry's representational group; or
the AWI model, which is a producer body receiving all the money, but which does not have the industry representation or functions. In that model, Wool Producers has no legislative link to AWI, and is itself the signatory to elements such as the Emergency Animal Disease Response Agreement. Effectively, it holds the functions of a peak council, but holds no real status with the industry service provider, delivering even less control over how the wool levy is spent.
If the rumoured direction taken in the draft senate report is true, it could also spark a move to a referendum/plebiscite on the whole beef levy system, to be voted on by industry stakeholders, one source suggested.
The terms of reference in the inquiry required the Senators to make recommendations to Government on issues such as how levies are collected and used; the opportunities levy payers have to influence the amount of levy they pay and how it is invested; how industry governance, consultation and reporting frameworks should be structured; and what changes should be made to maximise the benefits to grassfed cattle producers from levy-funded marketing and R&D efforts.
It is of course worth noting that the Government is under no obligation to act on the recommendations the RRAT committee provides. However that is balanced against the fact that the inquiry was instigated by the very minister who will decide how the report is acted upon, agriculture minister Barnaby Joyce.
It would seem unlikely that having believed the case for change was strong enough to initiate an inquiry, the Minister would then leave the final report to sit on a shelf, to gather dust without acting on at least some of the recommendations it produces.
The six-member RRAT references committee, which will ultimately sign off on the final report and recommendations, comprises three Labor Senators, all from WA (The chair Senator Sterle and Senators Joe Bullock and Sue Lines); one Liberal Senator (Bill Heffernan from NSW), one Nationals Senator (John Williams from NSW, replacing Barry O'Sullivan) and one Greens Senator (Peter Whish-Wilson from Tasmania).
Those Senators now have until the report's tabling date on September 23 to review the draft recommendations and to make additional comments or to lodge dissenting reports.
Inquiry chair 'not surprised' by leak
The Senator who is chairing the RRAT inquiry told Beef Central this morning he was not surprised the draft report had been leaked.
"I am bitterly disappointed that the Coalition leakers took so long to get it out, they are slipping," the WA Labor Senator and inquiry chair Glenn Sterle said when contacted by Beef Central.
However he said he would not comment on the content of the draft report or on the accuracy of the rumours outlined above until the final report tabled and handed to the Government.
"I don't want to comment until I have had the conversation with fellow senate committee members who worked so hard on the inquiry, and it would be a travesty to comment on the report until such time as it has gone through the official processes and has been tabled," he said.
Asked if it was possible for the report to be tabled before the September 23 deadline, which is still almost one month away, the Senator said it was possible.
"If it is all finished, there is a little bit of mucking around to do, the answer is yes.
"But that is if everyone (the six Senators who make up the RRAT references committee) is happy.
"I don't know that everyone will be happy, all I can tell you is that what I witnessed and this is out in the public domain that we were all on the same wavelength about the things that weren't working."