Several exceptional beef producers were highlighted at the 2020 NAB Agribusiness Calendar launch in the Barossa Valley last night.
Celebrated for their stories of resilience, the businesses have achieved intergenerational success and managed to thrive in the face of adversity.
NAB Agribusiness Customer Executive, Neil Findlay, said the 2020 calendar is dedicated to the many faces and families of agribusiness, who are thriving in the face of adversity.
"Today's tough times are throwing multiple challenges at many agribusinesses. Each month, the calendar highlights businesses that have outsmarted adversity, built strong business foundations through the generations or remained successful by developing new strategies to meet changing demands and challenges. One thing many have in common is a belief that doing things as a family, often over the generations, is the key to agribusiness progress and longevity," Mr Findlay said.
Bill and John Speed and family
Redrock Cattle Company/Brigodoon Cattle Company, Tarlton Downs, Tobermorey Station, NT/Qld
When you're running 50,000 head of cattle across 1.2 million hectares in the Top End, there's no shortage of jobs for family members. That's been the experience of cattlemen Bill and John Speed, names long linked with the Santa Gertrudis breed.
Raised on 6,000 acres in central Queensland, today the brothers oversee the operation of an enterprise encompassing a breeding program, feedlot and multiple land holdings in Queensland and the NT. John's sons Ben, Jack and John manage the helicopters and mustering, while Bill's son Bob oversees the livestock and property development. Bill's other son, Tommy, manages the feedlot, while daughter Emily is in the office.
The Raff Family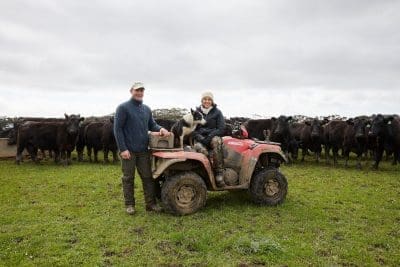 Raff Angus, King Island, Tasmania
For Andrew and Anna Raff, the motivation to move over 500 prime Angus seed stock, their four kids and Andrew's parents, David and Jill Raff, from Queensland to King Island, Tasmania, was one thing: rain.
In Queensland, the Raff's business model was three years of labour, feed and genetic investment for a one-day-a-year bull sale. The cost of production restricted their future as much as the irregular Queensland climate. Planning and budgeting were all but impossible. Since arriving in Tasmania in 2015, the Raff's have prospered – their herd has grown to 850 breeding stock. Their farm will be Certified Organic by 2021.
Optimism and entrepreneurialism clearly run in the family: the kids now run a free range chook egg business supplying local cafes and restaurants. Andrew and Anna also run sheep and are building farm-stay accommodation.
Nick and Vicki Sher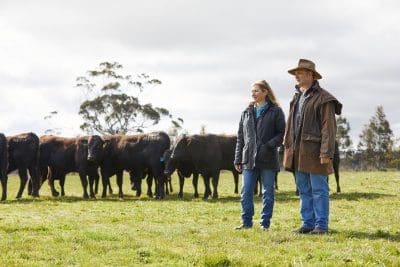 Co-Founders – Sher Wagyu, Ballan Victoria
Having started their breeding program in 1991, Nick and Vicki Sher are among Australia's first Wagyu producers. Initially only selling to Japan, in 2003 the Shers started expanding into other Asian and United States markets, and have been selling domestically since 2006.
The Shers have spent countless hours developing their Wagyu brand, which is now marketed into 14 countries, while also raising three children on their home farm at Ballan and dealing with drought, currency fluctuations, market access issues and other challenges. That determination has seen Sher Wagyu progress to own three farms and employ 10 full-time staff.
Source: NAB Agribusiness