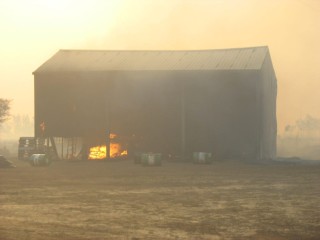 Grassfires are still burning across cattle properties in Central Queensland more than 10 days after being sparked by lightning strikes in the region.
More than one million hectares of grazing land has been burned around Barcaldine, Aramac, Jericho and Alpha since fires commenced on October 13.
Elisha Seekamp, who is involved in the running of cattle operations in the region owned by the Parker family, said landholders were extremely tired after fighting fires continuously for several days.
The outbreaks began when lightning strikes sparked dozens of small grassfires on October 13 and 14. While those fires were contained, an intensification of hot, dry winds on Saturday, October 15, caused many smaller fires to join up to form larger fronts.
More than 100 people had been involved in efforts to contain blazes, Ms Seekamp said, but at times the fires had been so numerous that smaller fires had to be left unattended while up to 10 main fires were dealt with.
Two bushfires are still burning in the Lake Dunn area near Barcaldine and in another area north of Jericho.
One was reported to have a 7km-wide front on one side and a 4km wide front on the other on Saturday afternoon. However both fires are currently being contained the Queensland Rural Fire Service said yesterday afternoon.
Extensive areas burned out
An estimated 38 properties have been affected by fires so far, of which at least 12 have had 80-100% of their total land area burned out.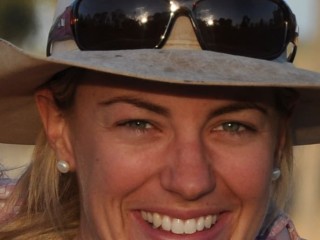 Ms Seekamp said one property owned by the Parkers north of Jericho had suffered a 100pc burn-out. Barely a fence had been left standing, she said.
"The fire was just so hot that it has burned out the barbed wire, and it has even burned down the structures around grids on the main road.
"Three houses in our immediate area were nearly lost last Saturday. One landholder lost a shed, we lost a milking pen and a pig pen, and a couple of house animals got caught up in the fire on neighbouring properties."
While stock deaths would have been inevitable, she had not yet heard reports of significant cattle losses. "From what I saw of the fires myself, the cattle are pretty switched on. In big walls of flame they were running into dams and then wading out when the fire passed, and some were just turning back and heading over the burned country, they seemed to be able to avoid the fire front."
The Parkers own other properties in the district and were moving cattle from the worst affected property onto other properties with feed until they could make more permanent arrangements.
Another neighbour had lost 85pc and 90pc of the two properties he owned, and was currently trucking stock away to emergency agistment.
Spirit of genorosity
With crisis often came the best in people, and Ms Seekamp said affected landholders had been overwhelmed by the generosity of others.
Some had helped to fight fires, others had offered free or low cost agistment for displaced stock, while hay producers both locally and across the state had donated valuable feed.
One local hay producer got the ball rolling with a personal donation of 150 bales last Wednesday, and personally delivered to precise points on properties as requested by affected producers. He reportedly had to recruit another driver to complete the job to avoid exceeding his log book hours, and experienced two flat tyres during the drop offs. But he also refused to be publicly identified, a selfless example of the spirit of generosity that has occurred over the past 10 days.
Ms Seekamp said the fodder donations were perfectly timed because they arrived just as cattle were in need of a feed after the fires.
Significant replacement costs
With hundreds of kilometres of fencing destroyed, landholders now faced significant replacement costs. Material costs alone to build a standard steel-post and three-strand barbed wire fence exceed $1500 per kilometre, before the costs of time and labour are included. Total costs will easily run into hundreds of thousands of dollars.
Ms Seekamp said four water bombing planes and a fire spotting plane over the past week had played a significant role in containing the blazes.
"Thank god for them because if they hadn't come in and helped to get on top of those fires we'd be back to where we were.
"We had problems such as graders blowing up just through the sheer amount of work and pressure they have been put under, and fire fighting equipment that has just worked for days and nights on end that is starting to pack it in.
"It would not be good if a fire took off again and if did not have those planes."
In a rare year in which landholders were entering summer with the benefit of a large body of feed, the sudden loss of feed has been a hard blow.
"To finally have a good season, and a good body of feed, it is a bit unfortunate that it happened right now," Ms Seekamp said. "But it if it rains now, we'll hopefully have a whole lot of green pick and it will be amazing."
Assistance
People wishing to help the fire recovery effort can make credit card or direct-debit purchases of fencing materials through Jordon Valley Rural Supplies in Jericho (ph (07) 4651 4221) or Elders Aramac (ph (07) 4651 3300, which will be passed onto the most affected producers as required.
Monetary donations can also be made via the Barcaldine Shire Council number is (07) 4651 5600.
AgForce has made the following information available in relation to bushfire assistance:
Agistment: If you can help with agistment, please email AgForce Central Queensland office manager Lyn Butler with your contact details, location and agistment capacity.
Fodder donations: If you can help with fodder donations, please contact DEEDI's Desiree Jackson or Lew Markey on 13 25 33 or 0429 053 045.
Temporary Fire Officers needed: DEEDI is seeking people in the Central Western Queensland area who may be interested in working part-time as "Temporary Fire Officers".
The roles involve 20-40 hours work per week (depending on demand) and officers will be required to provide advice to primary producers whose properties have been fire-affected.
TFO's are needed specifically help graziers in the Barcaldine Regional Shire.
For further information contact Peter Long from DEEDI Rockhampton on 4936 0240 or email.
Disaster assistance for fire regions
The Queensland government has also announced Category B assistance for the Barcaldine Regional Council area.
Category B assistance under the Natural Disaster Relief and Recovery Arrangements (NDRRA) will enable affected primary producers to apply for low-interest concessional loans and freight subsidies to assist with recovery from the bush fires," Mr Mulherin said .
In the last week we have seen about 300,000 hectares in the Barcaldine area impacted by fire, at least 38 properties have been affected, with 10 having between 80-100 % pasture burnt out. Due to the widespread pasture burnt, fodder will need to be brought in to sustain livestock until they can be shifted elsewhere.
The Department has established a fodder register in Longreach to assist those trying to locate where fodder is available.
NDRRA Category B assistance provides:
Concessional loans through QRAA to primary producers of up to $250,000
Freight subsidies for primary producers of up to $5,000.
Freight assistance can be used for the transportation cost of:
Fodder for livestock
Removal of livestock
Replacement of building material and equipment
Restocking of animals
Transport of drinking water onto the property for livestock
Primary producers outside of the Barcaldine declared area may be eligible for Individual Disaster Stricken Property (IDSP) declarations issued by the State Government.
A declaration will allow you to access assistance such as freight subsidies for livestock travelling to agistment. IDSP declarations need to be completed by a DEEDI officer and an application form completed.
We urge members to make application for this assistance and not 'self-assess'.
To find out more about IDSPs and freight subsidy information contact DEEDI on 13 25 23.
To find out more information about these concessional loans contact QRAA on Freecall 1800 623 946 or www.qraa.qld.gov.au
For more information about available assistance, visit http://www.dpi.qld.gov.au/4789_8770.htm
Further information is available on the AgForce website click here