QUEENSLAND dedicated grainfed beef supply chain Kilcoy Global Foods last night claimed its most important branded beef competition crown since the company's Wagyu program was launched four years ago
The company earned grand championship honours in the 2023 Australian Wagyu Association branded beef competition – arguably the most prestigious consumer-panel based beef taste test in the nation.
This year's AWA competition attracted a record 57 entries across five divisions from Wagyu Fullbloods and crossbreds. Entries were judged blind back in February by a panel of 32, based on tenderness, juiciness, flavour and overall liking, together with a raw visual examination.
This year's awards were presented as part of a glittering dinner in Sydney held as part of the 2023 AWA annual conference (see yesterday's opening report).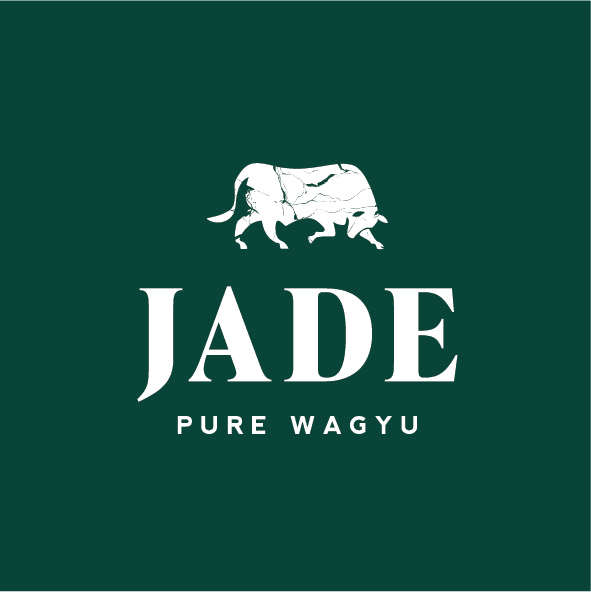 Kilcoy Global Foods' new Jade Wagyu Fullblood program topped the rankings in the competition's Fullblood category, before being selected from within the five division winners for the overall grand championship trophy.
The Jade Wagyu brand was launched 18 months ago as part of an expanding catalogue of Wagyu and grainfed brands controlled by KGF. A Fullblood-only program carrying marbling scores of 8 and higher, one of the Jade brand's points of difference is that it carries a 'single source' origin, being exclusively supplied by Wagyu bred and fed by Laird and Sonya Morgan and family from Arubial, near Condamine on Queensland's Darling Downs, and fed at the Morgans' Lillyvale feedlot (see Lillyvale's entry in Beef Central's Top 25 Lotfeeders report here). The program provides full traceability from birth to carton.
The grand championship winning entry (see image) carried a digital marbling reading of 58 percent IMF, marbling fineness score of 8.6 and eye muscle area of 109sq cm, the largest among medal winners in the class. The IMF score was the second highest in the Fullblood class. The calf was bred from Dean Pollard's Sahara Park SPWFPPH, out of a cow bred by Peter and Sandra Krause, Sunnyside, Inverell.
Judges praised the grand champion's qualities, describing it as "the ultimate experience of rich, caramelised and roasted aroma with silky smooth tenderness, umami and long-lasting juiciness – being deliciously balanced and succulent."
The calf spent around 450 days in Lillyvale feedlot before slaughter at the KGF facility north of Brisbane.
Wagyu is occupying an increasing proportion of operations at the Kilcoy plant – the largest dedicated grainfed processing facility in Australia.
Most of the Jade Wagyu brand program ends up in high-end food service outlets across Asia, the Middle East and North America. Having only started its Wagyu branded beef journey four years ago, the company has intentions to continue to grow both the Fullblood and crossbred side of its Wagyu beef business, working with supply partners.
Kilcoy had its best ever branded beef competition outing last night, earning three gold medals in addition to its overall championship win. The company's Carrara brand program earned gold in the Crossbred Wagyu class, for an entry showing IMF of 47pc, fineness of 7.4 and eye muscle area of 87sq cm, fed for +350 days. Another Carrara entry claimed gold in the Open F1 Wagyu class.
"What sets Kilcoy Global Foods apart from many of the industry's larger Wagyu brands is that we own and operate the primary processing asset," senior vice president, commercial grain Fearn Cholerton said.
"The development of the end-to-end supply chain with our partners is critical, and we are very supportive of the genetics, breeding and feeding stages. On top of that, the substantial capital investment in the Kilcoy plant has enabled us to produce the best Wagyu beef possible, through superior chilling infrastructure and other technology."
No less than six of the eight entries in this year's Fullblood class earned gold medals (see results below).
Judged reserve overall champion was another gold medallist from the Fullblood class, an entry representing Kiwami by Stockyard. Kiwami is Stockyard's pinnacle Wagyu brand boasting marble scores of 9+.
Stockyard also earned a silver medal in the Purebred Wagyu category. The results have taken Kiwami by Stockyard's total gold medal tally in the last four years to 23.
The reserve champion sample was produced from a steer bred by Longford Station, one of Stockyard's long-standing suppliers of high-performance Wagyu. Based near Bendemeer, NSW, Arthur and Pam Dew have been producing award-winning Wagyu animals for decades. A Longford Station animal earned gold at last year's AWA Awards in the Open Crossbred category.
Another class gold medallist from Stone Axe's Cobungra Station Fullblood brand exhibited the competition's highest marbling, delivering a digital IMF result of 65pc (a record for the AWA competition) and marbling fineness of 8.2 after 450 days on feed.
Crossbred class
It was an emotional moment for principal Bruce Cheung from Pardoo Wagyu in Western Australia's Pilbara when he stepped forward to accept the trophy for champion in this year's Crossbred Wagyu class.
Pardoo Wagyu's property assets and cattle were directly beneath Cyclone Isla, which swept across the Pilbara region last week, destroying 19 of 20 centre pivot irrigators operating at the site, and inflicting extensive damage.
The class champion came from Pardoo's Okan Wagyu program, carrying a digital IMF of 29pc and fineness score of 5.7.
Making the long trip all the more worthwhile, Pardoo took home two additional gold medals, for other entries bred by Peter and Jane Hughes from Georgina Pastoral. The first was in the Purebred Wagyu class, for a steer fed around 420 days producing a digital marbling score of 34pc. The entry came under Pardoo's Okan Wagyu brand. The second came from Pardoo's First Growth F1 brand program, in the Open F1 Wagyu class.
Purebred Wagyu class
In other class results, the Wormall family's Jack's Creek Wagyu from Tamworth claimed the championship trophy in this year's new Purebred Wagyu class, with an entry showing 61pc IMF, 7.0 marbling fineness and 97sq cm eye muscle.
The entry was described by judges as "an explosion of marbling with delicate tenderness and aromas of toasted macadamia. Soft, silky mouthfeel and superb flavour."
Open F1 Wagyu class
A highly competitive Open F1 Wagyu class produced a class championship win for Andrews Meat Industries Tajima Wagyu brand, for an entry showing IMF of 57pc, fineness of 7.4 and eye muscle area of 98 sq cm. The calf was fed at JBS's Prime City feedlot near Griffith, for 387 days.
Commercial Wagyu class marbling scores 5-7
Stanbroke Beef's Diamantina Wagyu label received the class championship for Commercial Wagyu marbling scores 5-7. The entry, fed at Stanbroke's feedlot near Chinchilla was bred on the company's gulf region breeding aggregation. It produced a digital IMF of 32pc, marbling fineness of 5.8 and eye muscle area of 94sq cm.
For the first time in this year's competition, full fatty acid profiles were run on all entries, separating out saturated and mono-unsaturated fats (omega 3s) by concentration. Already in the Japanese Wagyu industry, some supply chains are measuring and reporting on omega 3 levels in products for customers.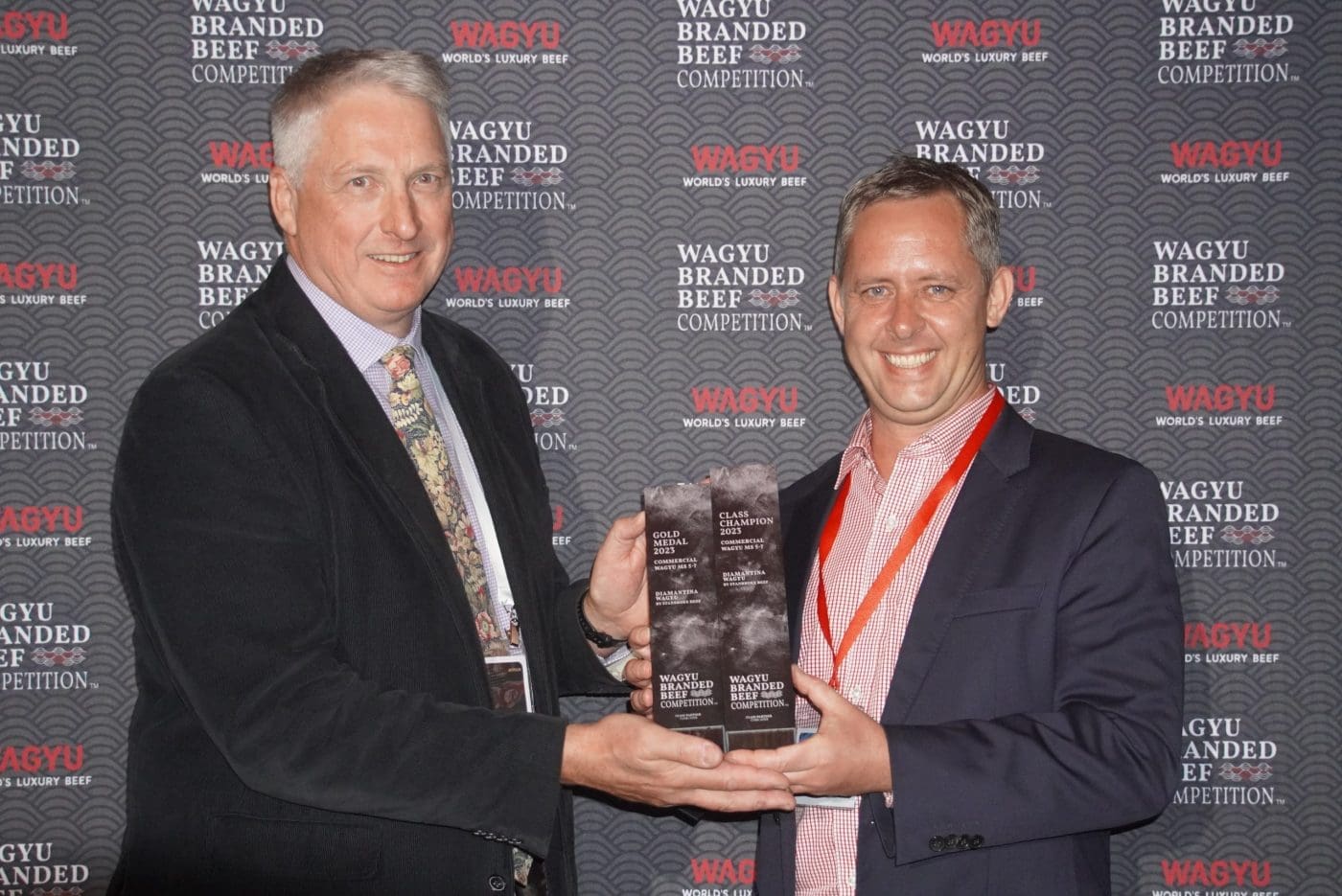 2023 Medalists:
Fullblood class:
Gold:
Kilcoy Global Foods, Jade Wagyu
Stockyard Beef, Kiwami by Stockyard
Jack's Creek, Jack's Creek Wagyu
Mort & Co, TS Mort
Stone Axe Pastoral Co, Stone Axe Fullblood Wagyu
Direct Meat Co, Macquarie Wagyu
Silver:
Rangers Valley Cattle Station, Infinite Fullblood Wagyu
Lotte International, L'grow.
Purebred Wagyu class:
Gold
Jack's Creek, Jack's Creek Wagyu
Pardoo Wagyu, Okan
Silver
Mort & Co, Master Selection
Stockyard Beef, Kiwami by Stockyard
King River, King River
Bronze
Starzen Australia, Imperial Blossom Beef
Rangers Valley Cattle Station, WX by Rangers Valley
Crossbred Wagyu class
Gold:
Pardoo Wagyu, Okan
Direct Meat Co, Connors Wagyu Beef
Paradigm Foods, ICON Wagyu
Stockyard Beef, Stockyard Black
Harmony Agriculture & Food Co, Omino
Kilcoy Global Foods, Carrara 640
Stanbroke Beef, Diamantina Wagyu
Silver
Mort & Co, The Phoenix
Lotte International, L'grow
Bronze
Open F1 Wagyu class
Gold:
Andrews Meat Industries, Tajima
Stanbroke Beef, Diamantina Wagyu
Paradigm Foods , ICON Wagyu
Kilcoy Global Foods, Carrara 640
Harmony Agriculture & Food Co, Omino
Pardoo Wagyu, First Growth
Silver
Rangers Valley Cattle Station, WX by Rangers Valley
Paradigm Foods ,Yugo XB Wagyu
Bronze
Starzen Australia, Eight Blossom Beef
Mort & Co, The Phoenix
Jack's Creek, Jack's Creek Wagyu X
Commercial Wagyu marbling scores 5-7
Gold:
Stanbroke Beef, Diamantina Wagyu
Harmony Agriculture & Food Co, Black Opal
Silver
Jack's Creek, Jack's Creek Wagyu X
Direct Meat Co, DMC Black
Paradigm Foods ICON Wagyu
Harmony Agriculture & Food Co, Omino
Bronze
Starzen Australia, Imperial Blossom Beef
Rangers Valley Cattle Station, WX by Rangers Valley
Paradigm Foods, Yugo XB Wagyu
Gary McPherson Packing Room Award: Stone Axe Pastoral Co, Cobungra Station Fullblood Wagyu