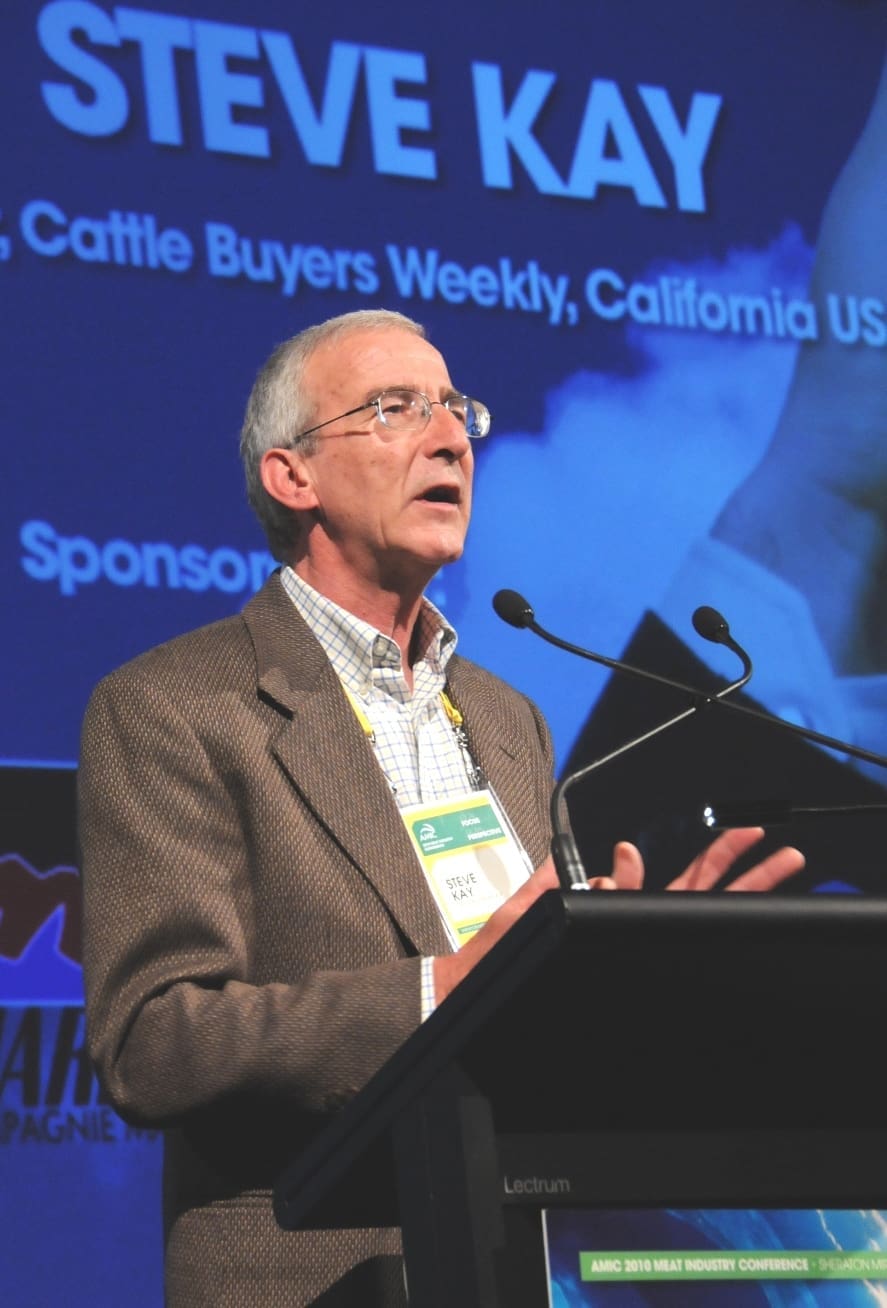 A monthly column written for Beef Central by US meat and livestock industry commentator, Steve Kay, publisher of US Cattle Buyers Weekly
THE US beef industry was in crisis. Consumer demand for beef had fallen for 20 years to the mid-1990s.
The industry had an eating quality issue, notably of consistency, as years of using all kinds of breeds had "mongrelised" the national beef cow herd. Consumer surveys showed that one in four steaks had an unsatisfactory eating performance.
Fast forward to today and the crisis is long over. A huge effort by all sectors of the industry turned the consistency issue on its head. At the same time, the US began to produce the highest quality beef in its history. All this came from improved genetics in the beef cow herd, innovations and advances in all aspects of cattle feeding, encouragement of packer premiums through grid pricing and growing consumer demand for high quality beef.
In addition, the Angus breed began to dominate the national beef cow herd and it now supplies about 70 percent of its genetics. It is no coincidence that Certified Angus Beef is the most successful branded beef program in industry history.
Cattle are now grading at a percentage of USDA Prime and Choice that would have been unheard of 20 years ago. In 2021, US cattle graded an average 10.08pc Prime, 72.48pc Choice, 14.36pc Select and 3.08pc Other.
The weekly record for Prime and Choice is 86.07pc set the week of February 20 last year. Grading this past summer was lower because of the heat. But it then improved. Cattle the week ended November 26 graded 82.1pc Prime and Choice.
The increased production of USDA Choice beef has had some interesting price consequences. For example, the price spread between the Choice and Select cutouts narrowed early this year and the Choice cutout was discount to Select on February 22 by US$2.00 per cwt. The last time this occurred was on September 12, 2017. The spread though was much wider this summer, generally well in excess of US$20 per cwt. It was US$22.88 per cwt the week ended December 2.
Another fascinating consequence is that the price spread between Prime and Choice beef is historically high. That's because the percentage of Prime produced was lower this summer, while demand at both retail and food service remained remarkably strong. Wholesale Prime beef prices the week ended December 2 averaged US$317.25 per cwt while Choice prices averaged US$249.38 per cwt. This meant the price spread was US$67.87 per cwt.
Prices hit record high
The high quality of US beef is valued by consumers at home and abroad. US retail beef sales have remained strong because of declining wholesale beef prices since the summer.  Retailers have been able to give their customers ample beef features to choose from. Another reason is that beef prices are much more competitive with the prices of other proteins.
Beef prices recorded all-time record highs in October 2021, but a year later were well below that peak. The prices of competing meats have gone in the other direction, which is positive for beef's competitiveness in the retail meat case.
Media reports in the autumn, including an extensive report in the Wall Street Journal, detailed how retail beef prices, especially those of the more expensive middle cut cuts, had fallen sharply. This bode well in encouraging consumers to buy those cuts as well as ground beef, whose price continued to be stronger each month.
USDA reported that its October All Beef retail price averaged US$7.25 per pound. This was down 4pc from October last year. Choice beef prices averaged US$7.42 per pound, down 6.1pc from October last year. Pork prices averaged US$5.05 per pound, up 4.8pc from October last year. Chicken prices averaged US$2.54 per pound, up 17.1pc from October last year.
US retailers continue to enjoy large margins on their beef sales for two reasons. They are lowering their beef prices only slowly but are buying beef at much lower wholesale prices than a year ago. The comprehensive cutout (cuts, grinds and trim) the week ended December 2 averaged US$251.42 per cwt. This was down 8.6pc from the same week last year, so retailers have a lot of latitude to lower their everyday beef prices and feature beef even more aggressively.
Boom in US exports
The high quality of US beef is fully recognised around the globe. Along with abundant supply due to drought turnoff, that is why US exports smashed volume and value records last year. The latter surpassing US$10 billion for the first time.
This means they almost doubled in value in ten years. Exports remained on a red-hot pace in the first ten months of this year, topping US$1 billion in most months. For ten months, US beef export value increased 18pc from last year's record pace to reach US$10.05 billion.
This topped US$10 billion in a single year for only the second time. January-October export volume was 1.25M metric tons, up 4pc from a year ago.
All this indicates that beef lovers everywhere are prepared to pay more for quality.