A monthly column written exclusively for Beef Central by US market commentator, Steve Kay, publisher of US Cattle Buyers Weekly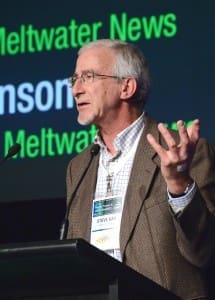 It sure was a salutary summer for US cattle feeders who hadn't hedged their cattle.
Fed cattle prices plunged more than US$14 per cwt live from the third week of July to the end of August. Yet the market after that is still struggling to find a bottom.
That's certainly not how anyone expected the market to behave. Prices had come off their highs for the year in early May and declined as expected to US$119.33 per cwt live or US$198.74 per cwt dressed the week ending July 23. Prices eased the next three weeks (to just over US$115 live) but many participants felt the low was in at that level.
Markets though can confound both bulls and bears. Prices kept falling and the average the last week of August were US$104.66 live and US$165.71 dressed. But as I write this, the market's direction throughout September seems to be as unclear as it had been in the two prior months.
How could prices drop so much when cattle feeders continued to market cattle aggressively to keep their market-ready supplies more than manageable? The latter point showed up in the number of cattle on feed 150 days or more at the start of each month. Analysts calculated the number on August 1 was 74 percent of a year earlier. The September 1 number was 82pc while the October 1 number was 90pc.
"Markets don't operate only on the fundamentals. They also operate on expectation, psychology and fear"
These numbers suggested cattle feeders were extremely current in their marketings and could have held out for higher money once prices reached the US$115 per cwt level. Markets though don't operate only on the fundamentals. They also operate on expectation, psychology and fear.
Live cattle futures had remained at a deep discount to cash prices throughout July and August. With up to three-quarters of all US cattle on feed hedged, their owners took advantage of the extremely positive basis between cash and futures prices and kept selling cattle aggressively at lower and lower prices because they were still making money on their cattle.
This though was devastating to those with unhedged cattle as they saw their profit margins evaporate. The last week of August was the first time that most cattle sold this year at or below their breakeven (of US$102-103 per cwt live). Breakevens in September will increase to more than US$108 per cwt. October's are expected to be around US$113, November's at US$116 and December's at US$118. This means most cattle feeders will see red ink in September unless the cash market rallies sharply, and they will see even more red ink in the fourth quarter.
Another factor in the market's decline is that cattle feeders, ironically, gave up their leverage over packers by accepting lower prices. Wholesale beef prices had their own deep decline in July and August. But grainfed beef processors kept harvesting well over 500,000 steers and heifers per week because their cattle costs kept going down faster than boxed beef prices, and they enjoyed big operating margins.
Packers were also able to sell the additional beef they produced because boxed beef prices had fully restored retailers' beef margins. This allowed retailers to feature beef more aggressively in August and lower their everyday prices slightly.
This helped packers sell the most beef (cuts, grinds and trim) in the third week of August since the last week of January 2015. Labor Day retail beef sales were better than last year because of the aggressive features. This trend is expected to continue through September and October. The fortunes of the beef industry thus continue to hang on consumers' appetite for beef.
As if the summer slide in cattle prices wasn't enough, US cattle feeders now face the prospect of a sharp increase in market-ready supplies starting in November. That's when the 150-day plus on feed number will be just above a year ago because of earlier months of extremely aggressive placements. The Catch-22 for cattle feeders is that they are well aware of this and might have little choice but to keep selling as many cattle as possible, even as futures prices switch to being premium to cash prices.
Closing prices for live cattle contracts on September 1 showed a futures premium structure all the way out into mid-2018. This is where psychology and fear will play an increasing part in the market's direction. Will cattle feeders slow their marketings to force cash prices higher because of the futures' premiums? Or will fear of much larger supplies in starting in November mean selling at any price?
Another complication is that cattle in feedlots performed remarkably well all summer. Daily gains were above average, which meant that out-weights and carcase weights were larger than normal. Carcase weights in the week ended August 19 were still nine pounds (4kg) below year earlier for steers and seven pounds (3kg) below for heifers. But further seasonal advances will put even more pressure on cattle feeders to keep selling aggressively, even it means lower prices and negative closeouts.