A regular monthly column written exclusively for Beef Central by US market commentator, Steve Kay, US Cattle Buyers' Weekly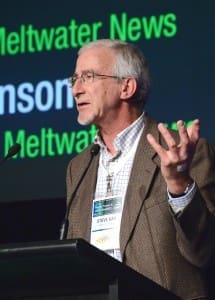 FREE trade is the lifeblood of the global economy. From the very first evidence of trading, regions of the world and then individual countries have bought and sold goods from each other.
Records from the 19th century BCE (Before the Common Era) attest to the existence of an Assyrian merchant colony. Then the domestication of the camel allowed Arabian nomads to control long-distance trade in spices and silk from the Far East. The Egyptians then began trading in the Red Sea, importing spices from Arabia. At that time, Indian goods were brought in Arabian vessels to Aden.
Global trade more fully developed in the early Middle Ages, with the Chinese trading prominently at the eastern terminus of the fabled Silk Road. By the 15th century, Portuguese and Dutch traders emerged, with The Dutch East India Trading Company being formed in 1602. It became the world's largest company but ironically went bankrupt in 1799, partly due to the rise of competitive free trade.
Later pivotal developments included Britain unilaterally adopting a policy of free trade and abolishing its Corn Laws in 1846 and the UK and France finalising the first international free trade agreement, the Cobden-Chevalier Treaty in 1860. This sparked off successive agreements between other countries in Europe.
Trade and free trade agreements between nations thus have a long and rich history. Countries increasingly realised the importance of such agreements, not just for the economic benefits for the countries involved, but for the societal benefits they brought. These included an exchange of foodstuffs and other goods that raised the well-being of people. They were also a crucial way to create country-to-country relationships and avoid wars.
How ironic and sad, then, that the US Administration chose to initiate a tariff dispute with China, one of the world's oldest trading nations – a dispute that escalated last Friday (July 6) into a full-blown trade war.
China's Ministry of Commerce said in a statement that the US "has launched the biggest trade war in economic history so far." A day earlier, the New York Times said the escalation of the trade war from threat to reality is expected to ripple through global supply chains, raise costs for businesses and consumers and roil global stock markets, which have been volatile in anticipation of a prolonged trade fight between the US and almost everyone else.
"While Chinese tariffs on US goods and products will hurt the US the most, US livestock producers are deeply saddened that a trade war has also begun between the US and its two neighbours"
"Almost everyone else" includes Canada, Mexico, the European Union and Japan. While Chinese tariffs on US goods and products will hurt the US the most, US livestock producers are deeply saddened that a trade war has also begun between the US and its two neighbors. Ever since the implementation of the North American Free Trade Agreement in 1994, producers have reaped the benefits of having a highly integrated livestock and meat trade between the three countries.
President Trump on July 1 said he was not happy with the revised NATFA deal his administration had been hammering out with Canada and Mexico. In an interview on Fox News, the president said he did not want to sign any new agreement until after the mid-term elections in November. His remarks came the same day as Canada started collecting tariffs on US$12.6 billion worth of US products, including US beef, in retaliation to US tariffs on steel and aluminum imports from Canada and Mexico.
Canada's tariffs include a 10pc tariff worth US$170 million annually on some US beef products. The US in 2017 exported 116,266 tonnes of beef cuts and variety meats worth US$796m to Canada, according to the US Meat Export Federation. So the tariffs would impact 21.4pc of 2017 exports in value terms.
Canada is also imposing tariffs on US products as varied as yogurt, caffeinated roasted coffee, toilet paper and sleeping bags.
Mexico, meanwhile, increased its tariff rate on US chilled and frozen pork muscle cuts from zero to 10pc on June 5, then increased it to 20pc on July 5. This effectively wipes out the NAFTA benefit, says USMEF.
The added negative price pressure for both hams and picnic (processed) meats could result in industry losses of US$425m for July-December 2018 and US$835m over the next 12 months, it says. Mexico will also likely carry out a second round of tariffs targeting US$3 billion of US goods, including cheese, apples, sausages, frozen potatoes, frozen cranberries, orange juice and whiskey.
China on July 6 imposed a 25pc tariff on US$34 billion of US goods in response to a similar duty imposed by the US on Chinese exports that went into effect the same day.
China put tariffs on 517 food and agriculture-related products, including beef, pork, soybeans, corn and cheese. US beef products could incur tariffs as high as 50pc depending on the cut, says USDA's Foreign Agricultural Service.
Ironically, the 25pc duty on US beef followed an announcement by the Chinese government that it will lift a longstanding ban on imports of beef from France and Great Britain. Sixteen countries, including Australia, are now eligible to export beef and beef products to China.
China's additional 25pc duty will stifle US beef exports to China and will severely limit exports the remainder of this year, meaning export losses of more than US$30m, says USMEF. But the real impact is the lost opportunities for export growth the next two years. It estimates that exports to China could grow from the pre-tariff 2018 value of US$70m to US$430m by 2020.
Retaliatory trade tariffs by China and Mexico now apply to 40pc of total American pork exports, threatening the livelihoods of thousands of US pig farmers, says the National Pork Producers Council. US pork producers now face punitive tariffs of 62pc on exports to China, a market that represented 17pc of total US exports by value in 2017, it says.
How long the trade wars last is anyone's guess. As of writing this, Trump wasn't flinching.
One point is clear however. The pursuit of free and unfettered trade between nations has been dealt a severe blow that could impact global trade agreements for years to come. Moreover, the wars will produce no winners. Everyone will lose, especially consumers in the countries involved.