A monthly column written exclusively for Beef Central by Steve Kay, editor and publisher of US Cattle Buyers Weekly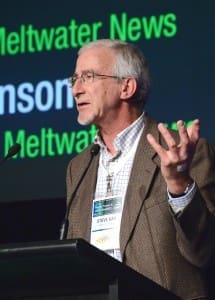 JBS SA and Tyson Foods are the undisputed heavyweights of the global meat and poultry industry. So it was fun to watch them slug it out the past two weeks for control of US packaged foods company Hillshire Brands. It reminded me of Muhammad Ali's memorable "Rumble in the Jungle" fight with George Foreman in 1974.
JBS's insatiable appetite for growth in recent years propelled it past Tyson to become the No. 1 player. It gobbled up numerous companies in the Americas and Australia, spending $17 billion on acquisitions in the past decade alone.
But some wondered if JBS was trying to bite off more than it can chew with its bid for Hillshire. In the event, Tyson's financial strength proved too much for JBS and it delivered its knockout punch on Monday.
JBS's US chicken company, Pilgrim's Pride Corporation (PPC), had started the bidding May 27 with an unsolicited offer for Hillshire of US$45 per share or US$6.36 billion (including net debt). JBS's move surprised many but those who have long followed the company, like me, were not.
JBS came out of nowhere in 2007 to acquire Swift and Company's beef and pork operations in the US and in Australia. It was also opportunistic in buying pork giant Smithfield Foods' beef business and then snapping up a bankrupt PPC. Meanwhile, it grabbed beef processor Bertin and Seara Foods (now JBS Foods) in Brazil, among other acquisitions.
None of these deals was cheap. But they paled compared to what PPC might have had to end up paying for Hillshire. Tyson waited just two days to throw its hat in the ring with a US$50 per share bid worth $6.8 billion. PPC last Tuesday counter-punched by raising its offer to US$55 per share for a total enterprise value of $7.7 billion. But Tyson quickly raised its offer to a breathtaking US$63 per share and JBS/PPC quickly threw in the towel.
Tyson's proposal is valued at $8.55 billion ($7.7 billion in cash plus Hillshire's net debt), nearly $1 billion above PPC's offer. JBS was mindful of the fact that even its $55 offer would have raised its net debt to EBITDA (earnings before interest, taxation, depreciation and amortization) ratio from 3.4 times to a four-year high of five times EBITDA. Winning Hillshire would have given it a financial headache.
 Why did these two giants slug it out? In a few words, margins and brand domination.
Why did these two giants slug it out? In a few words, margins and brand domination. Both realised they need to grow the value-added side of their businesses because that's where much larger profit margins are than on the commodity side.
Hillshire has two No.1 brands in their categories, Jimmy Dean breakfast sausages and Ball Park hot dogs, plus its own Hillshire Farms brand and other national brands. Hillshire was not just a prized asset, but the only US packaged meats company of its size and stature that might be available for a takeover.
JBS in the past two years has repeatedly said it wants to grow the value-added size of all its meat and poultry businesses. That's why it is growing JBS Foods in Brazil. That's why it has introduced its Red Gum lamb products in Victoria and southern NSW (as reported extensively by Beef Central).
PPC netted a record US$550 million in profits last year while Tyson Chicken had operating income of US$646 million (Tyson overall had net income of US$778 million). But both know their chicken and other meat businesses are subject to cyclical reversals. They were both trying to hedge against that by acquiring Hillshire.
Tyson won the bidding war because it has a stronger balance sheet and deeper pockets than PPC/JBS. It also has greater experience in the packaged meats business. Most of all, it saw the opportunity, however costly, to transform itself into more of a food than a processing company.
This follows a trend that is being seen more in the US food/meat industry. Smithfield Foods, the world's largest pork company, has focused much of its efforts in recent years in growing its value-added business because that's where the much larger profit margins are.
It will be interesting to see whether this trend develops in Australia for the same reason, with traditional processors making plays for companies with consumer-ready products.
Tyson's offer, as with previous offers, is contingent on Hillshire terminating its agreement to acquire the Pinnacle Foods Group in December. At $63 per share, Hillshire's board of directors will surely accept Tyson's offer, even if there legal obstacles along the way.
Pinnacle's consolation prize will be a $163 million termination fee paid by Hillshire. Right now, it seems unlikely PPC/JBS would be interested in Pinnacle, as its food products are outside the meat category.
Tyson president and CEO Donnie Smith last Monday called Tyson's winning bid a defining moment for the company. That seemed almost an understatement. Tyson's acquisition of Hillshire will create a $40 billion, US-based global protein processing/food business that might not be matched in consumer strength for many years to come, if ever.