A monthly column on the US beef market written exclusively for Beef Central by US analyst and commentator, Steve Kay, Cattle Buyers Weekly.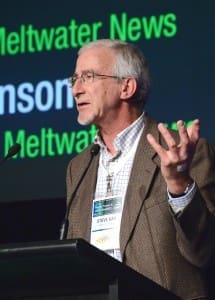 IRRATIONAL exuberance has returned to the US live (grainfed) cattle market.
As I write this on Tuesday (Oct 7, but Oct 8 in Australia), the October live cattle contract has just closed up 272 points, 28 points off its daily limit. Its close of US $165.77 per cwt is more than $20 higher than where the contract settled back on August 20.
The intervening seven weeks reveal the influence that institutional investors have over the futures market. Even the esteemed Wall Street Journal last week noted how such investors are supporting live cattle futures.
Perhaps that article encouraged some fund managers to buy more live cattle contracts. The result is that the futures have gone sharply premium to the cash market, which in contrast averaged only $160.54 per cwt last week.
I used the word "only" advisedly, as this price was the third highest weekly average this year after the record $163.26 set in late July.
There's little doubt this record will be eclipsed in the coming weeks. In the meantime, the December contract Tuesday closed even higher at $167.85. Analysts are now forecasting a weekly high of the fourth quarter of around $169, probably some time in November.
Fund managers are again exhibiting the kind of irrational exuberance that has, depending on one's point of view, plagued or blessed the US market for a couple of years. The futures market spent the first eight months of the year dragging its feet behind the cash market.
Now it has dramatically reversed course, akin to an atheist suddenly finding God. The market's new-found religion is based around the belief that supplies of market-ready cattle will be so tight that they will trump beef demand.
Far from I to declaim this exuberance and say that cash live cattle prices won't advance as the quarter progresses. But I have trouble seeing how beef sales, especially at retail, will be strong enough this month or next to support the kind of wholesale beef prices that packers will need to anywhere near cover their cattle costs.
Contrary to the supply focus today, strong demand for US beef at home and abroad was the key driver to record high cattle and wholesale beef prices through August. That month's beef exports saw a 3pc year-over-year decline in volume to 102,456 tonnes but they set a new monthly value record of $655.2 million.
This was up a startling 16pc from a year ago. For January through August, US beef exports were up 3pc in volume (790,208t) and up 13pc in value at $4.55 billion, compared to the same period last year.
Domestic beef sales were decent during August even though grocery stores raised their prices sharply. But those increases caused beef sales to splutter in September. The industry in effect is starting to feel the impact of record high wholesale beef prices (in late July for fed beef cuts and in July and August for lean manufacturing beef).
These record prices forced retailers to raise their everyday prices and reduce their beef features in August. So retail prices surged. USDA's All Fresh beef price in August averaged $5.81 per pound. This was up 16.9pc from a year ago but more importantly, it was up $0.26 from July. This was the largest month-on-month increase since at least 1980.
Within this increase was a huge price hike for the industry's most ubiquitous product, ground beef.
Retail ground chuck prices in August averaged $3.63 per pound, up 24pc on a year earlier. September's ground chuck average price rose to $3.80 per lb, up 19.5pc from a year ago.
Other ground beef categories saw similar trends in August and September, as did other beef items. Astonishingly, the average retail feature price (not the overall price) of ground chuck averaged $4.69 per pound last week.
Such an increase in ground beef prices seemed inevitable after domestic lean beef (90CL) set new record highs in nine out of the last 14 weeks. Prices even exceeded $300 per cwt, a level unthinkable even in June, and came despite a huge year-on-year increase in Australian imports. The stars have since aligned even more for Australian exporters, with the weakening of the Australian dollar against the greenback.
The US market will continue to provide a price level for exporters not seen anywhere else.
The US is soon to enter its seasonal increase in cow slaughter. But levels will be smaller than last year because of the large number of cows slaughtered last year. Total cow slaughter so far this year is down 14pc on last year, with beef cow slaughter down 17pc and dairy cow slaughter down 11pc.
So the scramble for raw material to supply the massive ground beef category will continue. That's why Costco and other major US retailers are increasingly looking to Australia and New Zealand for supplies.