A monthly column written exclusively for Beef Central by US meat and livestock industry commentator Steve Kay, publisher of US Cattle Buyers' Weekly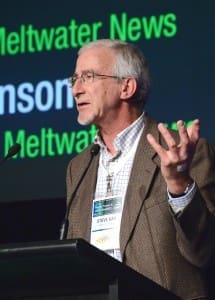 ACCURATE, comprehensive and timely information is the lifeblood of all livestock and meat markets. So I read with great interest Meat & Livestock's report on introducing US-style mandatory price reporting (MPR) for cattle and beef in Australia.
In case you missed Beef Central's excellent summary of MLA's report, here are some of the points highlighted in the article, and my response to them.
MPR in Australia will benefit producers, but only in a small way. On its own, the move will be no silver bullet to securing higher farm-gate prices as many may have imagined, he wrote.
I somewhat agree with the latter point. The US for years had a voluntary price reporting program conducted by USDA's Agricultural Marketing Service.
It was a good program but some producers felt a mandatory program would uncover sweetheart deals between producers and packers. So they spent the best part of ten years pushing MPR. Their efforts culminated in the 1999 Livestock Mandatory Price Reporting Act.
At the time, USDA said MPR was developed to facilitate open, transparent price discovery and provide all market participants, both large and small, with comparable levels of market information for slaughter cattle, swine, sheep, boxed beef, lamb meat, and wholesale pork.
No sweetheart deals
MPR has very much lived up to this promise. But to the disappointment of some producers, it never uncovered any sweetheart deals, because there were none.
MLA says some significant benefits are possible from MPR but only if the move to improve price transparency leads to the introduction of a system that makes it easier for producers to easily and accurately compare different grid prices from different processors, and is accompanied by the introduction of an Australian futures market* for cattle and beef and/or an industry-wide move towards value-based marketing.
My observations of the introduction of MPR in the US are that it was challenging for producers initially to compare price grids. But this disappeared as the move to value-based marketing accelerated. Producer groups, individual packers and breed associations all worked together to make grid pricing comprehensible and as uniform as possible.
MPR's introduction in the US never linked to the futures market
As for requiring the introduction of a futures market, MPR's introduction in the US was never linked to the futures market. It was and always has been as a mechanism for the future discovery of prices, not the capturing of current prices or their transparency.
MLA's report also says that 95pc of price discovery in US cattle markets emanates from the futures market. I have no idea who came up with this number and what their definition of price discovery is. Most price discovery takes place through USDA's daily reporting through MPR of cattle and wholesale beef sales.
Only the nearby live cattle futures contract serves as a factor in real-time price discovery. Yet the futures market's extreme volatility in the past 18 months has many people arguing that the market has greatly diminished that factor.
The June live cattle contract at times in the past two months has been heavily discounted to cash prices.
If the futures accounted for 95pc of price discovery, cash prices would have been much lower. They weren't. For example, the June contract closed at US $122.00 per cwt last Friday (June 3). Cash prices for the week averaged US $129.29 per cwt.
Value is in move to VBM
A wider point is that if the Australian industry believes it needs to move to value-based marketing, mandatory price report would be a catalyst to push all producers and packers in that direction. MPR's intent back in 1999 in the US was to provide all market participants with comparable information. The importance of that cannot be over-stated, as it encouraged all producers to upgrade the quality of their cattle.
MPR also transformed the procurement of grainfed cattle in the US. So I couldn't disagree more with MLA's comment that MPR's introduction did not result in US processors significantly altering the methods used to set cattle prices.
Beef processors for years had bought cattle live, on the average. This encouraged producers to "bury" their poorest quality cattle in a consignment of their best cattle, and meant packers seldom if ever paid more for the best cattle.
The same "live on the average" pricing equally bedeviled the hog industry.
Today, the reverse is true. Beef and pork processors in recent years have strongly supported those who produce above-average quality cattle and hogs.
Beef packers consistently pay premiums for live cattle that grade USDA Choice or higher. Live on the average pricing meant cattle graded only 51.7pc Choice in 2006. Just ten years later, they are grading 68pc Choice or better and 5-6pc Prime.
That's proof of the power of value-based marketing, which offers financial incentives for producers, and a much larger emphasis on quality and branded beef programs such as Certified Angus Beef (CAB).
Those financial incentives are sizeable. A survey of CAB-licensed packers (Cargill, JBS USA, National Beef and Tyson Foods) showed they paid a record US$51.8 million in CAB grid premiums in 2015 and more than US$550 million over 20 years. Against such premiums are discounts for poorer-quality cattle.
Conflicting signals
MLA's report thoroughly confused me at times. It says that addressing gaps in price transparency and providing improved analysis is likely to result in producer benefits which exceed costs.
But it then says the net benefits for Australian producers are likely to be small. In the next breath, it says the level of market information available to Australian producers is less than their US counterparts, and suggests that increasing available information may be of greater marginal value in Australia.
Everyone single sector of the US livestock and meat industry believes MPR has been of real value.
It has helped transform the industry from a commodity-based, average price marketing system, to one that focuses on value-added programs and premiums.
MPR is invaluable as a form of price discovery and market transparency.
It also collects and makes available a massive amount of real-time data that gives every market participant a much more complete picture of the markets than they could possibly have imagined prior to 1999.
Click here to view MLA's full report.
* Editor's note: Australia has twice before tried, and failed, to implement a cattle futures contract – due mostly to lack of liquidity.