A monthly column written exclusively for Beef Central by Steve Kay, publisher of US Cattle Buyers Weekly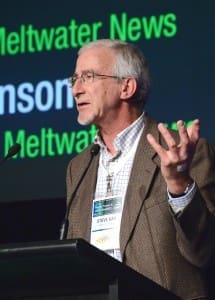 THE new 2017 year looks like being a blockbuster of a year for the US meat and livestock industry.
Three years of herd rebuilding means domestic beef production will increase again this year from last, after a surge in 2016. Pork and chicken production will also be higher again. Total red meat and poultry production will be 45.447 million tonnes, versus last year's estimated 44.232mt.
This 2.7pc increase will follow a 3.1pc increase in 2015 from 2015.
US protein production will top the 100 billion pound mark for the first time ever. That's good news for US consumers, who will continue to see lower prices in grocery stores and possibly in restaurants. But it also makes it imperative that domestic and global demand is even stronger this year for US beef and pork.
The biggest percentage increase will be in beef. USDA forecasts that production will be 11.766mt, up 3.2pc on last year's estimated 11.403mt (up 6.1pc from 2015). Pork production will be up 3.5pc, and chicken production will be up 2.1pc. All these forecasts are from USDA.
The higher beef production reflects the fact that the total US cattle herd likely expanded 1.6pc in 2016 from 2015.
So the herd went from 91.988 million to an estimated 93.5 million head over the 12 months to January this year. Growth this year is expected to be less than 1pc.
All this growth has come from an increase in beef cows. However, the national herd will still be lower than it was in 2010 and will be far below the record of 132 million head in 1975. It's hard to imagine the US herd getting much larger than 95-96 million in the foreseeable future.
Cattle prices will likely be slightly lower in 2017 because of the modest increase in cattle numbers over the past year.
But most producers are looking forward to 2017 being a better year than the one just passed. Early such signs came late last year for cattle feeders, as grainfed cattle prices rallied strongly from their mid-October lows all the way to year-end. In addition, an unusually positive futures market allowed them to place cattle on feed and lock in a small profit. That was quite a novelty after two years of historic losses.
October's weekly low of the year saw prices down 27pc year-on-year. But they had recovered sharply by mid-December to be down only 4.5pc on the same week the year before. Feeder cattle prices in October were down even more, by 35-40pc. They also recovered somewhat by mid-December but were still down 10-13pc on a year earlier.
Two key factors will determine how much, if at all, cattle prices decline this year. The first factor, as noted above, is demand. The positive news is that beef demand from last June was stronger than expected. Sharply lower wholesale beef prices allowed retailers to aggressively promote beef.
Lower prices meant Americans re-discovered their love of a good steak and bought a lot of them.
Lower prices also boosted beef exports, with especially strong sales to the US's top export market, Japan. This increase in sales was in part driven by a dramatic year-on-year decline in exports to Japan from Australia.
China key target
Larger beef supplies also make the resumption of US exports to China a must this year. This would be the single most significant boost to the cattle/beef market.
Grainfed cattle prices might also be stronger than expected if cattle feeders sell cattle at lighter weights. Fewer pounds per animal could largely offset an increase in fed steer and heifer slaughter each week.
However, it's a big 'if'. I would be more confident about forecasting lower carcase weights but for the way they moved in November to being level with 2015 weights by the start of December. Weights should now be declining seasonally, so alarm bells will ring if the decline is smaller than normal.
Trump's likely impact
On the political front, President-elect Donald Trump's choice of an Agriculture Secretary will be highly significant for the US meat and livestock industry. That's because USDA is proceeding with its final rule-making on a regulation that critics say will harm producers, packers and even consumers. That's because parts of the rule will make it easier for individual producers to sue packers if they believe they're not being treated fairly.
The threat of frivolous litigation has a lot of people worried. The wider concern is that the threat might force beef packers in particular to be more circumspect about having marketing agreements with cattle feeders. Such agreements have been essential to the industry's ability to produce higher quality beef over the past 20 years.
Trump might have made his selection by the time you read this. Should a new Agriculture Secretary support the rule, it will be finalised and put into effect. Conversely, a new appointee might take the opposite view and decide to kill the rule before it is finalised.
A 60-day comment period runs until mid-February, so any decision about the rule won't be made until after that. Meanwhile, both supporters and opponents of the rule are furiously lobbying members of Congress.
The rule was first proposed in 2010 and Congress denied USDA funding to implement the rule. It's likely therefore that the battle over the rule is far from over.