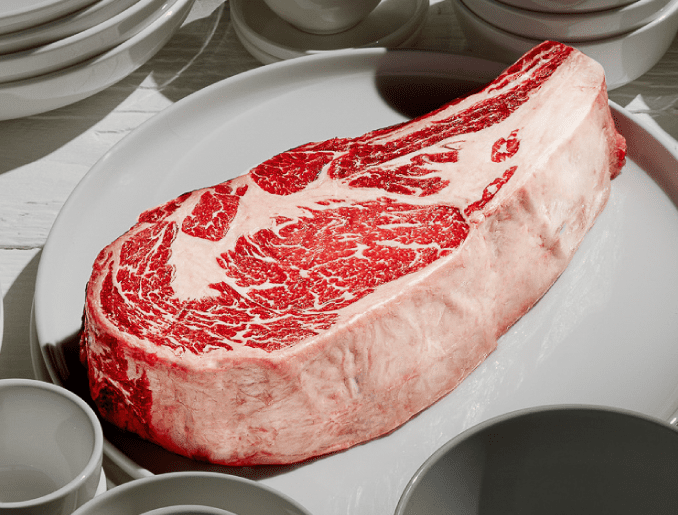 A NEW beef brand launched by JBS's Southern Australian division this week is pushing into previously unexplored territory – a Certified Natural claim wrapped around grainfed beef.
Cattle for the new +100-day grainfed Portoro brand program are being fed at JBS's Yambinya Station feedlot near Burraboi, northwest of Deniliquin in NSW.
JBS bought Yambinya in 2009 as part of the assets of the Tasman processing group. The site has an operational capacity for 12,000 beef and 45,000 lamb.
Billed as 'More than a marbling score,' the new Portoro brand is being targeted primarily at the higher-end food service market in Australia, and both food service and retail the US, southern Asia and elsewhere overseas.

The program has been operating at a 'lower-key establishment' level since early this year, but now involves 600 to 800 head of cattle processed each week, delivering supply at significant scale.
The entire JBS Yambinya feedyard is now dedicated solely to supplying the Portoro program.
The brand claims include no HGP, no GMO and no antibiotics – and is the first JBS Australia grainfed brand to carry USDA-approved Natural/Sustainable claims.
Along similar lines to what JBS has done successfully with its Great Southern Certified Grassfed farm assurance program, the company has established a unique third-party audited Natural Grain farm-assurance program for Yambinya.
In effect, all of the components of the Great Southern Farm Assured grassfed program are overlaid across Yambinya's new Portoro Natural grainfed brand – obviously with the exception of the free-range and grassfed-only components.
Its sustainability claim framework is also similar to that used for Great Southern, covering seven key pillars: water, soils, vegetation, carbon management, animal welfare, food safety & traceability and people.
Asked whether there was opportunity for some form of carbon claim around the production systems in use, Beef Central was told that a footprinting exercise had already been carried out on Yambinya Station, but the business was not yet in a position to make a claim.
"But from what we have identified, Yambinya has a much lower footprint than Australian beef, in general," a spokesman said.
The surrounding Yambinya Station is also taking part in JBS's One Million Trees project under its corporate sustainability framework, including the planting of around 40,000 tree seedlings in the past few months.
Some of the feeder cattle for the program come from breeders already aligned with JBS's successful Great Southern farm-assured grassfed yearling program, while others are sourced from a wide area from eastern South Australia through to northern NSW.
The Portoro program is sub-divided into two marbling levels, for carcases with a minimum marbling score of 2, and a premium segment for marbling scores 4 and higher.
The company said marbling scores of 5, 6 and 7+ were being achieved "on a regular basis." Part of that high marbling performance was due to the absence of HGP, but management and nutrition on Yambinya Station, including the use of corn silage grown on-property, unique by-products from other industries and a specialised livestock acclimation process contributing to the performance, Beef Central was told.
As a result, JBS claims the Portoro program is achieving industry-leading marbling percentages for 100-day beef, produced at scale.
Livestock supply is built around British and Euro breeds and their crosses only – no dairy or indicus influence.
More than a marbling score
"The soft start we had earlier this year has exceeded all expectations, and we're in a position now to expand Portoro much more widely," JBS Southern group beef sales manager Robert Ryan told Beef Central.
In a statement released this morning, Mr Ryan provided some background behind the 'more than a marbling score' brand claim.
"This is all about distancing this product from everyday 100-day grainfed commodity beef," he said. "It's about appealing to a more discerning, foodie market, and people who are thinking more about what they consume."
"Yambinya Station has been able to use its holistic and sustainable practices to its advantage and create a luxurious, high-marbling steak," Mr Ryan said.
"Positive environmental outcomes, animal welfare, a propriety cattle acclimation process and encouragement of natural animal behaviours all unite to meet and then exceed the consumer desire for sustainably-raised, highly marbled meat."
"This approach creates a paradigm shift in the market for premium grainfed beef, and the first time I tasted a Portoro steak I knew we were onto something special," he said.
Head chef at Sydney's prestigious Otto Ristorante, Richard Ptacnik, said Portoro made it onto his menu for its unique, uncompromised flavour and tender, buttery finish.
"The Portoro brand tells a story about excellent taste and animal welfare – I value that and so do our customers," he said.
"The marbling on each cut tells its own story: while it's consistent it is also quite distinct which makes it easy for us to craft a unique eating experience every time."
Otto serves Portoro bone-in ribeyes and T-bones, grilled over plum wood, grape vine trimmings and wine barrel wood.
Portoro is being distributed in Australia through the JBS affiliate, Andrews Meats.
Click here to view the new Portoro website